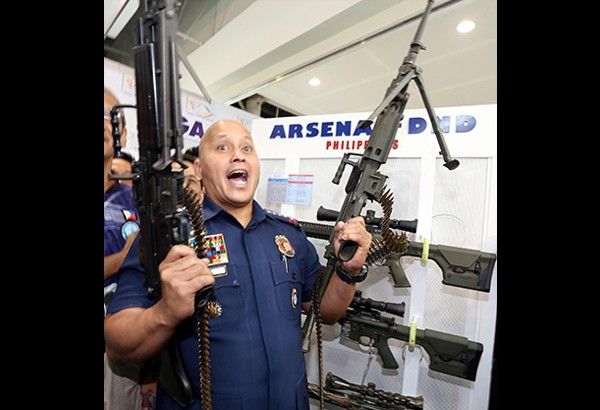 Philippine National Police chief Director General Ronald de la Rosa holds two 5.66 mm Squad Automatic Weapons during the opening of the 2016 Defense and Sporting Arms Show at the SM MegaTrade Hall in Mandaluyong City on July 14, 2016.
BOY SANTOS, file photo
Bato adds 2 new commandments vs indiscriminate firing
AJ Bolando
(philstar.com) - December 29, 2016 - 2:26pm
MANILA, Philippines – Before the year ends, Philippine National Police (PNP) Director General Ronald "Ronald" Dela Rosa added two new commandments to the "Decalogue" of the police's campaign against indiscriminate firing especially during New Year revelry.
Dela Rosa appealed to the public and to fellow PNP personnel not use their firearms to welcome the New Year as these threaten life and property.
To bolster the campaign, the PNP chief gave two more orders to the original "10 Commandments" in the Christian faith.
"11th Commandment: Thou shall not fire thy guns indiscriminately as it may hit, kill and injure thy neighbor," Dela Rosa said.
"12th Commandment: If thy neighbor fires his gun indiscriminately, though shall make sure to take photos and videos to be reported to the PNP and uploaded," he added.
Citizens are urged to report incident of indiscriminate firing of guns or use of prohibited firecrackers to nationwide emergency hotline 911 or through PNP social media accounts, @pnphotline for Twitter and Philippine National Police on Facebook.
As of yesterday, the PNP already tallied four victims of stray bullets, while 10 incidents due to firecrackers were recorded following the implementation of "Iwas Paputok/Disgrasya" this holiday season.
The authorities also confiscated a total of P827,260 worth of firecrackers, while nine civilians were arrested due to illegal discharge of firearms and three were nabbed for illegal possession, use or sale of firecrackers.