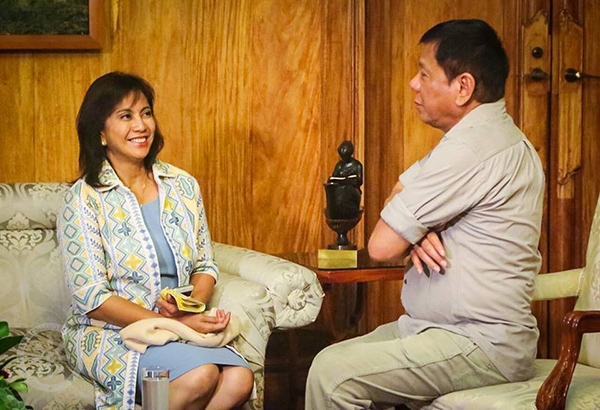 Vice President Leni Robredo resigned from President Rodrigo Duterte's Cabinet after being asked to desist from attending all meetings. Facebook/Leni Robredo
Robredo's satisfaction rating drops after quitting Cabinet
MANILA, Philippines — The net public satisfaction rating of Vice President Leni Robredo significantly dropped after her resignation from President Rodrigo Duterte's Cabinet.
The recent Social Weather Stations (SWS) showed that Robredo's net satisfaction rating dropped from +49 in September to +37 in December, with a margin of error of ±3.
In the latest survey conducted from December 3 to 6, 58 percent of the respondents said that they were satisfied with the vice president's performance while 21 percent said that they were dissatisfied.
Despite the 12-point drop, Robredo's rating remains "good." SWS classifies net satisfaction ratings of +30 to +49 as good.
RELATED: Robredo tenders resignation from Duterte's Cabinet
Robredo assured the public that her office will continue to serve the public better.
"Through the Angat Buhay, the Office of the Vice President's poverty alleviation program, we are determined to continue our mission to uplift the lives of the poor and the marginalized," Robredo said in a statement.
Meanwhile, the net public satisfaction ratings of other top government officials also dropped.
Senate President Aquilino "Koko" Pimentel saw a 7-point drop from +37 in September to +30 in December.
The ratings of House Speaker Pantaleon Alvarez dropped from +26 in the third quarter to +16 in the fourth quarter of this year.
Supreme Court Chief Justice Maria Lourdes Sereno has the lowest satisfaction rating with +10, a drop from her +22 last September.
The president remains the most trusted top government official with a "very good" net satisfaction rating of +63.
The latest SWS survey was conducted through face-to-face interviews among 1,500 adults nationwide.
RELATED: Duterte keeps 'very good' rating; Public wary of cursing