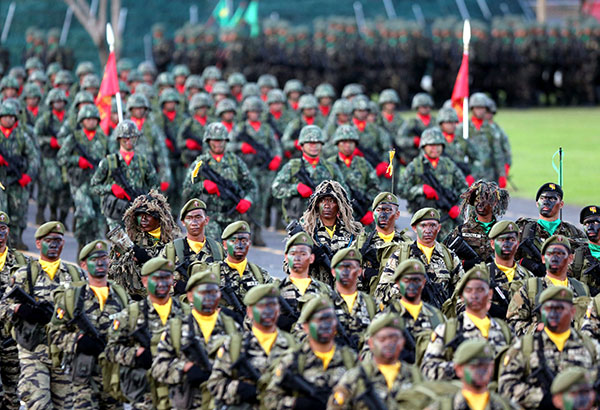 Soldiers parade during the 81st anniversary celebration of the Armed Forces of the Philippines at Camp Aguinaldo in Quezon City yesterday. Kriz John Rosales
Marine sniper honored for terrorists' slay
Jaime Laude
(The Philippine Star) - December 22, 2016 - 12:00am
MANILA, Philippines – A Marine sniper who killed eight suspected terrorists during heavy fighting in Sultan Kudarat last year was among the top awardees in yesterday's 81st anniversary celebration of the Armed Forces of the Philippines (AFP) held at Camp Aguinaldo.
President Duterte, the commander-in-chief and guest of honor and speaker, pinned the Gold Cross Medal on Cpl. Felipe Barbadillo.
"The Gold Cross is hereby awarded to Cpl. Barbadillo, for gallantry in action while serving as the lead sniper of Special Operations Platoon of Marine Battalion Landing Team-6 tasked as main effort to conduct law enforcement patrol to neutralize the armed group of Jafaar Sabiwang Maguid, a local terrorist believed to be linked with the foreign terrorist group ISIS at Sinapingan, Barangay Butril, Palimbang, Sultan Kudarat," the Marine sniper's citation reads.
At the height of the fighting, Barbadillo led his team in out-maneuvering the Islamic State-inspired terrorist group, killing eight of them, including Indonesian bomb-maker Ibrahim Ali, alias Sucipto, and Ustadz Abu Fatah.
The leader of the group, Mohammad Jaafar Sabiwang Maguid, alias Kumander Tokboy and Abu Gaib, was able to escape and now leads a local and foreign IS-inspired terrorist cell.
Aside from Barbadillo, this year's top awardees include Maj. Dennis Guillermo, who was awarded the Outstanding Achievement Medal (OAM) for being project officer of the intelligence operation against the three members of the Maute and Tokboy groups tagged as brains behind the deadly Davao City night market bombing.
The President also pinned the Distinguished Conduct Star medal on Navy Ltjg. Reginald Balidoc for his conspicuous courage and gallantry against more than 50 foreign and local terror groups under Omarkhayan and Abdullah Maute in the recent fighting at Ragayan, Butig, Lanao del Sur.
This year AFP's Gold Cross medal awardee was Lt. Jay Maravalla for his combat exploits against the Abu Sayyaf bandits in Barangay Bungkaong, Patikul, Sulu.
The Gold Cross is the second highest military medal in combat, next only to the Medal of Valor.
Awardees of the Gawad sa Kaunlaran (GSK), Bronze Cross, Kagitingan sa Barangay (KSB) or Maginoo medals were Maj. Eduardo Sia-ed (GSK); Maj. Mark Lester Gannaban (Bronze); S/Sgt. Ritche Navales (Bronze) and militiaman Andy Sentelices (KSB).
In yesterday's celebration, the AFP paraded its land-based big-ticket assets before President Duterte.
Aside from its armored assets and heavy disaster equipment, the AFP under the leadership of Lt. Gen. Eduardo Año showcased its elite ground troops from the major services – the Army, Air Force and Navy – before the President, who in return said that he takes pride in the soldiers' successes, one of which is the culmination of the six-year Internal Peace and Security Plan (IPSP) Bayanihan.
"All these armored assets, trucks and heavy military equipment were all acquired under the Aquino-backed AFP Modernization Program," one senior military official said, referring to the military assets acquired during the term of former president Benigno Aquino III.