Rody tells AFP: Respect human rights, rule of law
December 22, 2016 | 12:00am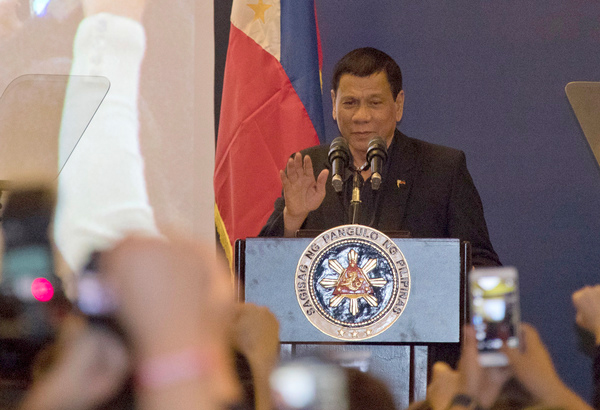 MANILA, Philippines – Under fire for a brutal war on drugs that has left some 6,000 people dead, President Duterte told soldiers yesterday to respect human rights and the rule of law in all their operations.
In a speech during the Armed Forces of the Philippines (AFP)'s 81st anniversary at Camp Aguinaldo, Duterte called the military a "bedrock of our democratic ideals," being the institution mandated to protect the people and the state.
"As you observe this momentous occasion, may you all be reminded of your pivotal role in ensuring and sustaining the operational readiness of your units while being prudent so that your actions would strictly adhere to international humanitarian law, human rights and the rule of law," Duterte said.
"I ask you to embolden yourselves to epitomize the AFP's core values of honor, service and patriotism," he added.
To enable the military to perform its crucial role, Duterte promised to boost the morale of the troops and to support their modernization program.
"We shall also continue to upgrade our capabilities to the AFP Modernization Program, focus on maintaining the high state of morale of our men and women by delivering health and wellness services to our personnel, particular those who are deployed in the field, by enhancing the capabilities of tertiary and secondary hospitals and facilities," the President said.
"Finally, we shall also rationalize the way we manage our facilities by crafting a master development plan for all AFP camps and bases as a basis for future development," he added.
Duterte, also the commander-in-chief of the 125,000-strong AFP, commended the military for the gains of security plan Bayanihan, which ended after his predecessor Benigno Aquino III stepped down from office.
"Undoubtedly, the IPSP (Internal Peace and Security Plan) Bayanihan has proven a positive impact on the AFP, making it to have a better image, a moral high ground against the threat groups and the decrease of human rights violation of our troops," he said.
Bayanihan sought to curb armed rebellion through a combination of military operations and development programs.
Duterte stressed that the government remained committed to seek a lasting solution to armed conflict.
"We will likewise conduct focused military operations against the Abu Sayyaf and other local and foreign terrorist groups and continue to strive to restore civil order in the conflict-ridden areas," the President said.
"The AFP shall enhance its capability to search and engage these lawless elements… The full force of the AFP will be applied to crush these criminals who operate under the guise of religious fervor," he added.
Duterte said the Philippines would also boost coordination with Indonesia and Malaysia to suppress kidnappings in the waters of neighboring countries and to expand cooperation on human assistance, disaster response, maritime security and counterterrorism.
No evidence
Duterte's pronouncements came as Malacañang and the Department of Foreign Affairs defended him from the call of United Nations High Commissioner for Human Rights Zeid Ra'ad Al Hussein for Philippine authorities to investigate the President's admission that he killed people while still mayor of Davao City along with thousands of deaths occurring in the course of his bloody war against illegal drugs.
Presidential Communications Office Secretary Martin Andanar said over radio dzBB that Duterte had already been probed about the incident when he was still mayor of Davao and "there was no evidence that he was involved" in extrajudicial killings.
"If they want to investigate they can surely investigate. So for me, the issues mentioned by the United Nations have already been answered," Andanar added.
On Tuesday night, Duterte remained adamant on his drug war, saying "there is no stopping" him from pursuing drug personalities down to the last pusher.
In a press briefing, presidential spokesman Ernesto Abella also downplayed Hussein's comments as merely "his opinion" and that Duterte's killing of three people in the 1980s was part of a police operation.
"Again, let me just remind one and all, that the incident referred to by the President was actually covered by media and it was (a) legitimate police action," Abella said, adding the issue had been addressed in the past.
But Abella did not address Duterte's possession and discharge of a firearm while not a policeman.
In several speeches last week, Duterte recounted how in 1988, early in the first of his several terms as mayor of the southern city of Davao, he and local police ambushed and killed three suspected kidnappers.
Duterte has said he routinely carried a gun during his early years as mayor of Davao to protect himself in a high-crime environment. He has not said if the weapon used in the ambush was licensed.
Foreign Affairs Secretary Perfecto Yasay Jr. said Duterte's admission that he killed people in the past should not have been used by Hussein to seek Duterte's probe without verifying the facts.
Like Abella, Yasay said what happened was a legitimate police operation that Duterte "led against hardened criminals who violently resisted arrest and placed the lives of police operatives and innocent people in jeopardy."
Yasay said Hussein should not have arrived at "an arbitrary and unfounded conclusion that murders were committed" to merit an investigation.
Chief presidential legal counsel Salvador Panelo said those who wanted to investigate the President were merely trying to discredit him, noting the Philippine leader's immunity from suit.
"The problem with those who are monitoring the remarks of the President is they do not listen to him carefully. He already narrated that incident during the campaign period," Panelo told radio station dwFM.
When asked if the President is open to a probe, Panelo said: "If you think about it, it's not about the President being open or not. Even if he does not want it, they can still investigate. It's now up to them."
Duterte did not say anything about the UN human rights chief's statement during his 11-minute speech at the military's 81st anniversary in Camp Aguinaldo yesterday.
The Duterte administration has invited UN special rapporteur Agnes Callamard to the Philippines to look into the alleged summary executions of drug suspects but asked her to comply with some conditions.
Duterte won the presidential election by a landslide in May largely on a vow to kill 100,000 criminals to stop the country's slide into a "narco-state."
But the President consistently rejected allegations his incendiary comments could be encouraging police to commit murder.
Hussein said Philippine judicial authorities "must demonstrate their commitment to upholding the rule of law and their independence from the executive by launching a murder investigation," adding it is "unthinkable for any functioning judicial system not to launch investigative and judicial proceedings when someone has openly admitted being a killer."
Unstoppable
"Wala akong para para dito (I am unstoppable in this regard)," Duterte said during his message at the Christmas party for employees of the Office of the President at the Kalayaan grounds of Malacañang last Tuesday night, referring to his drug war.
Near the end of his speech, Duterte said the anti-drug campaign would be "brutal" and that he would not stop even if it might cost him the presidency.
According to Duterte, he would "gladly" step down from office as long as it would not be due to corruption. "Because it will never happen," he said, referring to corruption on his part.
At the start of his speech, Duterte reiterated his commitment to provide all-out support to the military and the police personnel involved in operations against illegal drugs.
"My marching orders to the police and the military is: destroy the drug industry, not the person. Destroy the apparatus," he said.
Stopping short of mouthing expletives, Duterte said, "You don't destroy my country. I don't care (about) those human rights, and presidents of other countries. They are all hypocrisy," he said, lashing out at critics for failing to understand his advocacy to stop illegal drugs.
He told employees of the OP that he was just a fellow worker in government doing his mandate to protect the people.
Duterte also stood firm on his standing order for law enforcers to arrest the drug suspects or shoot them dead if they resist arrest – notwithstanding the reiteration of the UN body.
"To all the military men listening and all the police officers… remember this: go out and hunt for them. Place them under arrest if still possible. Usually (you cannot) because they are armed," he noted. – Pia Lee-Brago, Christina Mendez, Elizabeth Marcelo, Paolo Romero