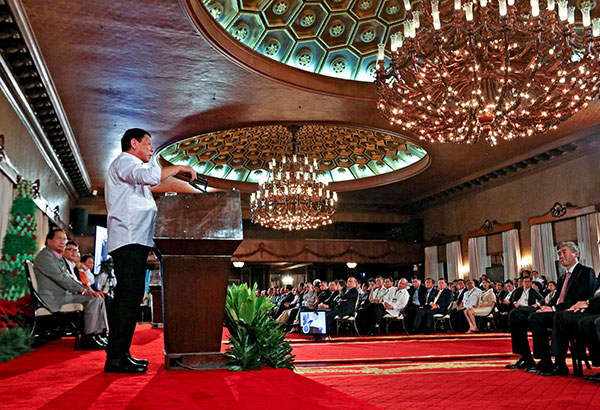 President Duterte speaks before business leaders and other stakeholders in the Negosyo Para sa Kapayapaan sa Sulu initiative launched during a Christmas townhall meeting at Malacañang on Monday night.
Business titans vow to support development of Sulu
Alexis Romero
(The Philippine Star) - December 21, 2016 - 12:00am
MANILA, Philippines – Businesses have vowed to support efforts to promote development in Sulu, a known stronghold of the Abu Sayyaf bandit group and the site of several kidnapping and bombing incidents.
Business leaders made the commitment during the Christmas town hall meeting Monday at Malacañang for the Negosyo para sa Kapayapaan sa Sulu (Business for Peace in Sulu), an initiative that aims to involve the private sector in supplementing government efforts to establish peace and development in the province.
The group of businessman Manuel V. Pangilinan promised to provide assistance in telecommunications, hospitals and the coconut milling industry.
"We plan to rehabilitate, upgrade and expand the current 16 Smart cell sites in Sulu so its people can enjoy the full suite of digital services we're now rolling out nationwide," Pangilinan said.
The Pangilinan group also pledged to build at least 40 houses in the next two years and more houses thereafter.
"Maynilad and Meralco will be there to provide the needed water and power services the communities require," Pangilinan said.
He added that his group might also invest in a coconut mill facility to help boost agriculture in the province.
"We were told that Sulu can actually supply enough coconuts to build an integrated coconut processing mill with the capacity of 150 to 200 tons per day, so this will need investment of anywhere between P600- to P800 million. We'd like to consider that," Pangilinan said.
The businessman also vowed to support training for hospital personnel in Sulu and to provide them with the equipment they need.
"The biggest challenge we see in the hospital sector is the lack of equipment and lack of personnel. Nurses, technicians and doctors do not want to practice in Sulu for a number of reasons. Our hospitals would like to suggest and help out by supplying relevant equipment, training med personnel in our own hospitals," Pangilinan said.
This is aside from providing scholarships and medical degrees to people in Sulu to address the personnel gap.
"Our Zamboanga hospital can serve any of the medical needs of the four hospitals in Sulu, including the ability to transport patients from Sulu to Zamboanga for complex medical procedures," Pangilinan said.
The diversified conglomerate San Miguel Corp. of Ramon Ang is also ready to support the development efforts by establishing a 50-megawatt coal-fired power plant.
Ang promised to build a 15 megawatt coal-fired power plant, rebuild an arts and trade school and invest in a feed mill supply chain.
Ginggay Hontiveros, Go Negosyo Sulu project coordinator, said tycoon Lucio Tan is considering resuming flights to the province. Tan is the majority shareholder of the country's flag carrier Philippine Airlines.
Industry groups also promised to provide trainings and livelihood for Sulu residents.
Players in the seaweed industry are willing to put up drying facilities and warehouses where seaweed can be stored until they are transported to Zamboanga.
Poultry industry players, for their part, promised to support a poultry growing operation that can benefit 50 to 100 families in the province.
Gawad Kalinga officials vowed to continue building houses in Sulu, believing that "the more they sweat in peace, the less they bleed in war."
Toto Barcelona, president of Harbest Agribusiness Corp., said the Philippine Seed Industry Association is ready to conduct trainings and share its technology with Sulu-based farmers.
Leading broiler integrator Bounty Fresh Food Inc. will equip and invest in 50 to 100 poultry contract growers. The province of Sulu cannot produce enough chicken for its people's consumption and broiler chicken supply comes from as far as Davao City, General Santos City and Cagayan de Oro.
The Federation of Filipino-Chinese Chambers of Commerce and Industry will likewise provide 15 school buildings in the area.
Other private sector commitments include trainings from the Kapatid Agri Group, library and literacy programs in Gawad Kalinga Kapatid Villages and school supplies for at least 100,000 school children from National Bookstore.
President Duterte said the government is determined to address the security issues in Mindanao to make it conducive for investments. He said his administration is continuously talking to armed rebels while running after terrorist groups to promote peace in the island.
"This is what I want to tell the nation: You have to heed us people, guys from Mindanao because we are telling you the truth, you have to really transform this country," Duterte said.
Trade secretary Ramon Lopez said the president has allotted P1 billion to promote entrepreneurship in the country.
"The vision and promise of the President is P1 billion per region. So to start off that program, he is allocating P1 billion to our project to really help the startups," Lopez said.
"We are happy to say that for the Sulu project, we are happy to allocate P50 million for the Sulu farmers and all our projects will be for Sulu to jumpstart the economy in Sulu. That is our little contribution for a start. If we do well, we can do another P50 million for the area," he added.
Agriculture Secretary Emmanuel Piñol said at least 20 private firms have committed investments to the Save Sulu Project that aims to bring peace and socio-economic development to the province.
He added that the P3-billion is just an initial pledge and additional investments would depend on the reaction of the people of Sulu to the interventions.
"This is the first time that the private sector intervened with the peace efforts of the government. The President commands the respect of the business companies," Piñol said. – With Louise Maureen Simeon