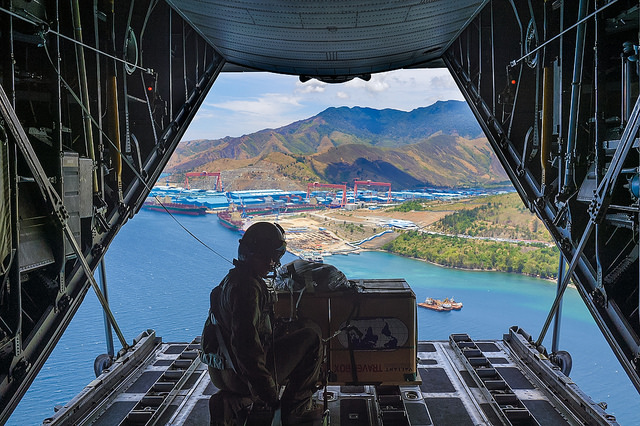 A US Air Force loadmaster assigned to the 36th Airlift Squadron prepares to deploy a low-cost, low-altitude bundle from a C-130 Hercules aircraft during Balikatan 2014 near Subic Bay, Philippines, May 13, 2014. U.S. Air Force/Maj. Teodoro Apalisok, File
Duterte to US: You want to retain VFA? Pay us
MANILA, Philippines — Hours after threatening to scrap the country's Visiting Forces Agreement (VFA) with the US, President Rodrigo Duterte imposed one condition to Washington if it wants the deal retained.
"You want to come back here? You pay us. You want bases here? Pay us. Transaction tayo, pera-pera na lang tayo, mabuti pa (Let's enter into a transaction. Let's make it all about money. We would be better off like that)," Duterte said in a speech delivered in General Santos Saturday night.
"There are no wars right now, why would I allow you here? You want to create World War III? If you do that, if all the nuclear explosives are really (used), this planet won't be around tomorrow. It's the end for all of us, so why would be pick up a fight with anybody?"
The 1987 Constitution prohibits the establishment of foreign military bases in the country "except under a treaty duly concurred in by the Senate and, when the Congress so requires, ratified by a majority of the votes cast by the people in a national referendum."
The charter also states that the other contracting state should also recognize the agreement as a treaty.
"According to the Supreme Court, the VFA is a, Visiting Forces Agreement is an executive agreement, hindi, hindi (not a) treaty. So, start packing your things. Start packing your things and get out of my country," Duterte said.
The VFA, which was signed in 1998, is a bilateral agreement that allows Filipino and American soldiers to conduct joint trainings in Philippine soil. It was ratified by the Senate in 1999 despite protests by militant groups who believe it would undermine Philippine sovereignty.
Duterte mocked US troopers, who, he claimed, demand air-conditioned tents, ham and eggs upon their return to their camps. He said Filipino troopers are ready to perform their duty even without the perks given to their American counterparts.
"Pilipino? Walay mag-utos, labayan mo karne norte ah, diretso na (Filipinos? Just give them corned beef and they are ready to go)," the president said.
"They do not have air-conditioned tents but they are more durable, more brave. I tell you, do not teach us about warfare, we have the longest insurgency problem here."
On Saturday, Duterte threatened to abrogate the VFA after the US-led Millennium Challenge Corp. (MCC) had deferred a $433 million aid to the Philippines over "concerns around rule of law and civil liberties" under his administration.
The US has been critical of Duterte's bloody war on illegal drugs and has asked the government to ensure that human rights are respected in all law enforcement operations.
Duterte, however, was angered by the statement and accused the US of interfering with the Philippines' internal issues. He also claimed that the US has been picking on him on human rights despite its failure to acknowledge the atrocities it committed during the Philippine-American War.
Duterte reiterated that the Philippines can survive without US aid and even asked the MCC to "swallow its assistance."
"Do not do that to us. Me, I'm just standing for the dignity of the Filipino people," he said.
"You complain to us but do not take away (the aid). Eat your aid, swallow your assistance."
Duterte said the deferment of the MCC aid does not mean anything to the Philippines as it can seek help from other countries. He said China has offered him about 15 billion in assistance but it remains unclear if it was in peso or in dollar.
"I've been to China, said China, 'we will give you something like 15 billion.' P***** ina 'yang Millennium mo, magkano? 400? Iyo na yan. Tulong mo diyan sa mga Amerikano natutulog diyan sa labas (Son of a b**** that Millennium, how much? 400? Keep that. Use that to help Americans sleeping on the streets)," the president said.
'I'll torch the UN'
Malacañang could not say what would be the government's next move after Duterte made the pronouncements about the VFA and MCC.
"We will wait for the next move of the president and, of course, the advisers," Presidential Communications Assistant Secretary Ana Marie Banaag told state-run radio station dzRB Sunday.
Despite the criticisms against his narcotics crackdown, Duterte said he would continue to run after drug lords until the last day of his term. More than 4,000 people believed to have links with illegal drugs have died since Duterte assumed office on June 30.
"I said, I do not want to fight, I do not want to kill anybody, even those involved in drugs but if it would take up to the last day of my term, six years from now, fine. I'll be glad to oblige you. Sons of b******, I'll kill you all you'll see," he said.
"Ah, magsumbong ka na doon sa United Nations, sunugin ko pa United Nations kung gusto ninyo. 'Pag ako napuntang Amerika, sindihan ko 'yang yawa na 'yan (Go and tell the United Nations. I will torch the United Nations if you like. If I go to America, I will torch that devil)."
Duterte, later on, apologized for his tough talk, saying he was just angry with the way his critics "trivialize" the drug menace in the Philippines.
"Forgive me for having this bad mouth, but the reason why I am really so adamant about this is you trivialize my problem with four million (addicts) and as president, I have to solve it. And you go out proclaiming to the people that the aid or assistance will not go to the Philippines because we have this issue of human rights," he said.