Aguirre: Duterte just exaggerating on 'killing' criminals
December 14, 2016 | 9:41pm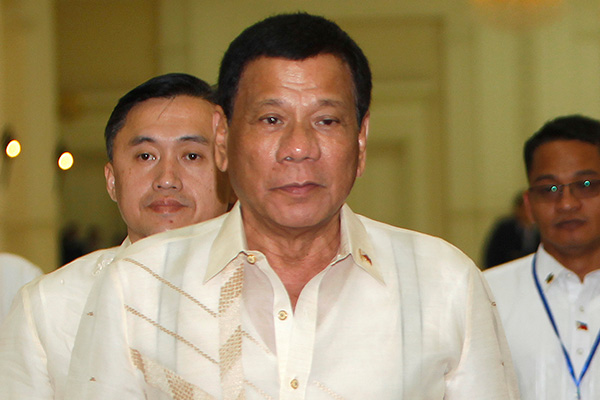 MANILA, Philippines — Justice Secretary Vitaliano Aguirre II said Wednesday that President Rodrigo Duterte often exaggerates killings of criminals he supposedly carried out to send a chilling warning to lawbreakers.
Aguirre told reporters that Duterte may have been resorting to hyperbole when he suggested in a recent speech that he used to go around Davao City as mayor on a big motorcycle to look for criminals to kill so policemen would emulate him.
"The president always resorts to hyperbole, he always exaggerates just to put his message across," Aguirre told reporters.
Duterte said in a speech to business executives at the presidential palace Monday that he used to hunt down criminals himself to set an example.
"In Davao, I used to do it personally. Just to show to the guys that, if I can do it why can't you?" he said. "I go around in Davao with a motorcycle, with a big bike around and I would just patrol the streets and looking for trouble also. I was really looking for an encounter to be able to kill."
Duterte, however, has repeatedly said that drug suspects were only killed under his anti-drug crackdown as mayor, and now as president, when they fought back and threatened law enforcers.
Still, Amnesty International said such remarks by Duterte incite policemen and civilians to violence and encourage them to commit extrajudicial killings.
"By boasting about the blood on his own hands, President Duterte will further embolden police and vigilantes to blatantly violate laws and carry out more extrajudicial executions without fear of being held to account," Rafendi Djamin, the human rights group's director for Southeast Asia and the Pacific, said in a statement.
"President Duterte should be fulfilling his obligations by ordering investigations into these killings and bringing those responsible to justice, not claiming a part in them," Djamin said. "Statements like these continue to give everybody, including the police in the Philippines a license to kill in the knowledge that they are protected by the president."
Duterte, who took office in June, has been widely criticized for his brutal crackdown on illegal drugs, which has led to the deaths of more than 2,000 suspects in gunbattles with police. About 3,000 other drug-related killings are being investigated by authorities to determine if these were related to the illegal drug trade.