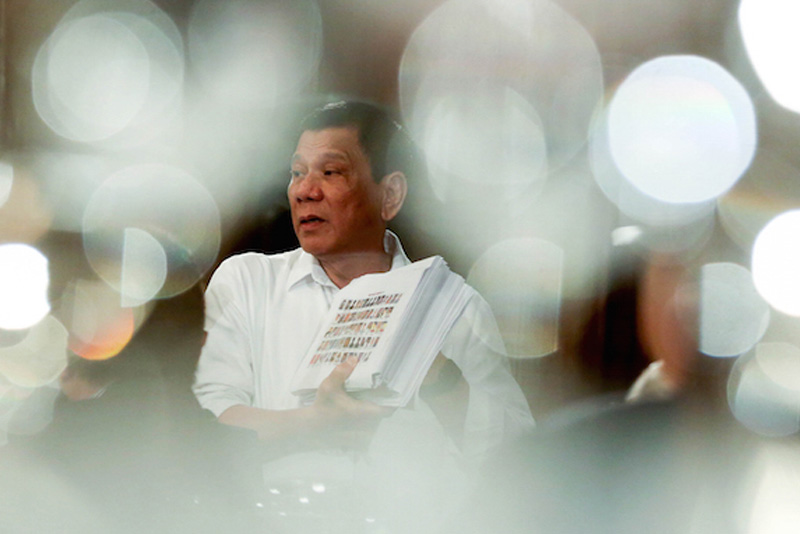 President Rodrigo Duterte shows the list containing government and police officials allegedly involved in the illegal drug trade to the members of the Wallace Business Forum during a dinner at Malacañan Palace on Dec. 12, 2016. PPD/Rey Baniquet
Cambodia warm to Duterte's stance on US, China
PHNOM PENH — President Rodrigo Duterte's stance against Western influence made Cambodian leaders see him as an ally—giving him a relatively warm reception in a first stand-alone state visit for 20 years.
Despite the two countries' different approaches on how to resolve conflict in the South China Sea, Philippine Ambassador Christopher Montero said Cambodian Prime Minister Hun Sen has admired Duterte for distancing himself from Western influence in domestic affairs.
Duterte has moved for an "independent" foreign policy under his administration, which caused a stir in its relationship with long-time ally—the United States.
The president has also been seeking support for his goal of having a united Association of Southeast Asian Nations (ASEAN) as the country gears for chairmanship next year.
A key characteristic of his foreign policy is closer ties with Beijing despite the arbitration ruling invalidating the nine-dash line and favoring the Philippines' claims over the South China Sea.
"Well I must tell you that Prime Minister Hun Sen has deep admiration for President Duterte. He has expressed it publicly in the past. He sees in him an ally in terms of standing up against Western countries in so far as non-interference in internal affairs as far as the state is concerned," Montero said.
The Philippines merely hoped for an official visit but it was elevated into a state visit with an invitation from the King of Cambodia.
"The fact that it was elevated into a state visit only shows, demonstrates that Cambodia attaches great value to its bilateral relationship with the Philippines inspite of certain differences in our approach in the South China Sea issue," he said.
It is a first time in 20 years that the Philippines is having standalone bilateral talks with Cambodia.
"We are very, very pleased that Cambodia government has in fact elevated this visit to a state visit. We actually requested that this would just be an official visit within the context of the ASEAN tradition where new heads of government of state normally call on their counterparts in ASEAN," Montero added.
Cambodia earlier this year reportedly blocked an ASEAN statement with strong wording against China's island-building and aggression in the disputed waters. Montero, however, said that the South China Sea issue does not define the two countries' relations.
"There are other areas in our relations where we are cooperating like in agriculture, sports, labor… so I don't want to answer, at least for now, if [the South China Sea issue] will be discussed in length," Montero said.
The president's hard stance against illegal drugs is also expected to come up in the discussions. "I am sure that he will have a very lively discussion with PM Hun Sen during their bilateral meeting about the subject," Montero said.
The Philippines and Cambodia are working on the memorandum for understanding to intensify intelligence exchange between the two countries.
"In terms of defense cooperation, there have been several visits of the Philippines in terms of information sharing. Recently the chief of the intelligence arm of their Army went to the Philippines," Montero said.
"We are discussing a possible MOU on intelligence-exchange cooperation. We are also assisting the military in terms of capacity building for its military officials," he added.
Duterte arrives Cambodia for a two-day visit (Palace foto) pic.twitter.com/9u1moLNazq

— christina mendez (@xtinamen) December 13, 2016
Duterte arrived in Cambodia on Tuesday night.