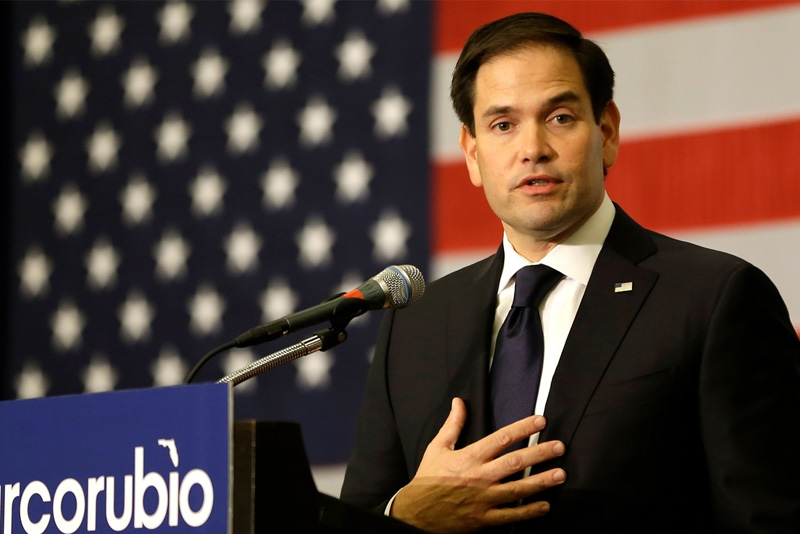 Florida Sen. Marco Rubio introduced a bill seeking sanctions for individuals and states that will aid aggression in the disputed South China Sea. AP/file
US senator's bill targets China aggression in South China Sea
MANILA, Philippines — Florida lawmaker Marco Rubio introduced at the United States Senate a proposed bill seeking to sanction Chinese individuals and entities that participate in "illegitimate operations" in the South China Sea and East China Sea.
In a statement earlier this month, Rubio said the security of US allies in the western Pacific "cannot be endangered by Beijing's ongoing flagrant violations of international norms in its pursuit of dominance in the South China Sea and East China Sea."
"China's aggressive actions in the South China Sea are illegitimate and threaten the region's security and American commerce, with reverberations that can be felt here at home, including Florida's ports and throughout our state's shipping and cargo economy," Rubio, a Republican senator, said.
He said the US should take concrete steps through his proposed South China Sea and East China Sea Sanctions Act to hold violations of international norms accountable as the world depends on freedom of navigation and overlight in the disputed waterway.
"Consistent with international law, China should not be allowed to interfere in any way with the free use of the waters and airspace in the South China Sea and East China Sea by civilian and military ships and aircraft of all countries," Rubio said.
The Philippines, a close US ally, has long been embroiled in a row with China and some of its neighbors over overlapping territorial and maritime claims. In June, an arbitral tribunal under the United Nations Convention on the Law of the Sea favored the Philippines in its decision and dismissed China's nine-dash line claim.
Rubio's bill, once a law, will require the US president to impose sanctions and prohibit visas for Chinese who contribute to construction or development projects or threaten peace and stability in the South China Sea.
The act also imposes sanctions on foreign financial institutions that knowingly conduct transactions with sanctioned individuals if China "takes certains" actions such as declaring an air defense identification zone on Scarborough Shoal, which the Philippines calls Panatag Shoal.
The legislation also seeks to prohibit the publication of documents portraying the South China and East China Seas as part of China.
Even foreign countries that openly support China's claims will receive only restricted assistance from the US once the bill is passed.