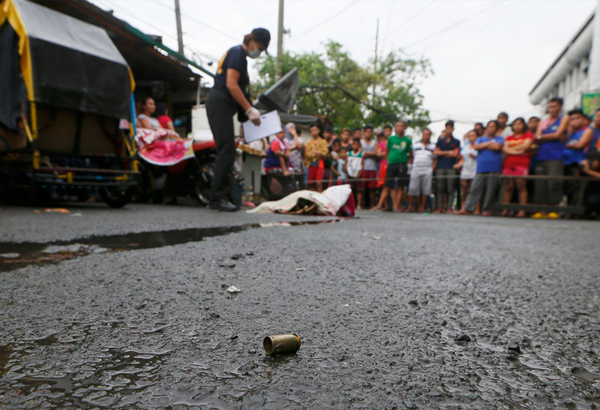 An empty shell of a pistol lies near the body of a woman, later identified by her husband as that of Nora Acielo, after she was shot by still unidentified men while about to bring her two children to school at a poor neighborhood in Manila, Philippines, Thursday, Dec. 8, 2016. Police said the killing of Acielo was the 13th recorded drug-related case in the past 24 hours in President Rodrigo Duterte's unrelenting war on drugs. AP Photo/Bullit Marquez
No state-sanctioned EJK – Senate report
Marvin Sy
(The Philippine Star) - December 9, 2016 - 12:00am
MANILA, Philippines - After six hearings, the Senate committee on justice and human rights found no proof that the drug-related killings in the country were state-sanctioned.
It recommended though that the law enforcers involved in the Philippine National Police (PNP) Oplan Tokhang campaign against drugs must be admonished for violating the constitutional rights of a number of suspected drug personalities.
"The police must be held accountable. Check and balance mechanisms must be further strengthened to ensure that public order and safety is promoted… If we can stop killings regardless of the terminology we use to refer to them, whether extrajudicial or not, then our people will restore their faith in the police and the government," the 120-page committee report read in part.
The report was signed by Sen. Richard Gordon, committee chairman, Sens. Panfilo Lacson, Gregorio Honasan, Juan Miguel Zubiri, Nancy Binay, Manny Pacquiao and Vicente Sotto III, the majority leader.
Sens. Francis Pangilinan, Alan Peter Cayetano and Franklin Drilon signed with reservations while Leila de Lima, Antonio Trillanes IV, Ralph Recto and Grace Poe, who was out on official business, did not sign it.
The committee said there was no sufficient evidence to prove that the so-called Davao death squad exists. It also noted that the rate of killings being reported in the country now is not too far off from the figures recorded during the previous administrations.
It established that 4,248 were killed from July to early October or an average of 47 per day. If this rate holds until yearend, the country would then have 8,496 deaths.
Comparing this to the Arroyo administration, where an average of 10,196 killings were recorded every year, and that of Benigno Aquino III, where an average of 14,313 deaths were reported annually, then the number of killings during Duterte's time would be a slight departure.
But more than comparing figures among the different administrations, the committee noted that the drug menace and the killings associated with it, as well as the unabated killings going on through the years, have not been resolved at all.
"Many killings with impunity through the years up to the present have not been resolved by the police, leaving our people feeling unprotected, insecure, fearful and cynical about the ability of the police to protect and serve them," the report stated.
"Coupled with the helpless indifference of the people, the only thing that remains constant is that the police and the criminal justice system have failed us. All these have led to many killings with impunity and some people, including some police officers, probably think they can get away with murder," it added.
Contributing to the attitude of these police officers is the way the President acts and talks with regard to the war against illegal drugs. – With Delon Porcalla