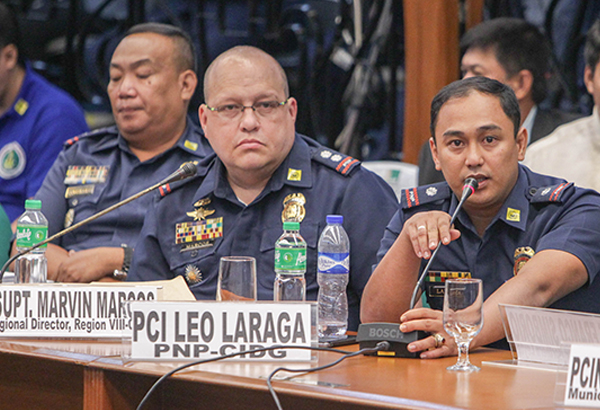 Despite witness testimonies and forensic evidence that led the National Bureau of Investigation (NBI) to conclude that Albuera mayor Rolando Espinosa was killed in a rubout, President Duterte said he still believes the police claim that the local chief executive died in a shootout. Geremy Pintolo
Rody to Bato: No jail for Espinosa killers
MANILA, Philippines – Between "one lousy soul" and the police who killed him, the choice for President Duterte is clear: he's got the policemen's back, and he won't let them go to jail for what they did to the "son of a b****."
Despite witness testimonies and forensic evidence that led the National Bureau of Investigation (NBI) to conclude that Albuera mayor Rolando Espinosa was killed in a rubout, President Duterte said he still believes the police claim that the local chief executive died in a shootout.
While promising not to obstruct legal proceedings, Duterte said he would not abandon the law enforcers tagged in Espinosa's death.
"I will not allow these guys to go to prison. It's up to the NBI to say it's murder. After all, NBI is under me. The Department of Justice is also under me," Duterte said. "I won't abandon these policemen because I was the one who ordered them (to run after drug personalities)."
Duterte stressed he is ready to defend the policemen and even be imprisoned with them.
"So I and I alone. Ako 'yan (It's on me). I will answer for them. If it is in the performance of duty, that is my ultimate liability... I will defend them. As a matter of fact, I'm ready to go to jail for them. I have no problem with that," he added.
Duterte said the NBI could file the case against the policemen involved in the killing of Espinosa.
"The findings of the NBI (stated that it was) murder. Good, file the case. I would say that I believe in the police because we mayors, congressmen, who would they believe? The policemen or the criminals? Whatever the police say, for us, it is the truth," Duterte said during an event of the Urban Poor Solidarity Week in Mandaluyong yesterday.
"The NBI said it was murder. The police claimed 'sir he fought.' Why would I sacrifice some policemen there? I told you yesterday there are four million addicts in this country. Who is behind it? And there is one lousy soul, a son of a b**ch, you want to favor him?" he added, apparently referring to Espinosa.
Duterte also lashed out at critics who called him a dictator for his tough measures against illegal drugs,
"They say I'm a dictator. You want to oust me? Fine, go ahead. I'd be happy to leave but for as long as I'm the president of this country, I'll never allow that thing to destroy (the country)," he said.
Duterte said 30 policemen and 53 soldiers have been killed because of the fight against illegal drugs. He said the crackdown has also left 57 policemen and 228 soldiers wounded.
"Do you think this is a joke? I ask the critics: why would we be, why would we do extrajudicial killing? Wrap the idiot with plastic, what for? We can shoot him in the head and that's it," he said.
Espinosa, one of the politicians named by Duterte as involved in illegal drugs, was killed inside his prison cell in Baybay City last Nov. 5.
Espinosa and another inmate, Raul Yap, were killed in a supposed shootout with the regional Criminal Investigation and Detection Group (CIDG) policemen who were serving a search warrant in their detention cells.
However, the statements of jail officers and inmates as well as photos taken at the crime scene indicated Espinosa may have been executed.
Citing statements of inmates, NBI assistant director for Eastern Visayas Rugy de Vera said Espinosa was heard greeting the CIDG operatives before pleading for his life.
The policemen who served the search warrant on Espinosa are now facing murder charges.
The NBI filed multiple murder charges against Supt. Marvin Marcos, relieved director of the CIDG in Eastern Visayas and his 17 subordinates.
NBI spokesman Ferdinand Lavin said charges of malicious procurement of search warrant would be filed against CIDG raiding team leader Chief Insp. Leo Laraga and PO3 Norman Abellanosa, who had applied for the warrant, and perjury charges against Paul Olendan, the inmate who testified for the application of the document.
The Department of Justice is set to conduct preliminary investigation on the criminal complaints filed by the NBI against the policemen involved.
Justice Secretary Vitaliano Aguirre II said he would create a panel composed of five state prosecutors for the preliminary investigation.
For his part, Philippine National Police (PNP) chief Director General Roland dela Rosa said he respects the findings of the NBI. – With Cecille Suerte Felipe, Edu Punay, Ghio Ong, Edith Regalado