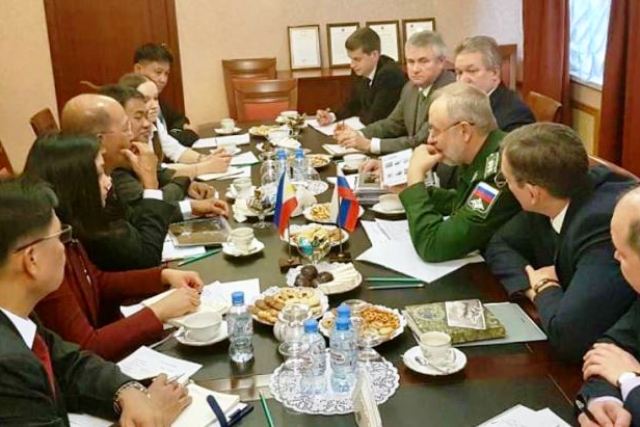 Meeting between Defense Secretary Delfin N. Lorenzana and Director Alexander Fomin of the Federal Service for Military-Technical Cooperation of the Russian Federation in Moscow on December 05. (Left side, foreground background: Brigadier General Duco Arnel M. Duco, Third Secretary and Vice Consul Luningning G. Camoying, Secretary Delfin N. Lorenzana, DND Assistant Secretary Raymund Quilop, Embassy Interpreter Ekaterina Kuznetsova, and Maj. Ranier Mabus. Right side, foreground-background: Mr. Valery Orel, Sergey Bugakov, Director Alexander Fomin, Deputy Director Vladimir Drozhzhov, Mr. Nikolay Martsenuk, and Mr. Timofey Zubov. DFA/Maj. R. Dayata
DND chief Lorenzana explores possible military cooperation with Russia
(Philstar.com) - December 7, 2016 - 7:20pm
MANILA, Phillippines — Upon the orders of President Rodrigo Duterte, Defense Secretary Delfin Lorenzana visited Russia to explore prospects for a military technical cooperation between the two countries.
Lorenzana met with Alexander Fomin, director of the Federal Service for Military Technical Cooperation (FSMTC) of the Russian Federation, in Moscow last Monday.
RELATED: Philippines mulls defense asset imports from Pakistan
This was the first ever visit of a Philippine Defense secretary to Russia since the establishment of Philippines-Russia diplomatic relations in 1976, according to the Department of Foreign Affairs (DFA).
"The Philippines is upgrading its modest defense capability and is keen on engaging Russia in military logistics, including possible procurement of defense equipment, training, and technology transfer," the DFA said in a statement.
Fomin said that Russia is ready to cooperate with the Philippines and willing to supply defense products at a reasonable price.
Many countries are lining up to buy Russian defense products as the country is flexible and a "responsible arms seller," Fomin said.
"Russia's successful operations in Syria have shown that its military equipment (e.g. attack helicopters and anti-aircraft missile systems) are indeed of high quality," the statement read.
Lorenzana and Fomin agreed to move the cooperation forward and continue inter-agency discussions.
The FSMTC regulates the export of Russian defense equipment and dual-use products. The agency reports directly to Russian President Vladimir Putin but is linked to Russia's Ministry of Defense.
Foreign Affairs Secretary Perfecto Yasay Jr. had also met with Russian Foreign Minister Sergey Lavrov earlier this week in Moscow to discuss the current state of bilateral relations.
The meetings came after the meeting between Duterte and Putin at the sidelines of the Asia-Pacific Economic Cooperation Summit in Lima, Peru a few weeks ago. — Patricia Lourdes Viray