Senate detains Dayan for contempt
December 6, 2016 | 12:00am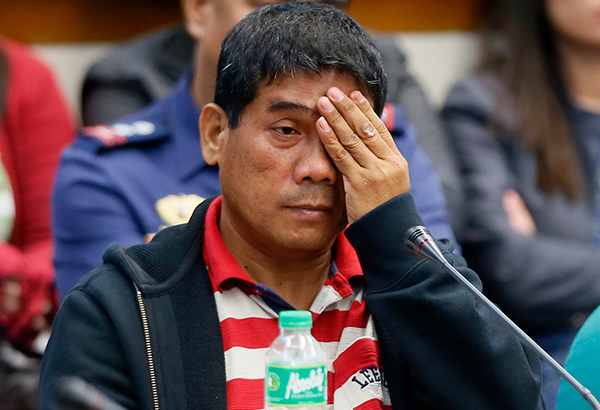 MANILA, Philippines - The senators cajoled, raised their voices and issued veiled threats as they demanded the truth.
But drug dealer Kerwin Espinosa and driver Ronnie Dayan were unmoved, standing firm on their stories linking Sen. Leila de Lima to drug payoffs despite inconsistencies in certain crucial details such as dates.
De Lima became emotional as she confronted the two at the Senate hearing yesterday and publicly denied receiving P8 million from Espinosa for her Senate campaign.
Dayan was cited in contempt and detained at the Senate on the motion of Sen. Manny Pacquiao, who was exasperated by his insistence that Espinosa was the only drug lord he had dealt with.
For six hours, the Senate committee on public order and dangerous drugs chaired by Sen. Panfilo Lacson tried to press Dayan for additional information on the alleged link between Kerwin and De Lima, who was present at the hearing.
It was the committee's third hearing into the killing of Espinosa, who was shot dead on Nov. 5 in his cell in Leyte by policemen serving a search warrant.
Lacson had hoped the hearing would resolve the conflicting testimonies of the witnesses, particularly Dayan and Espinosa.
Lacson, Pacquiao, Senate Majority Leader Vicente Sotto III and Sen. Richard Gordon grilled Dayan on his testimony, a majority of which conformed with Kerwin's, except on the year when De Lima allegedly received drug money to finance her senatorial campaign.
Kerwin had testified that he met Dayan at least three times from August 2015 to February this year and gave him a total of P8 million allegedly for De Lima.
During the second meeting, Kerwin said he was able to meet the former justice secretary and had his picture taken with her in Burnham Park in Baguio City through Dayan in November last year.
Dayan confirmed the events, but claimed it happened a year earlier and not in 2015.
Senators found it difficult to reconcile this part of Dayan and Kerwin's testimonies, as both stood by their claims.
Pacquiao said Dayan was known to be a power broker of sorts when De Lima was justice secretary.
He said Dayan took advantage of his connection with De Lima and had certain individuals appointed to positions, including former Bureau of Corrections chief Franklin Bucayu.
The senator said if Dayan had managed to deal with Kerwin, whose drug operation was in Leyte, he could have easily done the same with drug lords in Metro Manila.
Pacquiao told Dayan in Filipino: "I can see it in your eyes and behavior that you're lying. You're hiding something."
Lacson had some police officers in Baguio City present a certified copy of the logbook of the Alexandra Hotel, which showed Kerwin's cousin Ram checking in for the drug dealer on Nov. 19 last year.
Ram testified that he knew his cousin was to meet De Lima in Burnham Park.
"You seem to have a selective memory. You only want to remember what you want to remember," Lacson told Dayan in Filipino even as he warned that he could be jailed at the New Bilibid Prison (NBP) if he was lying under oath.
"That's what I really recalled, your honor," Dayan replied, as he stood by his statement that he met Kerwin only after De Lima gave him his number.
Pacquiao repeated the same line of questioning, but Dayan continued to stonewall, prompting the senator to move to have the witness cited for contempt.
Sotto sought to amend the motion to have Dayan detained at the NBP, where drug convicts who testified against De Lima are incarcerated.
Before the hearing wrapped up at around 4:30 p.m., Dayan was cited for contempt but the motion to have him detained at NBP was deferred.
Lacson said detaining Senate witnesses at the NBP has precedents in the Supreme Court.
Upon Sen. Franklin Drilon's grilling, Kerwin maintained that he got to know De Lima in August last year through Albuera police chief Jovie Espenido, who allegedly told him that the then senatorial candidate's driver bodyguard would call him.
Espenido denied ever calling Kerwin, saying he never accepted any drug money.
"Somebody is lying here," Drilon said, and moved to subpoena the record of the supposed telephone calls of Espenido, Kerwin and Dayan.
The three agreed to have their phone records dug up.
'Guilt by picture'
Sen. Antonio Trillanes IV said the witnesses' conflicting statements only showed the allegations against De Lima were fabricated and brought about by President Duterte's obsession to have her behind bars.
Trillanes questioned Kerwin's claim that he contributed money to De Lima's campaign fund as shown by their picture in Burnham Park. He said politicians and candidates always have their pictures taken with strangers.
"If we're going to establish guilt using pictures, then 'guilt by picture-taking' will be the practice," Trillanes said.
The senator presented three photos of Duterte with alleged drug lord Peter Lim, whom Kerwin described as one of the top suppliers of shabu in the country.
One photo showed Duterte shaking hands with Lim, another apparently was at a wedding where they stood as sponsors.
"I'm not ready to make a judgment but if this is the basis, we should arrest President Duterte because he has a photo shaking hands with a top drug lord," Trillanes said.
He warned that once the administration is replaced, Dayan and Kerwin's statements would change to the "truth."
Lacson said Trillanes' argument could fly if Lim and Kerwin had issued affidavits implicating Duterte, which could be grounds for impeachment.
Lacson said in the case of De Lima, both Dayan and Kerwin have issued separate affidavits telling the same story about the meeting.
Philippine National Police chief Director General Ronald dela Rosa testified he had informed Duterte about Lim and that the President was furious and ordered an investigation.
'I don't know you, I forgive you'
Yesterday was the first time that De Lima and Dayan saw each other again since the latter went into hiding in October.
De Lima was visibly angry when she grilled Dela Rosa on Duterte's order to reinstate Supt. Marvin Marcos despite being investigated for the killing of Espinosa.
The senator became emotional as she appealed to Dayan and Kerwin to tell the truth.
"This is not a question of choosing which of the testimony of Kerwin Espinosa and of Ronnie Dayan is true. It is not a question of who between these two guys is telling the truth because I'm telling you all that – like the last time – we don't know each other, I don't remember you, I don't remember if I did take a picture with you," a teary-eyed De Lima said, referring to Kerwin.