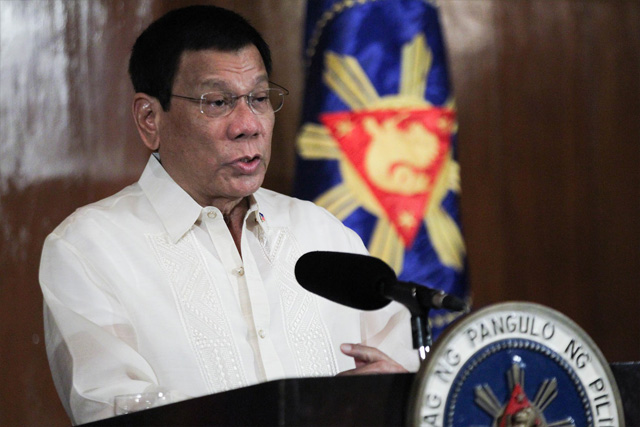 "Sabi ng human rights, pinapatay ko raw, sabi ko 'sige na maghinto tayo, paramihin natin.' Para pag panahon ng harvest time mas marami na tuloy mamatay, isali ko na kayo kasi kayo ang nagpalaki eh (Human rights defenders say I kill. I say, fine, let's stop and let the number of drug personalities increase. When harvest time comes and there are many of them, I will include you because you made the problem bigger)," President Rodrigo Duterte said. PND/Toto Lozano
Duterte urged: Retract kill threat vs HR activists
Janvic Mateo
(The Philippine Star) - December 3, 2016 - 12:00am
MANILA, Philippines - Critics of the reported summary killings in the Philippines are calling on President Duterte to revoke his threat to kill human rights activists, whom he described as a hindrance to the government's war on drugs.
"His comment – that human rights are part of the drug problem and, as such, human rights advocates should be targeted too – can be interpreted as a declaration of open season on human rights defenders. We condemn it in the strongest terms possible," the Network Against Killings in the Philippines said.
"We appeal to President Duterte to revoke this statement so as not to give police officers and the death squads out there the wrong impression that, in the war on drugs, human rights are also targeted. Human rights activists are not the enemy," the group added.
Recently organized amid the spate of drug-related deaths in the country, the network said Duterte's statement is alarming, considering the increasing incidents of summary killings in the country.
"(We call) upon the defenders of the law and the security sector to observe the rule of law and uphold human rights," the group added.
Commission on Human Rights (CHR) chairman Chito Gascon dubbed Duterte's statement as irresponsible, stressing that the role of human rights defenders is to uphold human dignity, check cases of abuses and call for accountability.
"That President Duterte would think that human rights defenders would abate crime is the farthest from truth and for him to suggest that they could be targets of attack as part of the anti-drug efforts of the government is irresponsible," Gascon told The STAR.
"We should all just do our job," he added.
CHR spokesperson Jacqueline de Guia earlier said that the issue is not the war on drugs, but the method with which it is being implemented, in reference to the spate of killings.
She stressed that the CHR supports the anti-drug war efforts, and that being a "human rights defender" does not mean that they are defending drug suspects.
"When we refer to human rights defender, we refer to people standing for the rights of the youth, women, old, indigenous peoples, underprivileged, disabled and all other persons in general," she said in Filipino.
In a speech on Monday, Duterte again lashed out at critics of the anti-illegal drug campaign of the government.
"Sabi ng human rights, pinapatay ko raw, sabi ko 'sige na maghinto tayo, paramihin natin.' Para pag panahon ng harvest time mas marami na tuloy mamatay, isali ko na kayo kasi kayo ang nagpalaki eh (Human rights defenders say I kill. I say, fine, let's stop and let the number of drug personalities increase. When harvest time comes and there are many of them, I will include you because you made the problem bigger)," Duterte said.