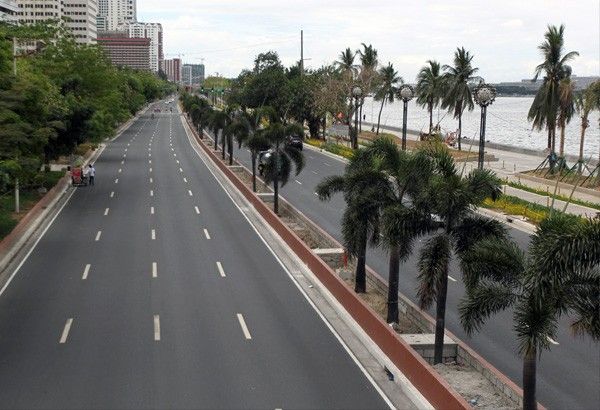 A suspected bomb was found on the southboundlane of Roxas Boulevard near the US Embassy.
STAR/File photo
NCRPO now says suspected bomb was IED
MANILA, Philippines (Updated 12:34 p.m.) -- A suspected bomb that prompted a road closure in Manila early Monday morning was just junk, the Manila police said. This assessment was overruled by the National Capital Region Police Office, however.
In an interview with radio dzMM, Manila Police District head Senior Superintendent Joel Coronel said that the suspicious package found along Roxas Boulevard was just a box of mobile phones and some gadgets.
He also added that K9 units as well as explosive ordnance disposal experts were doing a paneling and securing the area from the US Embassy premises going south to determine if there are more suspicious packages in the area.
However, National Capital Region Police Office head Chief Superintendent Oscar Albayalde confirmed in an interview with radio dzMM that the suspected bomb was an improvised explosive device.
He said the IED was made out of a blasting cap, detonator, cellphone, a 9-volt battery, and an 81-mm mortar.
Albayalde added that improvised bomb was similar to one used in the September 2 bombing in a Davao City night market.
A suspected bomb was discovered near the US Embassy around 7:15 a.m. on Monday, prompting authorities to close down a portion of the road to traffic.
Cleaners from the Department of Public Works and Highways found the suspected bomb taped to a mobile phone inside a trash can along the southbound lane of Roxas Boulevard, radio dzMM reported.
As of 7:36 a.m., the stretch of Roxas from Quirino Avenue to Kalaw Street was closed to traffic.
The Philippine National Police and the Metro Manila Development Authority are already on site, the MMDA also announced on its Twitter account.
ADVISORY: Temporary closed to traffic at Roxas Kalaw to US Embassy SB due to suspected bomb as of 7:36 AM. PNP and MMDA assisted. #mmda

— Official MMDA (@MMDA) November 27, 2016
A Manila Police District explosive ordnance disposal team was sent to check the suspected bomb.