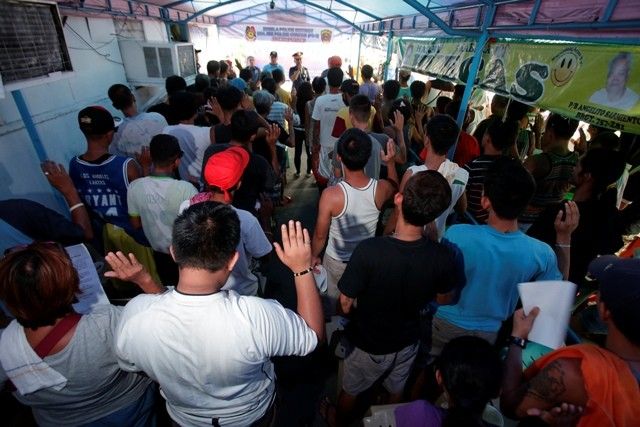 He said the funds, included in the proposed P3.35-trillion 2017 national budget, "will be spent entirely to build up the infrastructure of government-run residential TRCs, with the aim of enabling them to accommodate a larger number of users."
AP/Aaron Favila
DOH allots P570 M for drug rehab centers
Jess Diaz
(The Philippine Star) - November 27, 2016 - 12:00am
MANILA, Philippines - The Department of Health (DOH) is spending P570 million "to construct, upgrade, expand and repair" 16 public drug treatment and rehabilitation centers (TRCs) across the country in support of President Duterte's war on illegal drugs, Surigao del Sur Rep. Johnny Pimentel said yesterday.
He said the funds, included in the proposed P3.35-trillion 2017 national budget, "will be spent entirely to build up the infrastructure of government-run residential TRCs, with the aim of enabling them to accommodate a larger number of users."
Pimentel, a member of the House appropriations committee, said the P570 million has been allocated for drug rehab centers in Bicutan, Taguig City, which will get P51 million; San Fernando, La Union (P15 million); Bauko, Mountain Province (P65 million); Ilagan, Isabela (P20.3 million); Pilar, Bataan (P20 million); Pampanga (P60 million); San Fernando, Camarines Sur (P24.2 million); Pototan, Iloilo (P8.3 million); Argao, Cebu (P54 million); Cebu City (P11.7 million); Dulag, Leyte (P4.2 million); Sindangan, Zamboanga del Norte (P20 million); Ipil, Zamboanga Sibugay (P20 million); Cagayan de Oro City (P11 million); and Davao City (P35 million).
He added that the P570 million includes P150 million at the disposal of the DOH central office for the infrastructure requirements of the centers.
"We have to improve public access to these rehab facilities. We are worried about users from marginal families. We are not that concerned about users from well-to-do families who can afford to pay for private centers," Pimentel said.
He stressed the need for government to send as many users as possible to government-owned treatment facilities to effectively address the "demand side" of the drug problem.
"There will always be suppliers – traffickers and pushers – as long as we have users generating the demand for drugs," he pointed out.
He said the "supply side" is already being addressed by the Philippine National Police, which has been running after suspected traffickers and pushers, including their coddlers embedded in the criminal justice system.
He said the government centers are in addition to rehabilitation facilities being funded by businessmen from China, such as the one under construction at the Army camp in Nueva Ecija.