Yasay says Duterte impressed leaders at ASEAN summit
September 9, 2016 | 11:48am
MANILA, Philippines — For Foreign Affairs Secretary Perfecto Yasay, President Rodrigo Duterte's diplomatic debut was impressive to other Southeast Asian leadears in Laos.
"In fact, in one bilateral (meeting), with the Japanese Prime Minister Shinzo Abe, they were just so impressed," Yasay said during a televised interview on Thursday.
His observation was despite Duterte's gaffe before he departed for the Laotian capital earlier this week when he warned United States President Barack Obama against bringing up the issue of killings in the drug war.
"The Singaporean head of state, Prime Minister (Lee Hsien) Loong was also very much impressed." Yasay added.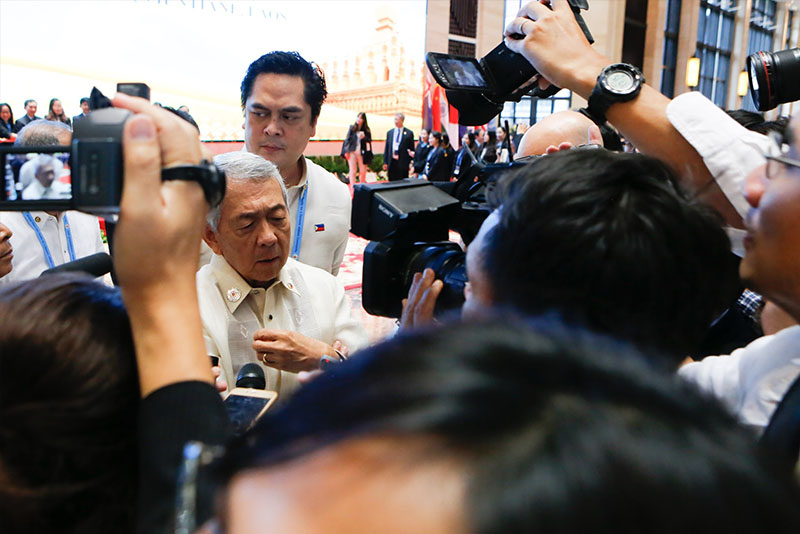 Foreign Affairs Secretary Perfecto Yasay interviewed by the media after the closing ceremony of the ASEAN Summit in Vientiane, Laos on Sept. 8 2016. Also in the photo is Presidential Communications Secretary Martin Andanar. PPD/Toto Lozano
The country's top diplomat said that what impressed participants at the Association of Southeast Asian Nations was Duterte's "performance, by what he said and his insight, and his diplomatic decorum."
Participants also noted the president's "ability to understand what was happening around the world in so far as the issues that were raised before him was concerned," Yasay said.
Yasay said the Philippine delegation also took the opportunity to explain the administration's campaign against drugs at the summit.
"We explained to them ... the foundation of our efforts in the fight against illegal drugs," he said.
Foreign policy analyst Richard Heydarian said Duterte's "more pragmatic and conciliatory approach" toward China was something ASEAN leaders quietly relished.
This was "opposed to the previous Benigno Aquino administration which constantly pressured its regional peers to rally against Beijing. In this sense, Duterte is seen as a diplomatic dove," Heydarian said.
Duterte, however, showed that the country's relations with the United States, though it remains tight, are no longer "sancrosanct," Heydarian said.
READ: Duterte riles at Western colonial powers at summit
The 10-nation bloc has long tried to balance Chinese interests amid the maritime disputes over the South China Sea which involve the Philippines and other Southeast Asian neighbors. — with reports from Camille Diola