Rody eyes Leila's former driver as state witness
(The Philippine Star) - August 19, 2016 - 12:00am
MANILA, Philippines - From driver to lover to accuser?
Sen. Leila de Lima's former driver and alleged lover, who reportedly collected money from convicted drug lords to support her senatorial bid, may turn witness against her, President Duterte said yesterday.
"He can become a witness. Why would I file a case?" Duterte told reporters in Cotabato City when asked why cases have not been filed against De Lima's driver.
"I can use many people. I can use a prisoner. I can use her lover who is her driver," he added.
The Chief Executive believes De Lima has no one to blame but herself for the exposé.
"She created the scandal. She knows she is a public official," the President said.
Asked to react to De Lima's appeal for him to spare her family, Duterte replied: "if you are in public office, De Lima, your life is an open book."
Duterte insisted he did not go overboard when he revealed the scandalous affair of De Lima, who has been critical of his war against illegal drugs.
"I did not but she did. She accused policemen of a lot of things. P** ina, the policemen are dying," the President said.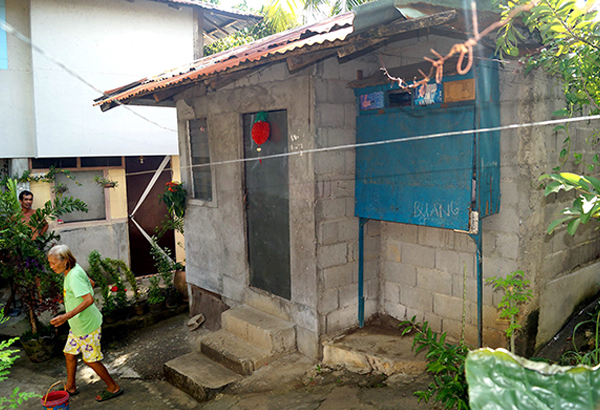 The house of Ronnie Palisoc Dayan in Manapla, Negros Occidental is reportedly rented by a teacher. CESAR RAMIREZ
Reports identified De Lima's alleged lover as one Ronnie Palisoc Dayan. Duterte alleged De Lima had built a house for him in Pangasinan.
"Here is an immoral woman, flaunting… well of course insofar as wife of the driver was concerned, it's adultery. Here is a woman who funded the house of her lover and yet we do not see any complaint about it," the President said in a speech at Camp Crame last Wednesday.
A bungalow house allegedly built by De Lima for Dayan is located in Barangay Galarin in Urbiztondo, Pangasinan, The STAR reported yesterday.
Malacañang officials, meanwhile, justified Duterte's tirades against De Lima.
Chief presidential legal counsel Salvador Panelo said Duterte was angered by De Lima's allegations that he was behind the extrajudicial killings in Davao City.
"She had it coming. She has been repeatedly warned because she was defaming the President," Panelo said.
"Remember, the information given by President Duterte is in relation to her being a public (official)… So that encompasses the duty of the President to serve and protect the people and to inform the nation of whatever is being done by government officials and whatever situation we are in now," he added.
Despite criticisms that the President was being misogynistic when he criticized De Lima, Panelo said there is no need for Duterte to apologize.
"Under the Constitution, all public officials are accountable for their acts. So if you do an illegal act or an act which is contrary to the demeanor of a public official, then you open yourself to criticism," Panelo said.
Report to the nation
He also said Duterte's tirade against the senator was a "report to the nation" and not an abuse of power.
Panelo said De Lima should even be thankful to Duterte for making his accusations public as this has given her the opportunity to dispute the "rumors" once and for all.
"I think she should be happy that the President has made that information to her because if she does not know it, everybody is talking about her. This is her opportunity to dispute whatever chismis is circulating around her," he said.
Duterte, in his speech at Camp Crame, spoke about a lady senator whose married lover-driver collected money from convicted drug lords at the New Bilibid Prison (NBP) during the election campaign season.
De Lima, Panelo said, "had it coming" as the revelation is part of the continuing State of the Nation Address by the President, including naming public officials linked to illegal drugs.
He said the President has said his piece and is not sharing more details.
The public should presume the President's allegations are not just plain rumors as he has sources.
The presidential counsel emphasized the attacks on De Lima were not meant to silence Duterte's critics. "Many have expressed opposition to the President's policies but he did not say anything about them. I think what the President is saying is if you want to appear as righteous, you better be sure that what you're doing from the very start is righteous too," he said.
When reminded that Duterte himself had two partners, Panelo replied: "He never denied having girlfriends. He was open to the public. Besides, he is a bachelor. He has not committed any crime." Duterte's marriage with his former wife Elizabeth Zimmerman has been annulled.
In his speech before soldiers in Cotabato City yesterday, Duterte said he had three wives.
Presidential spokesman Ernesto Abella, for his part, said Duterte did not like De Lima's approach when she linked the spate of killings with his war on drugs.?"(The President) is appalled by Senator De Lima's history of jumping to conclusions about the President's culpability without sufficient evidence, lack of appreciation of the magnitude of the menace and taking the opportunity to grandstand in spite of the gravity of the situation," he said in a statement.
Telenovela
Presidential communications secretary Martin Andanar said Duterte's tiff with De Lima has become a "national telenovela."
"He (Duterte) has immunity. We do not have immunity on this table, neither do you have immunity. So if you say something that is libelous, then you can go to jail because you are not the President of the Republic," Andanar said in a press conference in Davao City.?"The President fully understands his power, the power of immunity."
Duterte had claimed that the money collected by De Lima's driver at the NBP came from illegal drugs and may have been used to fund her senatorial bid last May.
He admitted though that he could not tell yet whether De Lima was aware about her lover's activities at the NBP.
De Lima has been vocal against Duterte's crackdown on illegal drugs and has vowed to investigate allegations of human rights abuses by law enforcers.
Last Monday, the senator wrote a letter asking Duterte to monitor the Senate hearings on the killing of suspected drug personalities, scheduled on Aug. 22 and 23.
"It's him, love him or hate him, but that's him," Nueva Ecija Rep. Magnolia Antonino said when asked if the President may have gone overboard with his revelations about De Lima.
"He (Duterte) always speaks what is on his mind. He's always like that even in Davao. I don't think that's an issue of moral ascendancy," she said in a press briefing.
Davao City Rep. Karlo Alexei Nograles, chairman of the House appropriations committee, said "everything can be settled amicably among honorable servants of the people."
"Step back and relax. It takes a lot of moral courage and restraint to do that, but as officers of government, I believe he will do the right thing," he said, referring to Duterte.
Former first gentleman Jose Miguel Arroyo said De Lima deserved the humiliation she got from President Duterte.
"That's karma," Arroyo said in a telephone interview as he cited instances where De Lima not only publicly humiliated him and his wife – former president and now Pampanga Rep. Gloria Macapagal-Arroyo – but also flouted the law to persecute his family.
"Now that the shoe is on the other foot, how does karma feel?" he said in his Facebook post.
He recalled in 2011 De Lima defied a Supreme Court order and barred his wife, who was in a wheelchair, from leaving the airport to seek medical treatment abroad.
De Lima also maligned him a few years ago when she accused him of trying to escape when he went to Hong Kong while there is pending criminal case against him even when CCTV cameras showed he went through regular departure process.
"She never apologized when I came back a few days later," Arroyo said.
Arroyo, a lawyer, also defended Duterte from criticisms the latter was hitting De Lima at the gutter level.
"There's nothing personal in the President's statements. All he was saying is that she was receiving money from illegal drugs, it so happened that the conduit is her lover," he said. With Delon Porcalla, Romina Cabrera, Paolo Romero