Carter bares sustained Philippines-US maritime patrols
(The Philippine Star) - April 14, 2016 - 10:00am
MANILA, Philippines - The United States and the Philippines have started joint patrols in the West Philippine Sea, with high-value and high impact rotational exercises being readied on a regular basis by both militaries, US Defense Secretary Ashton Carter announced yesterday.
In a press conference with Defense Secretary Voltaire Gazmin after a courtesy call on President Aquino at Malacañang, Carter said the patrols would continue to help build the two countries' interoperability as well as improve Philippine Navy capability "even as these patrols contribute to the safety and security of the region's waters."
The US official said a "contingent of US aircraft and their crews and pilots that participated in Balikatan will remain behind at Clark Air Base," and such arrangement would be done on a regular basis.
Gazmin said he expects US presence to "deter uncalled-for actions by the Chinese."
Carter's declaration comes just days after Philippine Ambassador to Washington Jose Cuisia Jr. asked the US for help in convincing China not to build in the nearby Panatag (Scarborough) Shoal. China has built man-made islands in other contested spots in the South China Sea.
Admiral John Richardson, chief of naval operations, was quoted in reports as saying he was seeing unusual ship activities near the shoal, including some survey ships, although there were no physical signs of reclamation yet.
Initially, five A-10C Thunderbolt II ground attack aircraft, three HH-60G Pave Hawk helicopters and an MC-130H special operations aircraft – along with 200 airmen, including pilots – would stay after the Balikatan to continue training with Filipino forces and "lay the foundation for joint air patrols to complement ongoing maritime patrols," Carter said.
Carter also said a command control unit would remain behind to continue exercising combined US-Philippines command and control capabilities and support increased cooperative activities in the region.
"With these steps, we're making our strong alliance even stronger. Our efforts to do more together demonstrate America's unbreakable commitment to the defense of this nation," the US official said.
"The stability and security of the Asia Pacific and the principles have helped so many in the region to rise and prosper. And that's not a new commitment. That's not something new this year. But it's one we have met decade after decade," Carter said.
He said he had productive discussions with Philippine officials on matters concerning the implementation of the Enhanced Defense Cooperation Agreement between Washington and Manila as well as the US maritime security initiative in the region.
"And of course not all change is positive. Indeed in the South China Sea, China's actions in particular are causing anxiety and raising regional tensions," he said.
"Countries across the Asia Pacific are voicing concerns with China's land reclamation which stands out in size and scope, as well as militarization in the South China Sea," he added.
"They are voicing these concerns publicly and privately at the highest levels in regional meetings and also in global fora," he pointed out.
Reaching out
He said the developments have prompted countries in the region, both longstanding allies and new partners, to reach out to the US.
"And we are answering that call. We're standing with these countries. We're helping them build capacity, reaffirming commitment to their and region security with increased posture. We're supporting their request for intensified regional diplomacy, not increased tensions," Carter stressed.
"And we always will, here and everywhere. Nothing will deter us from defending our core interest in freedom of navigation and overflight," he stressed.
Asked whether the joint patrols cover disputed areas, Carter said they could not divulge operational matters but that a general answer would be that military activities could be planned for a broad range of situations.
"Maritime activities, natural disasters, accidents, incidents, provocations… and from the American point of view, our alliance covers all of Philippine territory," he said, citing Article 4 of the Mutual Defense Agreement.
Carter said US President Barack Obama has made it clear that America's commitment to the Philippines is ironclad.
He said US alliance with the Philippines and other countries in the region, "nurtured over decades," has preserved stability and security in the region and helped "so many here and around the Asia Pacific to rise and to prosper."
"With respect to Chinese claims in the South China Sea and with respect to the claims of all other parties to disputed territories in the South China Sea, the American position is very clear, it's been consistent for a long time, which is: these things should be settled peacefully and lawfully," Carter emphasized.
He also announced plans to visit the Antonio Bautista Air Base in the southwest of Palawan, one of areas covered by EDCA for US utilization.
Carter reiterated the $425-million, five-year commitment by the US Department of Defense to help countries like the Philippines to share information and identify potential threats as well as work collaboratively to address common challenges in the region's waters.
"We've just released the first tranche of money and nearly 80 percent, more than 80 percent, almost $42 million will be coming here to the Philippines. With these steps, the US-Philippines alliance is as close as it has been in years," Carter said.
Carter is set to speak today at the closing ceremony of the Balikatan exercises.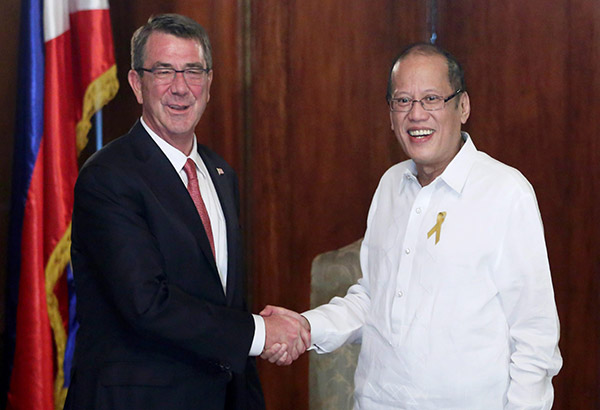 President Aquino welcomes US Defense Secretary Ashton Carter at Malacañang yesterday.
KRIZ JOHN ROSALES
New weapon eyed
Vice Admiral Alexander Lopez, commanding general of the Palawan-based Western Command, said the military should strongly consider acquiring US-made High Mobility Artillery Rocket System (HIMARS), the capability and effectiveness of which were proven during the Balikatan exercises.
"We have seen the capability – highly mobile, lethal… So I think that's one of the capabilities that we want to have," Lopez said of the HIMARS.
He said even Gazmin and Armed Forces of the Philippines (AFP) chief Gen. Hernando Iriberri were impressed with the weapons system, which was tested in a live fire drill.
Lt. Gen. John Toolan, commander of the US Marine Corps in the Pacific and Balikatan director for the US, said HIMARS has a range of 300 kilometers.
"HIMARS has also the capability that we're going to test to shoot from the deck of a ship, so you really need a solid ground to be able to fire from the deck of a ship," he said.
Toolan described this year's joint military drill as unique as it has moved to a higher level of command-and-control scenarios, with small unit leaders from both the US and Philippine militaries working very closely in handling combined-arms mock operations.
"This year we have done a lot of interesting things. We have operated and distributed method with forces, small forces with capabilities to bring lethal fires to bear on the target, we have actually worked very closely with the headquarters, at the command-and-control level so that we've built in command-and-control and I think the coordination mechanism has worked in a combined fashion," he said.
The coordinated maneuver involved Philippine Air Force's S211 sub-sonic jets, UH-1H Bell helicopters and US military's Cobra and Chinook helicopters as well as Ospreys.
Asked if the US Pacific Command is planning to deploy the HIMARS and the Ospreys in the Philippines to bolster the country's maritime defense, Toolan said it's not in the plan.
"But obviously with the mobility of HIMARS, you could use it anywhere. You know the truth of the matter is that we're allies and so you know as allies, we need to work together and I think that we'll be more than happy to share," he said.
Toolan also said the US servicemen who got involved in a brawl with local policemen in Palawan had been sent home and would be made to face military justice.
"We have very strict rules. Those guys know they violated the rules and they were sent home immediately and they're gonna be dealing with trouble when I get back," Toolan said.
He was referring to last April 2's brawl between four to five US servicemen and three Puerto Princesa City-based policemen, two of them officers, inside Club 54, a girlie bar in the city.
The incident could have gone unnoticed had a video recording of it not gone viral.
Asked what awaits the erring US servicemen upon his return, Toolan said "some kind of uniform code of military justice."
He said the incident appeared to be an isolated one, noting some 6,000 US troops were involved in the Balikatan, directly and indirectly.
"So far we've done a pretty good job, every once in a while, there's a crack but then we lay the hammer down," he said.
The Philippine National Police (PNP), for its part, has also relieved the three unnamed policemen from their post in Puerto Princesa City while an investigation is ongoing. – Aurea Calica, Jaime Laude, Rudy Santos