Protests against pandemic restrictions
+ Follow Story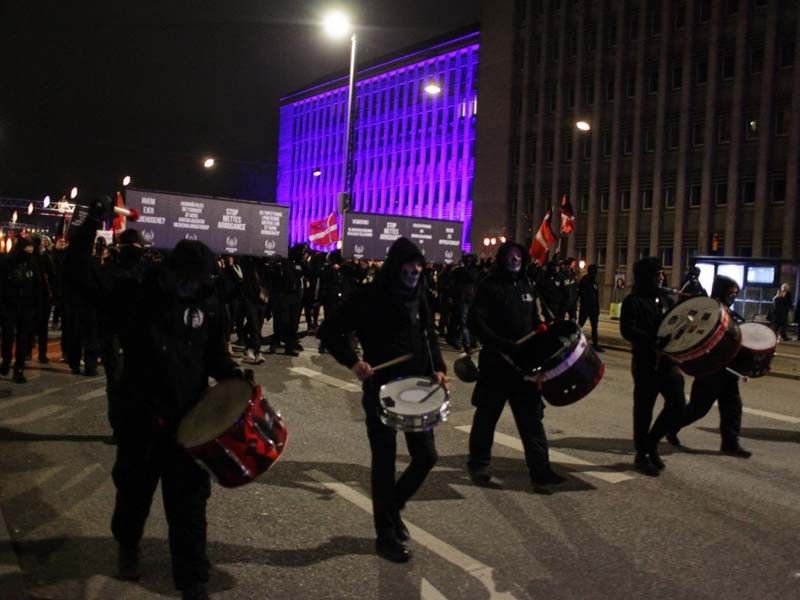 March 2, 2022
Riot police clashed with demonstrators outside New Zealand's parliament on Wednesday, using pepper spray and making dozens of arrests as they moved to end a long-running protest against coronavirus restrictions.
Hundreds of officers took to Wellington's streets before dawn to clear roads around parliament that have been clogged by protesters' vehicles for more than three weeks.
Ending a previous light-touch approach, officers with riot shields advanced on protesters yelling "Move! Move!", pulling down tents, and deploying a large forklift to remove cars and campervans to vehicle transporters.
Demonstrators who resisted were pepper-sprayed, and fighting erupted.
Police reported some protesters armed with pitchforks, but said they "gained significant ground" during the operation, which continued into Wednesday afternoon.
"We've seen tactics (from protesters) today including spraying fire extinguishers at the police line, the throwing of paint, early on we saw weapons," commissioner Andrew Coster said.
He said three officers received minor injuries and there were 36 arrests.
The force warned Wellington residents and office workers to steer clear of the area. — AFP
February 21, 2022
Several thousand people rallied in Madrid on Sunday in support of political rising star Isabel Diaz Ayuso, currently riding high in the polls after she helped open up the capital's bars and restaurants amid pandemic fatigue.
Supporters took to the streets to back the party's head of the Madrid region after she claimed the national leadership of the main opposition conservative Popular Party tried to get rid of her.
Gathering outside the PP's headquarters, they waved flags and chanted slogans, calling for the head of the party to resign. — AFP
February 20, 2022
Ottawa interim police Chief Steve Bell said Saturday significant "progress" had been made to clear protesters from the Canadian capital but that the operation was "not over."
"Today we've made some very important progress in safely removing this unlawful protest from our streets," Bell told a news conference.
But, he added, "This operation is still moving forward, it is not over and it will take more time." — AFP
February 17, 2022
Canadian police issued an ultimatum Wednesday to protesters who've been choking Ottawa streets for 20 days to leave the capital, as provincial and US state leaders called for an end to the cross-border vaccine requirement that sparked the trucker-led movement.
Officials, meanwhile, announced a negotiated peaceful end to the last of several recent blockades by protesters of border crossings between Canada and the United States.
"You must leave the area now," Ottawa police said in a notice distributed to truckers outside parliament.
Anyone blocking streets or assisting others in doing so will be arrested and face charges, as well as fines and seizures of their trucks, the statement said.
Police also warned that anyone charged or convicted for taking part in the illegal demonstration may, in addition to criminal penalties, be barred from traveling to the United States. -- AFP
February 13, 2022
Paris police fired tear gas and issued hundreds of fines on Saturday to break up a convoy of vehicles that attempted to block traffic in a protest over coronavirus restrictions and rising living costs.
Inspired by truckers who shut down the Canadian capital Ottawa, thousands of demonstrators from across France made their way to Paris in a self-proclaimed "freedom convoy" of cars, trucks and vans.
The police, who had banned the protest, moved quickly to try to clear cars at entry points to the city, handing out fines for participation in an unauthorised protest.
But more than 100 vehicles managed to converge on the Champs-Elysees, where police used teargas to disperse protesters in scenes reminiscent of the "yellow vest" anti-government riots of 2018-2019. — AFP
February 11, 2022
Paris police said Thursday they would ban so-called "freedom convoys" inspired by a truckers' protest against coronavirus restrictions that has paralysed the Canadian capital Ottawa.
Convoys of vehicles from across France are expected to converge on the French capital on Friday, risking a possible standoff with the police similar to the violent "yellow vest" protests that rocked the country in 2018.
A repeat of the "yellow vests" — a nationwide movement against social inequality — would be unwelcome for President Emmanuel Macron as he prepares for April 2022 elections he remains favourite to win.
"There will be a special deployment... to prevent blockages of major roads, issue tickets and arrest those who infringe on this protest ban," the Paris police force said in a statement.
The city's ban order will remain in force from Friday to Monday, while police recalled that people blocking roads faced up to two years in prison, a fine of 4,500 euros ($5,140) and a three-year exclusion from driving. — AFP
February 10, 2022
Canadian police threatened Wednesday to arrest trucker-led protesters who have shut down central Ottawa and disrupted cross-border trade in anger at Covid health rules, as Prime Minister Justin Trudeau lambasted the movement as "unacceptable."
With more people joining the blockade of the Ambassador Bridge between Windsor and the US city of Detroit in solidarity with the two-week long truckers protest in the Canadian capital, Trudeau warned the action threatens the country's economic recovery.
"Blockades, illegal demonstrations are unacceptable, and are negatively impacting businesses and manufacturers," Trudeau said in the House of Commons. "We must do everything to bring them to an end."
To the protesters, he said, "You can't end a pandemic with blockades... You need to end it with science. You need to end it with public health measures."
Earlier, White House Press Secretary Jen Psaki said US officials were "in very close contact" with Canadian border agencies about the bridge blockade.
Psaki also expressed concerns about the impacts of the protests on the US economy, saying the action "poses a risk to supply chains, to the auto industry." — AFP
February 8, 2022
Overwhelmed by hundreds of trucks laying siege to Canada's capital, Ottawa's mayor calls on federal authorities to help end the show of force against Covid restrictions which has paralyzed the city for days and threatens to snowball into a full-blown political crisis for Prime Minister Justin Trudeau.
Ottawa Mayor Jim Watson urges the federal government to send an additional 1,800 police officers and appoint a mediator to work with protesters to "end this siege" that has dragged on for 10 days, infuriating local residents with incessant honking and diesel fumes. — AFP
February 7, 2022
The ongoing truckers' protest in the Canadian capital is "out of control," the Ottawa mayor says, announcing a state of emergency as the city center remained blocked by opponents of anti-Covid measures.
The protesters, who first reached the capital on January 29, have parked their big rigs on city streets and put up tents and temporary shacks — paralyzing the capital to the consternation of officials and the mounting frustration of many residents.
Mayor Jim Watson announces a state of emergency that "reflects the serious danger and threat to the safety and security of residents posed by the ongoing demonstrations and highlights the need for support from other jurisdictions and levels of government," a statement from the city says. — AFP
February 6, 2022
Protesters again poured into Canada's capital early Saturday to join a convoy of truckers whose occupation of Ottawa to denounce Covid vaccine mandates is now in its second week.
Individuals and families huddled around campfires in bone-chilling weather and erected bouncy castles for children outside Parliament, while waving Canadian flags and anti-government placards.
Police, who were out in force and erected barriers overnight to limit vehicle access to the city center, said they were expecting up to 2,000 protesters — as well as 1,000 counterprotesters — to join hundreds of truckers already clogging Ottawa streets. — AFP
January 31, 2022
A "Freedom Convoy" of trucks joined by thousands of demonstrators brought Ottawa to a virtual standstill for a second day Sunday to protest Canada's vaccine mandates, as other sympathetic truckers blocked a border highway into the United States.
"This afternoon, a large presence of police continues throughout the downtown core and the movement of protestors and trucks continues to be managed," the Ottawa police said in a statement.
"These high-risk situations were de-escalated and resolved with no arrests," the authorities said, adding, however, that "police resources are fully stretched" in dealing with the obstruction, which appeared to involve hundreds of truckers.
The protest originated last week in western Canada, where dozens of truckers organized a convoy to drive from Vancouver to the Canadian capital Ottawa to demonstrate against Covid-related restrictions, particularly a recent vaccination requirement for truck drivers crossing the long US-Canada border.
Trucks began arriving in Ottawa on Friday in multiple convoys, and were joined by thousands of other anti-vaccination protesters.
In solidarity with the convergence on Ottawa, truckers Sunday staged what police described as a "complete blockage" of Highway 4 in western Canada's Alberta province along the US border. The road is a major artery for commercial goods between the nations. — AFP
January 24, 2022
Police fired water cannon and tear gas Sunday at stone-throwing protesters after tens of thousands of demonstrators marched through Brussels against Covid-19 rules.
Authorities estimated that around 50,000 people paraded through the Belgian capital — the largest in a spate of protests in the city over the past months.
Clashes broke out close to the headquarters of the European Union as police used water cannon and tear gas to push back hundreds of protesters who hurled paving stones and firecrackers. — AFP
January 23, 2022
Some 38,000 people protested across France Saturday, the interior ministry says, two days before a vaccination health pass becomes mandatory to take part in much of public life.
From Monday, those aged 16 and above will have to show they have been jabbed to access restaurants or bars, leisure activities or use inter-regional public transport.
A negative Covid test will no longer be sufficient, except to access health services. — AFP
January 13, 2022
Half of French schools could close Thursday as up to three-quarters of teachers walk out, pushing back against the government after three changes of Covid rules for classrooms in the space of a week.
The strike "demonstrates the growing despair in schools", the largest teachers' union Snuipp-FSU said in a Tuesday statement announcing the strike.
They complain that their members are unable to teach properly, are not adequately protected against coronavirus infection and frequently hear about changes to health precautions via the media rather than from higher-ups. — AFP
December 12, 2021
Tens of thousands gathered in Austria's capital Vienna on Saturday to protest mandatory Covid vaccines and home confinement orders for those who have not yet received the jabs.
Police said an estimated 44,000 people attended the demonstration, the latest in a string of huge weekend protests since Austria last month became the first EU country to say it would make Covid vaccinations mandatory.
A partial confinement since last month ends on Sunday for the vaccinated, but those who have not received the required doses will have to remain at home. — AFP
November 25, 2021
A Dutch judge jailed two people on Wednesday for throwing stones at police during riots in Rotterdam, in the first sentences concerning days of unrest over the government's coronavirus measures.
A woman identified as Sharon M., 26, from the neighbouring town of Spijkenisse, and a man named as Terence van den B., 29, from nearby Delft, were both sentenced to five months in prison with two months suspended.
Sharon M. was ordered to pay 1,000 euros for damage to police cars while both were banned from Rotterdam's main Coolsingel shopping area for one year under a fast-track sentencing. — AFP
November 22, 2021
A fresh wave of protests broke out in several European cities and in some French overseas territories Sunday, as protesters reacted, sometimes violently, to moves to reintroduce coronavirus restrictions.
Police and protesters clashed in the Belgian capital Brussels, in several Dutch cities and overnight into early Sunday in the French Caribbean territory Guadaloupe.
There were fresh demonstrations in Austria, where the government is imposing a new lockdown and Covid-19 vaccine mandate.
In Brussels, violence broke out at a protest against anti-Covid measures which police said was attended by 35,000 people. — AFP
November 21, 2021
Fresh rioting broke out late Saturday over the Dutch government's coronavirus measures, with rioters pelting police with stones and fireworks as protests turned violent for a second night in the Netherlands.
Officers in riot gear charged groups of demonstrators in The Hague, while a water cannon was used to put out a pile of blazing bicycles at a busy intersection. Five police officers were injured and at least seven people arrested.
Riots also erupted in the central "Bible Belt" town of Urk and cities in southern Limburg province, while angry fans disrupted two football matches being played behind closed doors because of coronavirus rules, Dutch media said.
The previous night an "orgy of violence" broke out in the port city of Rotterdam, during which three people were wounded when police opened fire and 51 suspects were arrested.
The Netherlands went back into Western Europe's first partial lockdown of the winter last Saturday with at least three weeks of curbs, and is now planning to ban unvaccinated people from entering some venues, the so-called 2G option. — AFP
As the pandemic, and quarantine restrictions around it, stretches on, some sectors have revived protests against lockdowns and, in some jursidictions, mandatory vaccination.
Photo: Demonstrators march during a "Men in Black" protest against new government Covid-19 restrictions in Copenhagen, Denmark, November 20, 2021.