Protests against pandemic restrictions
November 25, 2021 | 7:49am
+ Follow Story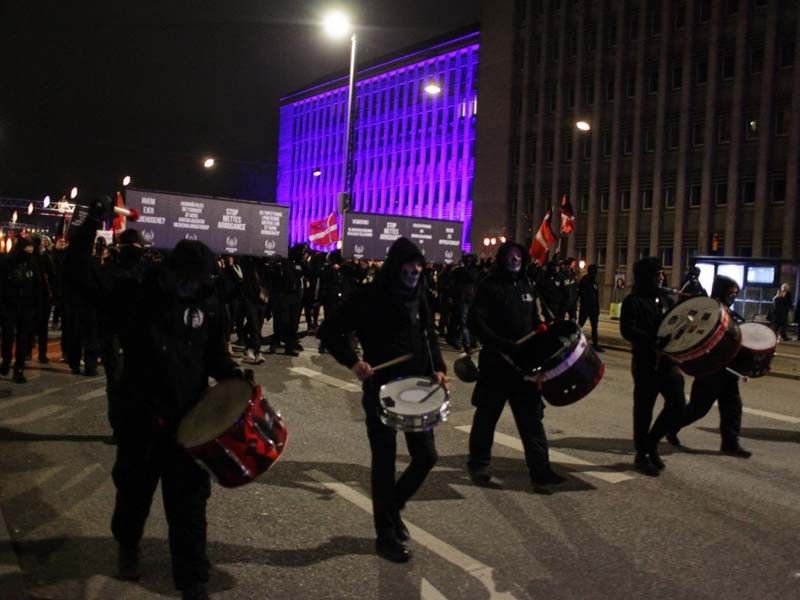 3 days ago
A Dutch judge jailed two people on Wednesday for throwing stones at police during riots in Rotterdam, in the first sentences concerning days of unrest over the government's coronavirus measures.
A woman identified as Sharon M., 26, from the neighbouring town of Spijkenisse, and a man named as Terence van den B., 29, from nearby Delft, were both sentenced to five months in prison with two months suspended.
Sharon M. was ordered to pay 1,000 euros for damage to police cars while both were banned from Rotterdam's main Coolsingel shopping area for one year under a fast-track sentencing. — AFP
November 22, 2021
A fresh wave of protests broke out in several European cities and in some French overseas territories Sunday, as protesters reacted, sometimes violently, to moves to reintroduce coronavirus restrictions.
Police and protesters clashed in the Belgian capital Brussels, in several Dutch cities and overnight into early Sunday in the French Caribbean territory Guadaloupe.
There were fresh demonstrations in Austria, where the government is imposing a new lockdown and Covid-19 vaccine mandate.
In Brussels, violence broke out at a protest against anti-Covid measures which police said was attended by 35,000 people. — AFP
November 21, 2021
Fresh rioting broke out late Saturday over the Dutch government's coronavirus measures, with rioters pelting police with stones and fireworks as protests turned violent for a second night in the Netherlands.
Officers in riot gear charged groups of demonstrators in The Hague, while a water cannon was used to put out a pile of blazing bicycles at a busy intersection. Five police officers were injured and at least seven people arrested.
Riots also erupted in the central "Bible Belt" town of Urk and cities in southern Limburg province, while angry fans disrupted two football matches being played behind closed doors because of coronavirus rules, Dutch media said.
The previous night an "orgy of violence" broke out in the port city of Rotterdam, during which three people were wounded when police opened fire and 51 suspects were arrested.
The Netherlands went back into Western Europe's first partial lockdown of the winter last Saturday with at least three weeks of curbs, and is now planning to ban unvaccinated people from entering some venues, the so-called 2G option. — AFP
As the pandemic, and quarantine restrictions around it, stretches on, some sectors have revived protests against lockdowns and, in some jursidictions, mandatory vaccination.
Photo: Demonstrators march during a "Men in Black" protest against new government Covid-19 restrictions in Copenhagen, Denmark, November 20, 2021.