Duterte's SONA 2021
+ Follow Story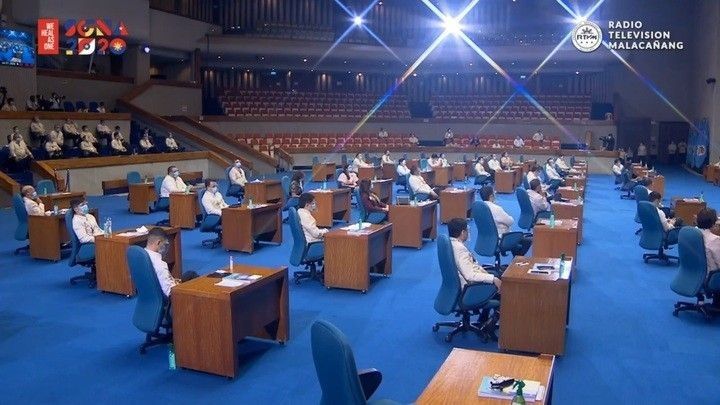 July 27, 2021
President Rodrigo Duterte's State of the Nation Address was a confirmation that killing is a government policy, rights group Karapatan says.
"Duterte knows the day of reckoning is coming for him with the International Criminal Court Office of the Prosecutor's request to investigate him for his crimes against the Filipino people. He may brag and pretend not to care, but his quip to 'add another' dead body amid the calls for accountability is an insidious — and serious — threat," the group also says.
July 26, 2021
President Duterte says the Delta variant of the COVID-19 is "far more aggressive and dangerous."
Duterte hopes the variant will not spread any further but if something wrong happens, "it will be just like what happened in the early days."
July 26, 2021
President Duterte claims his government launched the most extensive amelioration program in history with the passage of Bayanihan 1 and Bayanihan 2.
July 26, 2021
President Duterte talks about the pandemic response, joking that he may have the deadly virus that killed 27,000 Filipinos.
Earlier he told everyone to pray to God to solve the pandemic, which has left thousands of Filipinos out of work.
July 26, 2021
President Duterte revisits the issue with Metro Manila water providers, now Razon-led Manila Water Company Inc. and Pangilinan-led Maynilad Water Services Inc., which he earlier accused of forging "onerous" contracts with the government.
"I told (Finance Secretary) Dominguez, 'tell them that I am no longer honoring the contract,'" the president recalls telling his finance chief. — Ian Nicolas Cigaral
July 26, 2021
President Duterte talks about the West Philippine Sea arbitral ruling.
He says "brilliant" Filipinos keep on pushing for something he does not really know.
"What will I do with a document that will not bind China because they are never part of that arbitration?" he adds.
July 26, 2021
President Duterte says the Philippines remains a responsible member of the international community and will work to achieve shared objectives.
July 26, 2021
Partido Manggagawa says 10 members of its Bulacan chapter were apprehended in North Caloocan this morning for alleged violations of social distancing protocols. They were on the way to a protest for the State of the Nation Address.
PM stresses their members were wearing face masks and face shields as required by the pandemic task force. — The STAR/Marc Jayson Cayabyab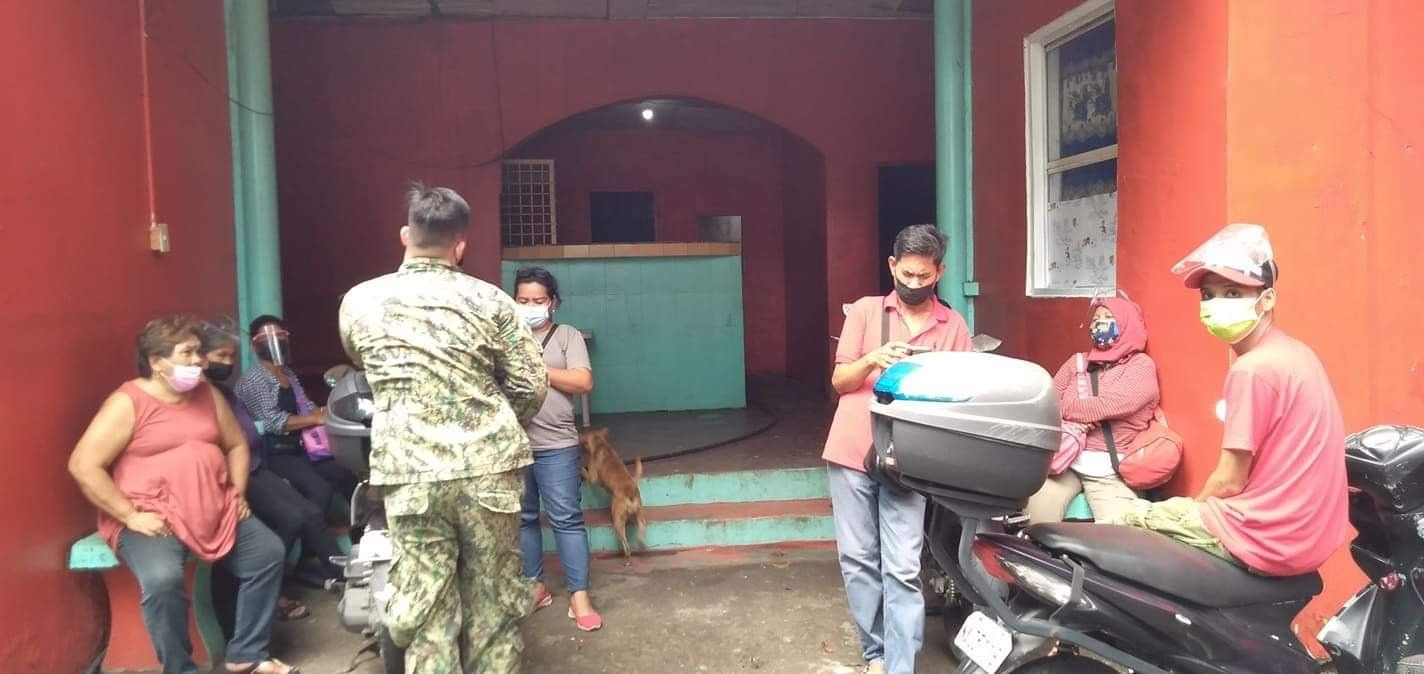 July 26, 2021
President Rodrigo Duterte tells his economic team to ensure funds for big-ticket infrastructure projects are released in time.
Government data show only nine major projects out of 119 listed in the Duterte administration's ambitious "Build, Build, Build" program have been completed so far.
China-funded projects have been moving slowly and pandemic restrictions continue to hamper construction activities. — Ian Nicolas Cigaral
July 26, 2021
President Duterte says he has dismissed about 200 government personnel involved in graft and corruption.
He adds that corruption is endemic in government and nobody can stop corruption unless you overturn the government completely.
July 26, 2021
President Duterte discusses about the national ID, efforts to streamline government processes.
July 26, 2021
President Duterte thanks the private sector for partnering with the government to open Stage 3 of the Metro Manila Skyway in January.
July 26, 2021
President Duterte says high impact projects outside Metro Manila to be completed within his term, cites developments in the Clark airport and road projects in Sorsogon City.
July 26, 2021
President Duterte says the rebuilding of war-torn Marawi is still incomplete.
He calls on Task Force Bangon Marawi to "race against time" and finish the necessary work.
July 26, 2021
President Duterte talks about the passage of the Organic Law for the BARMM, finally fulfilling a promise that was decades in the making.
July 26, 2021
President Duterte talks about the war on drugs. He says he goes crazy looking at the drug situation in the country.
"There are about 1,000 Filipinos arrested everyday in connection with drug trafficking," he adds.
July 26, 2021
Duterte says he is confident that the government will end the communist revolution "once and for all."
He says that with the support of local governments, he is confident that support for communist rebels will continue to dwindle.
July 26, 2021
Duterte asks Congress to pass legislation for a unified system for the pensions of uniformed personnel.
He also calls for a law that will provide free legal assistance for military and police personnel in cases related to the performance of their duty.
Duterte has often promised to protect uniformed personnel against work-related cases.
He has, however, condemned high-profile incidents of abuse by the police and military.
July 26, 2021
"I am profoundly thankful for your sustained assistance to Filipino people," Duterte tells businessmen.
The administration's pandemic strategy heavily relies on the private sector to shore up the economy to recovery. But this game-plan has faced setbacks as on-off lockdowns continue to hurt businesses, all while the government earns criticisms for its reluctance to unleash a massive fiscal response to the health crisis. — Ian Nicolas Cigaral
July 26, 2021
President Duterte talks about free education, universal health care, fight against illegal drugs, criminality and corruption, and development structures.
July 26, 2021
President Rodrigo Duterte is set to deliver his sixth and final State of the Nation Address at the Batasang Pambansa.
July 26, 2021
A member of the House tested positive for COVID-19 on Sunday but attended the morning session in preparation for the president's State of the Nation Address, Rappler reports.
According to Rappler, Deputy Speaker Henry Oaminal (Misamis Occidental) got a negative result in the morning and attended the session at the plenary hall where the joint session for Duterte's address will be held.
He says he scheduled another COVID-19 test when he got his positive result on Sunday evening.
July 26, 2021
President Rodrigo Duterte on his way to the plenary hall.
July 26, 2021
The helicopter carrying President Rodrigo Duterte lands at the Batasang Pambansa.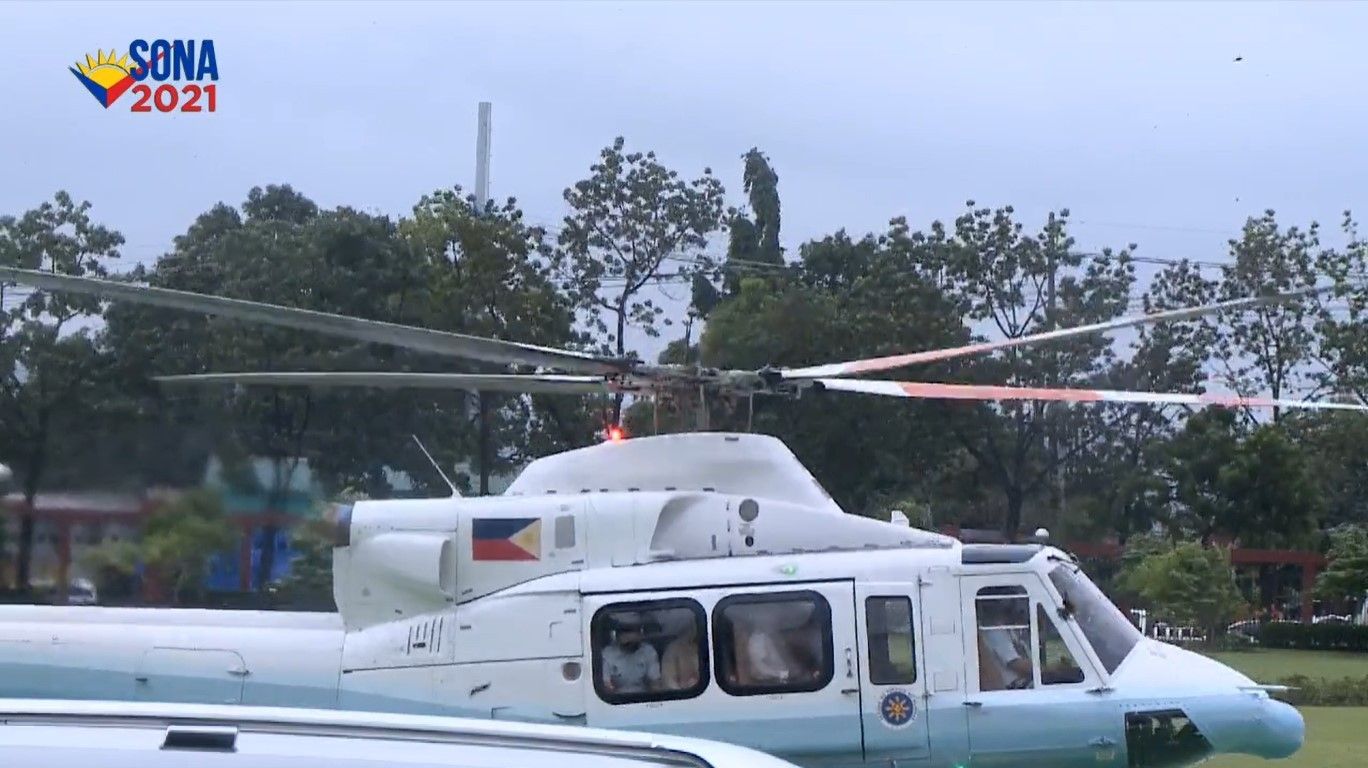 July 26, 2021
The Makabayan bloc at the House of Representatives will be boycotting President Rodrigo Duterte's final State of the Nation Address, saying activist and advocacy groups have already given a comprehensive assessment on the state of the nation.
"Narinig na namin ang dapat marinig kanina mula sa taumbayang pagod na pagod na rin makinig sa buladas ng Pangulo (We have already heard what we need to hear from the people who are already tired of the president's tirades)," the six-member House bloc says.
They expect the president to "weave lies to cover up the numerous fiascos of this administration," they say in Filipino. Among those messes, they say, are the pandemic response and the flagging economy as well as rising hunger and poverty.
The Makabayan bloc, which was part of the administration majority bloc in the early Duterte years, has been walking out of the SONA in previous years.
The bloc bolted the administration majority over differences with Duterte's policies, particularly on the peace talks with the Communist Party of the Philippines-New People's Army. They have since become among the administration's most vocal critics.
July 26, 2021
Marawi IDPs and members of civil society groups have been calling for passage of the Marawi compensation bill, which will give financial assistance to Marawi City residents displaced by fighting during the siege in 2017.
A coalition of 15 civil society groups and alliances in Marawi earlier this month called on Congress to fast track passage of the compensation bill.
They said they hope that President Rodrigo Duterte pushes for its passage during his State of the Nation Address.
"This is our plea to our president and lawmakers – to certify the passing of the compensation bill as urgent, so that we might have some justice for what happened in Marawi," said Ding Cali, member of the newly established CSO Marawi Compensation Advocates (CSO-MCA) and director of the Kalimudan sa Ranao Foundation, Inc, says in a press statement.
July 26, 2021
The Duterte administration's policies are best illustrated by the "dolomite beach" along Manila Bay, Akbayan party-list says.
"It sums up his term perfectly – wasteful and pretentious, foolish, dangerous, and all in all, fake," Dr. RJ Naguit, the party-list's spokesperson, says.
"When Duterte came to power in 2016, he made 'dolomite populist promises.' He talked a big talk: crime and drugs gone in six months, labor contractualization over in one week, zero tolerance for any whiff of corruption, jetskiing to the West Philippine Sea to assert our sovereign rights, and 'build, build, build' to help bring jobs and development," Naguit also says.
July 26, 2021
Speaker Lord Allan Velasco mentions priority bills for this session of Congress, including the establishment of a virology institute and a Center for Disease Control.
July 26, 2021
Deputy Speaker Mikee Romero opens the House's third regular session.
July 26, 2021
Members of the Makabayan bloc clad in their SONA outfits are at the University of the Philippines Diliman for a protest against President Rodrigo Duterte.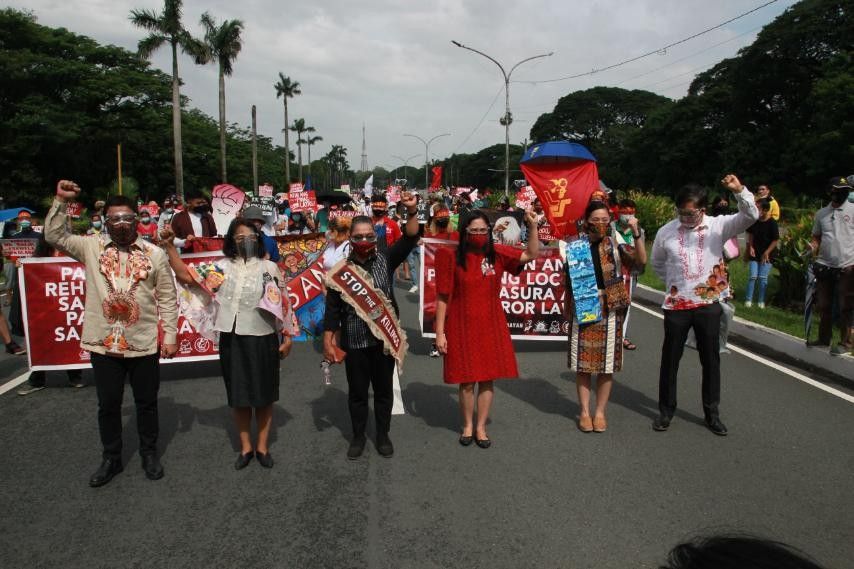 July 22, 2021
Akbayan party-list will hold a "Goodbye, Duterte!" protest in Quezon City on Friday, July 23, days before President Rodrigo Duterte will give the last State of the Nation Address of his presidency, the party-list says in an advisory.
"Akbayan advocates will bring oversized and colorful letters to spell out 'Goodbye, Duterte' along Commonwealth Avenue in Quezon City. They will also bring moving boxes to send the strong message that Duterte needs to move out of his office as soon as possible and face accountability for his crimes against the people," it also says.
The protest will be at the Commission on Human Rights grounds, the site of a "freedom park" where protests and small gatherings are allowed.
July 19, 2021
The House of Representatives will allow around 350 people to attend President Rodrigo Duterte's State of the Nation Address, the last for his presidency, on June 26, House Secretary General Mark Llandro Mendoza says.
In a briefing, Mendoza says attendees will be from the Senate, House as well as other agencies. The number also includes guests.
He says the House session hall can normally hold around 1,500 people but capacity is lower due to physical distancing requirements.
Attendees will need to take an RT-PCR test prior to the SONA and an antigen test on the day of the address.
Follow this thread for updates on the preparations for and the delivery of President Rodrigo Duterte's State of the Nation Address.
Photo: RTVM screengrab from SONA 2020