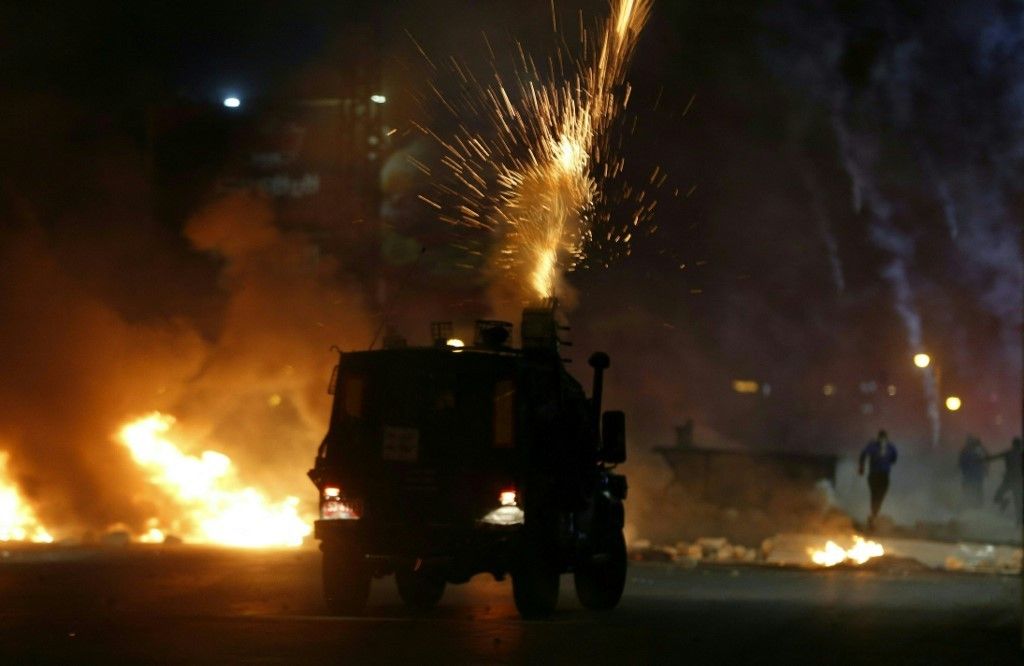 Israeli-Palestinian conflict
LATEST UPDATE: May 30, 2021 - 9:01am
LOCATION:
PALESTINE
ISRAEL
+ Follow Story
May 30, 2021
More than 1,000 rally in Washington in support of Palestinians and calling for an end to US aid to Israel.
The demonstration on the steps of the Lincoln Memorial came as a ceasefire that ended 11 days of intense fighting between Israel and the Islamist movement Hamas in the Gaza Strip has so far held.
"We are hoping to send a clear message to the United States government that the days of supporting the Israeli state without repercussions are over," one of the demonstrators, 39-year-old Washington lawyer Sharif Silmi, says as he stood in the crowd where many protesters held red, white, green and black Palestinian flags. — AFP
May 24, 2021
The United States' Secretary of State Antony Blinken departs Monday for a Middle East trip aimed at consolidating the ceasefire that brought 11 days of deadly bombardment between Israel and Hamas to a halt.
"Secretary Blinken will meet with Israeli leaders about our ironclad commitment to Israel's security," US President Joe Biden said in a statement.
"He will continue our administration's efforts to rebuild ties to, and support for, the Palestinian people and leaders, after years of neglect." — AFP
May 23, 2021
The UN Security Council calls for "full adherence to the ceasefire" in the conflict between Israel and Palestinians in the Gaza Strip in its first statement since violence erupted on May 10.
Security Council members also stress "the immediate need for humanitarian assistance to the Palestinian civilian population, particularly in Gaza."
The statement received backing from the US delegation — which had blocked earlier drafts — only after the removal of a paragraph condemning the violence, a sensitive issue since it raised the question of blame. — AFP
May 21, 2021
US Secretary of State Antony Blinken will travel to the Middle East "in the coming days," the State Department said Thursday after Israel and Hamas agreed to a ceasefire halting 11 days of fighting.
Blinken spoke with his Israeli counterpart Gabi Ashkenazi, who "welcomed Secretary Blinken's planned travel to the region, where the secretary will meet with Israeli, Palestinian, and regional counterparts in the coming days to discuss recovery efforts and working together to build better futures for Israelis and Palestinians," State Department spokesman Ned Price said. — AFP
May 21, 2021
Ceasefire between Israel, Hamas officially comes into force. — AFP
May 20, 2021
The UN Human Rights Council says Thursday it would hold a special session on the situation in the occupied Palestinian territories, amid deadly violence between Israel and armed Palestinian groups in Gaza.
The session, planned for next Thursday, will address "the grave human rights situation in the Occupied Palestinian Territory, including East Jerusalem," the council says in a statement.
The session was requested by Pakistan, which is the coordinator of the Organisation of Islamic Cooperation, and the Palestinian authorities, it says. — AFP
May 19, 2021
Israel's army says it fired artillery shells towards southern Lebanon after four rockets were launched on Wednesday from Lebanese territory towards the Jewish state.
"Four rockets were fired from Lebanon into Israeli territory. The Iron Dome Aerial Defence System intercepted one of them and the rest most likely fell in open areas," it says in a statement, adding that in response army "artillery are striking a number of targets in Lebanese territory." — AFP
May 19, 2021
The Israel-Gaza conflict is pushing the whole region "in the wrong direction," Saudi Foreign Minister Faisal bin Farhan said Tuesday, calling for an end to the violence.
"This all pushes us absolutely in the wrong direction. It means that we are making a path toward a sustainable peace more difficult," bin Farhan told AFP, as the international community steps up its diplomatic efforts to push for de-escalation.
The conflict is "empowering the extremists," he added.
"It empowers the most intolerant voices in our region and makes (finding) a path to real peace harder," he added, speaking on the sideline of summits in France on Sudan and Africa.
"We have to all work together to encourage all the parties to engage (seriously), he said. "First of all, to de-escalate, to stop the violence and then to engage in serious peace talks toward a final settlement."
That final settlement "must include a Palestinian state with East Jerusalem as its capital," Saudi Arabia's top diplomat stressed. — AFP
May 18, 2021
Israeli jets kept up a barrage of air strikes against the Palestinian enclave of Gaza Monday evening, as a week of violence that has killed more than 200 people pushed world leaders to step up mediation.
Air strikes sent dust clouds billowing into the skyline, as the Hamas militant group that controls the besieged and densely populated coastal strip threatened more rocket strikes on Tel Aviv if bombing of residential areas does not stop.
In a call with Israeli Prime Minister Benjamin Netanyahu Monday night, US President Joe Biden said he backed a ceasefire, shortly after diplomats said Washington had blocked a third draft of a UN Security Council resolution calling for an end to the violence.
Gaza resident Roba Abu al-Awf, 20, said she was bracing for a rough night.
"We have nothing to do but sit at home," she said. "Death could come at any moment — the bombing is crazy and indiscriminate." — AFP
May 17, 2021
US Secretary of State Antony Blinken on Monday urged Israel and Palestinians to "protect civilians, especially children", reiterating that Israel "as a democracy has an extra burden" to do so.
"We'll continue to conduct intensive diplomacy to bring this current cycle of violence to an end" and "we are ready to lend support, if the parties seek a ceasefire", Blinken told a press conference in Copenhagen. — AFP
May 17, 2021
Israeli warplanes bombarded the Gaza Strip overnight Sunday to Monday, said witnesses in the Palestinian enclave, from where armed groups have launched rockets into the Jewish state.
"IDF fighter jets are striking terror targets in the Gaza Strip," the Israeli army said in a statement in the first hours of Sunday.
Dozens of missiles crashed into different parts of the densely populated coastal territory, AFP journalists said. — AFP
May 16, 2021
Israeli air strikes on Gaza killed 17 Palestinians Sunday, raising the death toll in the crowded coastal enclave since bombardments escalated last Monday to 174, Gaza's health ministry said.
Among the people killed are 47 children, it said. In Israel, 10 people have been killed in total, with barrages of rockets fired from Gaza. — AFP
May 16, 2021
Israeli air strikes hit the home of Yahya Sinwar, head of Hamas' political wing in the Gaza Strip, the army said Sunday, but without saying if he was killed.
"Among the targets struck are the residences of Yahya Sinwar, Chairman of the Hamas Political Bureau in Gaza, as well as of his brother, Muhammad Sinwar, Head of Logistics and Manpower for Hamas," Israel's army said in a statement, releasing a video showing plumes of smoke and intense damage.
"Both residences served as military infrastructure for the Hamas terror organisation." — AFP
May 16, 2021
Canada stresses "the fundamental importance of protecting journalists" following an Israeli attack on a building housing international media in Gaza, and called for "immediate steps" to end the violence.
Foreign Minister Marc Garneau says Canada was following the situation in Israel, the West Bank and Gaza "with grave concern" and urged "all parties to take immediate steps to end the violence, deescalate tensions, protect all civilians, refugees, journalists and media workers."
He reiterates "the fundamental importance of protecting journalists," stressing they "must be free to do their work." — AFP
May 16, 2021
US President Joe Biden expresses his "grave concern" over violence in Israel and Gaza in a phone call with Israeli Prime Minister Benjamin Netanyahu Saturday while separately telling Palestinian president Mahmud Abbas that Hamas must "cease firing rockets."
Speaking on the sixth day of a paroxysm of Israeli-Palestinian violence that has left scores dead or wounded, Biden expresses his "strong support" for Israel's right to defend itself against rocket attacks by "Hamas and other terrorist groups," in his call with Netanyahu, while also emphasizing his clear concern over the deadly flare-up and casualties on both sides.
"He condemned these indiscriminate attacks against towns and cities across Israel," the White House statement says. — AFP
May 16, 2021
UN Secretary-General Antonio Guterres was "dismayed" by civilian casualties in Gaza and "deeply disturbed" by Israel's strike on a building containing international media outlets, a spokesman said in a statement released Saturday.
Guterres was "deeply disturbed by the destruction by an Israeli airstrike today of a high-rise building in Gaza City that housed the offices of several international media organizations," his spokesman, Stephane Dujarric, said in the statement.
He was also "dismayed" by the "increasing number of civilian casualties, including the death of ten members of the same family, including children, as a result of an Israeli airstrike last night," Dujarric continued. — AFP
May 12, 2021
The Philippines expresses concern over the recent violence in Jerusalem and the Gaza Strip.
"The Philippines urges all parties to exercise restraint and seek dialogue to de-escalate tensions and avoid further actions that could affect future Israeli-Palestinian peace negotiations," the Department of Foreign Affairs says in a statement.
??READ?? #DFAStatement: On the recent violence in Jerusalem and the Gaza Strip

Also found in this link ????????https://t.co/xo1xMe2Ykc#DFAForgingAhead pic.twitter.com/dYbMtEKwPh

— DFA Philippines (@DFAPHL) May 12, 2021
May 12, 2021
A man and a girl were killed Wednesday in the Israeli town of Lod after the car they were in was hit by a rocket fired from the Gaza Strip, Israeli police said.
The girl, whose age was not given, was killed immediately, and the man in his forties was declared dead at the hospital, said the police. They did not specify whether the two were related. The new deaths take the number of people killed in Israel by rocket strikes from Gaza since Monday to five. — AFP
May 12, 2021
Spiralling violence between Israel and Hamas Islamists who control Gaza is "escalating towards a full-scale war," the UN envoy for Middle East Peace said Tuesday.
"Stop the fire immediately," Tor Wennesland said after a day that saw Palestinian militant groups fire more than 600 rockets towards Israel, which responded with hundreds of air strikes.
"We're escalating towards a full-scale war. Leaders on all sides have to take the responsibility of de-escalation," Wennesland said. — AFP
May 12, 2021
Israeli Defence Minister Benny Gantz said Tuesday that Israeli strikes so far on Palestinian targets in Gaza were "just the beginning," after Hamas Islamists launched a barrage of rockets towards Tel Aviv.
"There are many targets," to hit in Gaza, Gantz said following Israeli strikes on hundreds of targets in the territory since Monday evening.
"This is just the beginning," he said. "Terror organisations have been hit hard and will continue to be hit because of their decision to hit Israel. We'll return peace and quiet, for the long term." — AFP
May 12, 2021
An Israeli woman was killed by rocket fire near Tel Aviv on Tuesday after Gaza's Islamist rulers Hamas launched a barrage of projectiles towards Israel's economic hub, police said.
"One woman killed in the city of Rishon Letzion in rocket strike," Israeli police spokesman Micky Rosenfeld said. — AFP
More than 100 rockets were fired Monday from Gaza towards Israel by multiple Palestinian armed groups, Hamas Islamists who control the blockaded enclave said.
The Israeli army had earlier confirmed at least 45 rocket launches, most targeting areas near the Gaza border, but seven were directed towards Jerusalem.
The army later sent an update that the rocket fired had continued through the night. No Israeli fatalities have been reported. — AFP