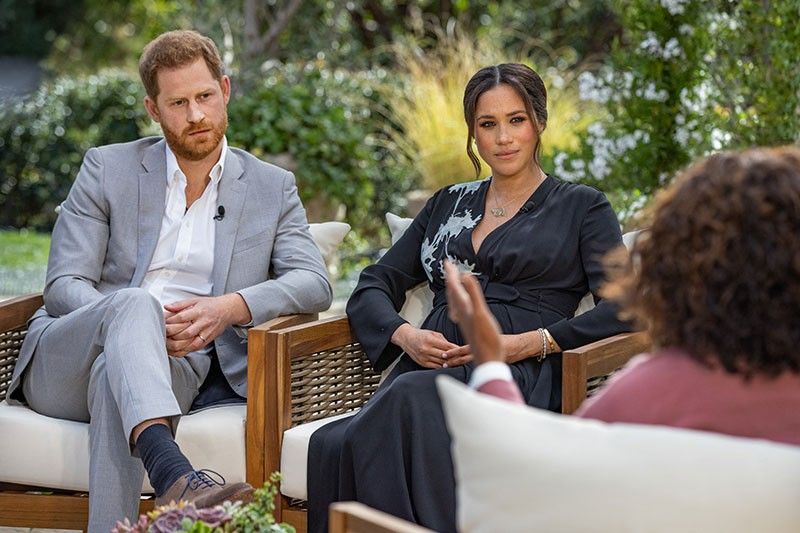 Meghan and Harry's tell-all with Oprah
LATEST UPDATE: March 11, 2021 - 9:10pm
LOCATION:
UNITED KINGDOM
UNITED STATES
+ Follow Story
March 11, 2021
Prince William on Thursday defended the British royal family after his younger brother Harry and wife Meghan accused them of racism in a bombshell interview watched around the world.
"We're very much not a racist family," William told reporters during a visit to a multi-racial school in a deprived area of east London.
The Duke of Cambridge, son of heir-to-the-throne Prince Charles, added that he had yet to speak to Harry in California since the interview first aired in the United States on Sunday.
"No, I haven't spoken to him yet, but I will do," he said. — AFP
March 10, 2021
Queen Elizabeth II is saddened by the challenges faced by her grandson Prince Harry and his wife Meghan, and takes their allegations of racism in the royal family seriously, Buckingham Palace says Tuesday.
"The whole family is saddened to learn the full extent of how challenging the last few years have been for Harry and Meghan. The issues raised, particularly that of race, are concerning," the palace says in a statement released on the queen's behalf.
"While some recollections may vary, they are taken very seriously and will be addressed by the family privately. Harry, Meghan and Archie will always be much loved family members." — AFP
March 8, 2021
Prince Harry says during a tell-all interview Sunday that he and his wife Meghan Markle "did everything we could" to stay in the royal family.
"I'm sad that what's happened has happened, but I know, and I'm comfortable in knowing that we did everything that we could to make it work," he tells Oprah Winfrey during the two-hour CBS spot.
"Oh my god, we just did everything we could to protect them," Meghan adds.
Harry and Meghan announced in January 2020 that they were stepping back from royal duties. Buckingham Palace announced earlier this month that the couple had permanently quit. — AFP
March 8, 2021
Prince Harry says he felt "really let down" by his father as he and wife Meghan open up about quitting Britain over her harsh treatment by the British press and the lack of support from the royal family.
Celebrity interviewer Oprah Winfrey asks Harry during a two hour CBS interview with the couple how his relationship had been with Prince Charles since they moved to the United States.
"There's a lot to work through there, you know? I feel really let down, because he's been through something similar. He knows what pain feels like," an emotional Harry says. — AFP
March 8, 2021
Harry says he feels 'really let down' by Prince Charles — AFP
March 8, 2021
Princes Charles and William 'trapped' in royal system: Harry — AFP
March 8, 2021
Meghan Markle reveals in a no-holds-barred interview Sunday that a barrage of negative coverage in the British press had driven her to the point where life no longer seemed worth living.
"I knew that if I didn't say it, that I would do it. And I... just didn't want to be alive anymore. And that was a very clear and real and frightening constant thought," she says in the two-hour CBS spot with Oprah Winfrey.
Meghan, who married Prince Harry in 2018, said she told the royal family she was struggling and needed professional help but was told "that I couldn't, that it wouldn't be good for the institution." — AFP
March 8, 2021
'It's a girl': Harry and Meghan reveal second child's gender. — AFP
March 8, 2021
Meghan Markle accused the British Royal Family in a sensational interview broadcast Sunday of fretting over how dark her son's skin would be.
Markle, who is African American, says her husband Prince Harry revealed his family's concerns over Archie's skin tone, as well as the security he would be entitled to, ahead of his birth on May 6, 2019.
"In those months when I was pregnant... we have in tandem the conversation of 'he won't be given security, he's not going to be given a title' and also concerns and conversations about how dark his skin might be when he's born," Meghan told interviewer Oprah Winfrey. — AFP
March 8, 2021
Meghan says royal family denied her mental health help — AFP
March 8, 2021
Meghan says 'didn't want to be alive anymore' — AFP
March 8, 2021
British royal Prince Harry and his American wife Meghan were wed in secret three days before the official ceremony, she revealed in an interview with Oprah Winfrey broadcast Sunday in the United States.
"(T)hree days before our wedding, we got married," she said, revealing that they swapped vows in private before Archbishop of Canterbury Justin Welsby ahead of the televised spectacle on May 19 2018 at Britain's Windsor Castle.
"No one knows that. But we called the archbishop, and we just said, 'Look, this thing, this spectacle is for the world, but we want our union between us.'" — AFP
March 8, 2021
Meghan tells of royal 'concerns' about 'how dark' son's skin would be. — AFP
March 8, 2021
Meghan Markle flatly denies in a tell-all interview Sunday reports that she made Kate Middleton cry before her wedding to Harry — saying the "reverse was true."
"Everyone in the institution knew it wasn't true," Meghan tells interviewer Oprah Winfrey of the reported incident — which has been pored over at great length by the gossip press.
"The reverse happened," Meghan adds, saying that Kate "was upset about something, but she owned it, and she apologized."
Meghan calls the incident "the beginning of a real character assassination" and "a turning point" in her relations with the royal family. — AFP
March 8, 2021
Meghan says was 'not being protected' by royal family. — AFP
March 8, 2021
Meghan says she was silenced after joining royal family. — AFP
Follow this thread for updates on Prince Harry and Meghan's interview with Oprah. Main photo: Joe PUGLIESE / HARPO PRODUCTIONS / AFP