CALABARZON updates
January 24, 2023 | 5:39pm
Location:
RIZAL, CAVITE, BATANGAS, LAGUNA, QUEZON
+ Follow Story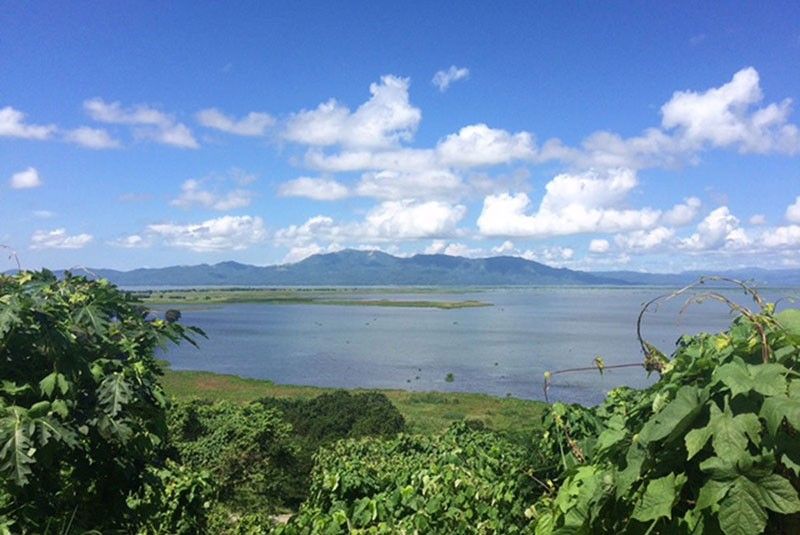 January 24, 2023
After 30 years in hiding, a 61-year old man accused of killing a policeman was arrested in a police operation in Guimaras Monday morning, police said
Batangas Police Provincial Office Provincial Director PCOL Pedro D. Soliba identified the suspect as Cesar Andal, a native of Tanauan City and presently residing in Brgy. East Valencia, Buenavista, Guimaras.
With the combined elements of Tanauan City police, Anini-y Municipal Police Station-Antique Police Provincial Office and Jordan Municipal Police Station-Guimaras Police Provincial Office the suspect was arrested in his residence at around 9:15 am
Andal was tagged as the killer SPO2 Herminigildo Mercado that happened last March 19, 1993 in Barangay Balele, Tanauan City, Batangas. -- The STAR/Arnell Ozaeta
December 6, 2022
Former Batangas Vice Gov. Ricky Recto has died, his brother, Deputy Speaker Ralph Recto announced Tuesday.
"With sadness, we share the news that our brother Ricky has passed away," Rep. Recto said in a statement.
"Words are hard to come by to express the sorrow of losing him, but we take comfort in our fond memories of him to overcome the pain we feel."
The former vice governor is the older brother of former senator and now Batangas Representative Ralph Recto.
"We are touched by your kind words and prayers, but in the meantime, we ask for the time and space to grieve In private," Rep. Recto said. — The STAR/ArnellOzaeta
August 24, 2022
A prime suspect in the killing of a businessman in Ibaan, Batangas was arrested in an operation in Rosario town on Tuesday afternoon, police said.
Police Maj. Emil Mendoza, Ibaan police chief, identified the suspect as Eleazar Rocio, a resident of Ibaan and said to the leader of a gun-for-hire group.
Also arrested was Rocio's bodyguard Leandro Guerra, also a resident of Ibaan.
Rocio is the alleged mastermind in the killing of Peterson Co in Ibaan in March.
Police were supposed to serve a warrant of arrest on Rocio but he and his bodyguard fled in an SUV. Police managed to chase them down in Rosario town, but the suspects jumped out of thei vehicle and ran into a sugarcane field.
The two were eventually cornered and Rocio was shot in the abdomen in a brief gunfight with police. — The STAR/Arnell Ozaeta
August 2, 2022
A 25-year-old security guard was killed while four others were injured after an owner-type jeepney crashed into a concrete wall of a business establishment along JP Laurel Highway in Barangay Tambo, Lipa City on Tuesday dawn, police said.
Police Lt. Col. Rix Villareal, Lipa City police chief, identified the lone casualty as Christopher Medina.
Injured in the accident were driver Jemuel Hernandez and passengers Jaem Medina and a minor, whom the police did not identify in their report.
All victims were residents of Barangay Bubuyan in the neighboring Mataas na Kahoy town. — The Filipino Connection/Marlon Luistro
July 17, 2022
Assorted guns and grenades were seized from the house of a suspected member of a criminal group in a raid in San Juan town Saturday morning, police said.
According to Police Col. Glicerio Cansilao, provincial director for Batangas, police served a search warrant in a farmhouse owned by Jay R Urmenita Bas, 37 in Sitio Marecacawan, Brgy. Quipot, San Juan, Batangas around 10:20 AM
Cansilao said the search warrant was issued by Hon Rosemarie Manalang-Austria, Presiding Judge of the Regional Trial Court- Branch 87 of Rosario, Batangas last July 14, 2022.
Bas was not in his house when the police conducted the raid , but they recovered one Cal. 5.56 rifle Colt, two Cal. 9mm pistol, one Armscor Cal. 40 pistol, assorted magazines and bullets, one rifle grenade with tracing bullet, MK 2 fragmentation hand grenade and M26A2 hand grenade. -- The STAR/Arnell Ozaeta
June 22, 2022
Police say a female barangay councilor was found dead in Sitio Bernanda, Barangay Latag of Nasugbu, Batangas Tuesday morning.
LT.Col. Jephte Banderado, Nasugbu police chief identifies the victim as Gloria Fayton, barangay councilor of Barangay Latag in Nasugbu.
According to report, Fayton could be a victim of robbery after her P50,000. 00 proceeds from selling her cow was missing. — The STAR/Arnell Ozaeta
May 26, 2022
A 41-year-old municipal employee was shot dead by still unidentified gunman in Rosario town Wednesday afternoon, police said
Police SSgt. Derwin Valencia, investigator of Rosario Police identified the victim as Mark Anthony Grit, resident of Barangay Quilib, Rosario, Batangas and assigned at Rosario Municipal Disaster Risk Reduction Management Office.
According to report, Grit was just sitting on his motorcycle at the parking lot of Rosario Municipal Public Market in Brgy D when two motorcycle riding men arrived and repeatedly shot him around 5:10pm
The victim died on the spot due to multiple gunshot wounds on his body. — The STAR/Arnell Ozaeta
May 15, 2022
A 47-year old networking agent drowned while swimming in a beach resort here Friday night, police said
Lian police identified the victim as Nilo Patestad, resident of Barangay Vastra, Quezon City.
According to report, Patestad together with his live-in partner and officemates arrived at Villa Raysort Resort in Barangay San Diego for a company outing around 5 a.m.
Lifeguard Randy Rosales said the group swam at the beach around 6 p.m. and sought his help when Patestad was seen floating lifeless at sea. ?— The STAR/Arnell Ozaeta
April 4, 2022
A 42-year-old police officer was shot dead during an anti-gambling operation in Pangil, Laguna Sunday morning, police said.
Police CMSgt Gilbert Robles Briz of the Pangil Police Station was declared dead on arrival at Pakil General Calles Hospital due to gunshot wound.
According to report, the Pangil Police conducted an operation against an illegal cockfighting activity (tupada) in
Barangay Sulib, Pangil, Laguna around 10:46am
While arresting the suspected gambler, a gunshot was fired, hitting Briz on his body.
The suspect identified as Ronilo Oliveros Ruben managed to escape but was later arrested in his hideout in Barangay Bagumbayan in Paete, Laguna. — The STAR/Arnell Ozaeta
February 21, 2022
A Philippine National Police (PNP) helicopter crashed at the mountainous area in Real Quezon leaving 3 police personnel injured, Monday morning, police said
In a phone interview with Quezon Police Provincial Office (QPPO) - Public Information Office, the PNP chopper with tail number RP-9710 departed from Manila Domestic Airport around 6:17 am and bound to Balesin Airport when it crashed at Purok Mayaog, Barangay Pandan around 8:15 am
Police Corporal Grace Calimag of Quezon PIO identified the wounded passengers as PLt.Col Michael Melloria, PLt.Col Dexter Vitug and Patrolman Allen Ona
The injured passengers were rushed to Real Municipal Hospital and later transferred to Claro M. Recto Hospital in Infanta, Quezon. — The STAR/Arnell Ozaeta
August 25, 2021
A whale shark was sighted by residents in Lamon Bay, Atimonan, Quezon on Monday while it was trapped inside a fishing net near the seashore.
According to the report of DENR-CENRO Calauag personnel, the whale shark (Rhincodon typus) was about three meters long and had no visible injuries.
Around 30 fishermen, concerned residents, and local barangay officials helped release the whale shark into safer parts of Lamon Bay.
Conservation and Development Division - Coastal Resources and Foreshore Management Section of DENR CALABARZON said "this is not the first time a marine mammal was sighted in the community".
"This may indicate rich marine biodiversity in the area and we need to continue to conserve and protect the marine ecosystem. Kung ano ang ginagawa natin sa kagubatan at kalupaan, ay magkakaroon din ng epekto sa ating katubigan at karagatan. Kaya patuloy natin itong pag ingatan," Regional Executive Director Nilo Tamoria added.
— The STAR/Arnell Ozaeta
July 30, 2021
The Department of Health-Calabarzon (Cavite, Laguna, Batangas, Rizal, Quezon) has confirmed 36 cases of the Delta variant of the coronavirus in the region as of July 29, 2021.
Among the provinces with reported cases were Cavite with nine cases (Imus, Cavite City, General Trias, Silang and Carmona), Laguna with 17 cases (Bae, Los Baños, San Pedro, San Pablo and Calamba City).
Batangas has six cases (Bauan, Lemery, San Juan and Lipa City) while Rizal has four cases (Cainta and Rodriguez).
The DOH has not recorded any cases in Quezon.
Of the 36 cases, 21 have recovered, 11 are for verification, 3 are active cases and 1 is still pending test results. — The STAR/Arnell Ozaeta
June 15, 2021
A 60-year-old barangay councilor died on the spot after he was shot at Sitio Alibangbang, Purok 7, Barangay Antipolo del Sur in Lipa City on Sunday evening, police say.
Police Lt. Col. Lory Tarrazona, Lipa city police chief, identified the victim as Rene Laylo.
Initial police investigation said at about 10 p.m., the victim was about to go home from a pre-wedding celebration with his wife and son when the gunman, identified by the alias "Jack", armed with short firearm approached and shot the victim in the head, killing him. — The Filipino Connection/Marlon Luistro
June 9, 2021
A 68-year-old barangay captain of Lipa City died after he was shot by motorcycle-riding gunmen along P. Torres Street on Wednesday morning, police said.
Police Lt.Col. Lory Tarrazona identified the victim as Cesar Catibog, barangay captain of Barangay Pag Olingin East in Lipa.
Initial police investigation said at about 7:40 a.m., the victim has just alighted from a white Nissan Navarra barangay patrol vehicle driven by Joseph Surco when the unidentified assailants aboard a black Honda Beat motorcycle, shot him several times, hitting the victim on his forehead.
The gunmen immediately fled in the direction of Lipa City proper after the shooting while the victim was rushed to the NL Villa Memorial Medical Center but was declared dead on arrival by attending physician Dr. Erick Villa. — The Filipino Connection/Marlon Luistro
May 5, 2021
A 62-year-old barangay councilor died after he was shot by unidentified assailants in Barangay Binubusan on Tuesday morning.
Police Captain Amiel Sanhi, Lian police chief, said the victim was identified as Buenaventura Caraig.
Police reports said the victim was standing outside his residence when the unidentified suspects shot him from behind. They immediately escaped towards the direction of Lian town proper aboard a motorcycle.
The victim was immediately rushed to the Apacible Memorial Hospital in neighboring Nasugbu town but he was declared dead upon arrival by attending physician. — The Filipino Connection/Marlon Luistro
April 11, 2021
A motorcycle rider and his passenger died after accidentally falling into a canal in Barangay Tabangao Ambulong in Batangas City on Friday evening.
Police Lt. Col. Gerry Laylo, Batangas City police chief, identified the fatalities as Marlon Ubaldo, 30; and Paul Matthew Castillo, 33.
Initial investigation said at about 8 p.m., the two were traversing the national highway aboard a Honda TMX motorcycle when Ubaldo suddenly lost control of the vehicle, which fell into an open canal. — The Filipino Connection/Marlon Luistro
April 4, 2021
The implementation of the critical zone lockdown in Mabini town in Batangas has been extended for another week from April 5 to 11.
That is to curb the spread of COVID19 cases which the local government said has almost paralyzed the health care system of the said town in the previous weeks.
In an executive order No. 2021.08 issued by Mayor Noel Luistro yesterday, he said based on the report of the municipal health office, as of April 3, there were 62 confirmed cases in Mabini.
The local government also raised alarms over the surge of cases in the neighboring Metro Manila, and the provinces of Bulacan, Cavite, Laguna and Rizal "that may overspill into the municipality."
Mabini first implemented the lockdown from April 1 to 4. It will be extended from 12:01 am of April 5 to 12 midnight of April 11. — The Filipino Connection/Marlon Luistro
April 1, 2021
Fifty-four employees of the Batangas provincial government have tested positive for the novel coronavirus disease since last week, the provincial health office says.
The virus hit the provincial treasurer's office the most, whose employees were assigned to distribute financial assistance such as educational, medical, burial and other assistance.
Also hardly hit by the virus were employees of the provincial assistance for community development, provincial accounting office, provincial veterinary office and Lobo District Hospital.
Health authorities are already conducting contact tracing and investigation for the said patients and their close contacts. — The Filipino Connection/Marlon Luistro
March 3, 2021
Baguio City police officers on Tuesday evening arrested a dismissed police colonel who went into hiding some 15 years ago after he reportedly raped his own daughter, who was then a minor.
Ronaldo Salcedo Olarte, accused of incestuous rape in 2006, was cornered Tuesday night along Balintawak Road in Lipa City, Batangas by Baguio police officers, intelligence agents and operatives of the Integrity Monitoring Enforcement Group (IMEG) of the Philippine National Police.
Olarte, included in the list of the Department of the Interior and Local Government's (DILG) most wanted personalities and who has a P135,000 reward for his capture, was dropped from the roll of the PNP in February 2006, a month after he reportedly raped his young daughter. —The STAR/Artemio Dumlao
January 11, 2021
Two men who were recipients of high-grade marijuana were arrested in an anti-illegal drug operation in Lipa City over the weekend, police say.
Joint elements of the Ninoy Aquino International Airport-Philippine Drug Enforcement Agency Regional Office NCR, PDEA 4A, PDEA Batangas and operatives of the City Drug Enforcement Unit arrested the suspect, identified as 29-year-old John Yengle Hernandez, a resident Banay-banay 1st, San Jose, Batangas and 29- year-old Van Joshua Magpantay of Barangay 3 in Mataas na Kahoy, Batangas.
Police Lt. Mary Ann de Villa Espina, speaking for the Batangas Police Provincial Office OIC PIO, says the two were arrested with around 500 grams of marijuana kush worth P600,000 at Vape Habit, Purok 5, Barangay Sico in Lipa City on Saturday night.
Police reports said that the confiscated item arrived via a parcel service from the US and was misdeclared as musical instruments. — The STAR/Arnell Ozaeta
June 28, 2020
A 10-month-old baby girl in a Batangas town has tested positive for the novel coronavirus, the Mataas na Kahoy rural health unit (RHU) says
This brings the total number of COVID-19 infections in Mataas na Kahoy to seven, with two recoveries and one fatality.
In a Facebook bulletin issued Sunday morning, RHU says the baby, who lives in Barangay Poblacion 4, had direct contact with a 45-year-old female barangay health worker who tested positive for COVID-19 three days ago. — The Filipino Connection
June 22, 2020
Antipolo City is now the capital of Rizal province under Republic Act No. 11475, which President Rodrigo Duterte has signed into law.
The province's official capital had been Pasig City despite it no longer being within the province's boundaries.
June 21, 2020
A 47-year-old father and his 24-year-old daughter who returned from Dubai, United Arab Emirates have tested positive for COVID-19, the Bauan municipal health office says.
This brings the total number of COVID infections in Bauan to 12 with eight recoveries, respectively.
In a Facebook bulletin issued Saturday, MHO said both arrived on June 6, along with two other family members. Each of them underwent a throat swab by the Philippine Red Cross. They stayed at a hotel for four days.
They all were given quarantine clearance after the said patients tested negative. They went home to Bauan aboard an OWWA-designated bus. — The Filipino Connection
June 21, 2020
More than three months after the government enforced a Luzon-wide community quarantine, Agoncillo in Batangas recorded its first confirmed case of the novel coronavirus.
In a report issued Saturday, the Agoncillo rural health unit (RHU) said a 25-year-old man from Barangay Subic Ilaya tested COVID positive on June 19.
The patient, who showed mild symptoms, has a travel history in Parañaque. He arrived in Agoncillo on June 11.
RHU personnel are already conducting contact tracing for persons who possibly got exposed to the patient. — The Filipino Connection
May 24, 2020
Three health workers in Lipa City have been infected with the novel coronavirus, Mayor Eric Africa announces Sunday.
This increases the city's total COVID infections to 49 with eight deaths and 26 recoveries as of this writing.
In a Facebook bulletin issued 10 am, Africa identified the new patients as a 34-year-old male nurse from Barangay San Carlos; 37-year-old nursing aide from Barangay Pinagkawitan and a 49-year-old female midwife in Barangay Marawoy. — The Filipino Connection
Follow this thread for updates from the Calabarzon—Cavite, Laguna, Batangas, Rizal, and Quezon—region.
According to 2015 data from the Philippine Statistics Authority, Calabarzon is the most populated region in the Philippines with 14.4 million residents. It is also the most densely populated region after Metro Manila.
Photo: The view of Laguna Lake from Cavinti. The STAR/Bum Tenorio Jr., file