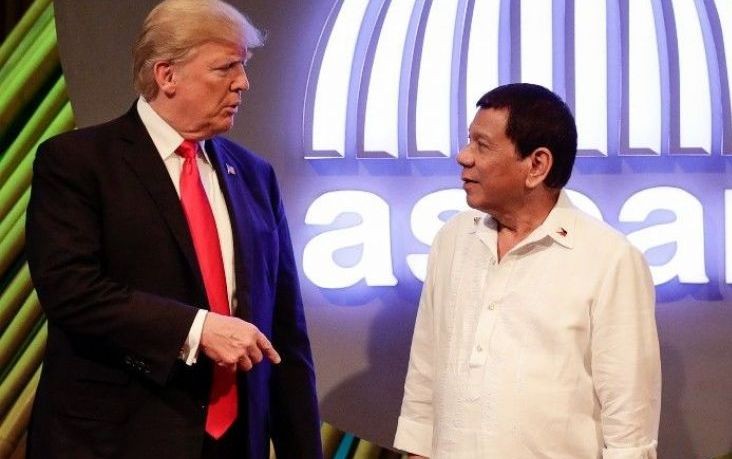 Philippines-United States ties: 2020 developments
LATEST UPDATE: May 22, 2020 - 10:27am
LOCATION:
WASHINGTON
MANILA
+ Follow Story
May 22, 2020
The Philippine Embassy in Washington defends the US government's $2-billion arms sale to the Philippines, pointing out that the country's defense modernization program has long been pursued even by past administrations.
"The program is critical to national security and necessary to achieving a credible defense posture. This also makes the Philippines a more robust and effective security partner for countries in the Asia Pacific and Southeast Asia regions, especially at a time of traditional and emerging security challenges," the embassy says in a statement.
The embassy also accuses "certain groups" of taking advantage of the issue to "advance their own political agenda" to the detriment of the bilateral relations between the Philippines and the US.
May 7, 2020
The US government provides an additional P298 million to help support the Philippines in its efforts against the COVID-19 pandemic.
The US Embassy says the additional aid brings the total amount of US assistance to the Philippines to more than P768 million ($15.2 million).
The US Agency for International Development will partner with 18 local governments in the country's hardes-hit areas to promote effective crisis management and implement resppnse plans.
"Funding will support local governments to rapidly disburse emergency funding and supplies, and strengthen the capacity of local crisis response centers to disseminate accurate and timely crisis response information, manage quarantine measures, set up public handwashing facilities, ensure food supply, and support local business recovery," the US Embassy says in a statement.
April 22, 2020
The U.S. Embassy in Manila announces fresh assistance for health and humanitarian purposes during the COVID-19 crisis.
The new package of P269 million ($5.3 million) from Washington brings its total assistance to the Philippines to more than P470 million ($9.3 million).
The announcement came following the phone exchange between President Duterte and American President Donald Trump on Sunday evening.
April 21, 2020
US President Donald Trump offers additional assistance to the Philippines to fight the COVID-19 pandemic, the US Embassy in Manila said.
The US president made the offer in a phone call with President Rodrigo Duterte on April 19.
"Both leaders agreed to continue working together as long-time allies to defeat the pandemic, save lives and restore global economic strength," the US Embassy said in a statement.
April 20, 2020
President Duterte and U.S. President Donald Trump talked about "bilateral collaboration on COVID-19" on Sunday night over a phone call that lasted less than 20 minutes, Malacañang said at a press briefing.
Presidential spokesperson Harry Roque refused to disclose further details about the conversation. (Live updates here.)
A thread of major developments in the bilateral relations between the Philippines and the United States from April to December 2020. (Photo by AFP/Mark Cristino)