Powerful quakes jolt Mindanao
LATEST UPDATE: November 18, 2019 - 2:53pm
LOCATION:
TULUNAN
COTABATO
+ Follow Story
November 18, 2019
The municipal government of the earthquake-wracked Makilala town in North Cotabato has extended the suspension of classes in 12 campuses where there are buildings still being inspected for damages.
Thousands of structures, including houses and dozens of school buildings and gymnasiums were destroyed by earthquakes the jolted North Cotabato province and its capital, Kidapawan City, in the past four weeks.
Except for those in Ilomavis, Perez and Balabag areas in Kidapawan City, most schools in its barangays opened November 13 yet, under tight watch by emergency monitoring teams under the office of Mayor Joseph Evangelista.
Kidapawan City is the capital of North Cotabato, a component-province of Administrative Region 12. — The STAR/John Unson
November 8, 2019
Officials place at P3 billion their initial estimate of losses in businesses in Kidapawan City due to earthquakes that jolted the area the past three weeks.
Psalmer Bernalte of the Kidapawan City Disaster Risk Reduction and Management Office, or DRRMO, says one reason for the constraint is the closure of commercial establishments in buildings whose structural durability are still subject to assessment by engineers.
Among those that Kidapawan City Mayor Joseph Evangelista ordered shut were shopping malls, grocery stores, banks, restaurants and food outlets operating on national franchises.
Bernalte, chief of the DRRMO, says the owner alone of the Eva's commercial building along a stretch of the Cotabato-Davao Highway straddling through the center of Kidapawan City lost about P1 billion when a strong aftershock destroyed the tall structure on October 31.
Kidapawan City and nearby North Cotabato towns were first jolted by a magnitude 6.3 foreshock on October 16, followed by no fewer than 2,000 aftershocks since. — The STAR/John Unson
November 6, 2019
More relief goods were transported to earthquake-hit parts of North Cotabato on Wednesday from benefactors from the southern part of Central Mindanao.
The Army's 6th Infantry Division delivered to North Cotabato more than a thousand gallons of purified water and tarpaulins that evacuees can use as roofing for makeshift shelters.
The Bangsamoro regional government delivered again Wednesday a truckload of relief goods to Kidapawan City, capital of North Cotabato, to complement the relief operations of the provincial government.
Major Gen. Diosdado Carreon, commander of 6th ID, says a number of their vehicles have also been dispatched to North Cotabato to help transport to evacuations sites villagers whose houses in remote barangays were destroyed by earthquakes.
The provincial government of Lanao del Sur had set up an outdoor clinic in Makilala town to attend to the needs of sick evacuees. — The STAR/John Unson
November 5, 2019
The strong tornado that ripped through five barangays in Marawi City Monday destroyed 43 houses, an auditorium, seven classrooms and a private vehicle, officials say Tuesday.
Key members of the Lanao del Sur provincial disaster risk reduction and management council said the office of Gov. Mamintal Adiong, Jr. is now attending to the needs of affected residents.
The strong tornado struck five barangays in Marawi City — Sagonsongan, Barrio Fort, Bangon, Green and Saber — whose residents are yet to fully recover from the May 23 to August 16, 2019 conflict that ravaged their villages, instigated by the Maute terror group. — The STAR/John Unson
November 4, 2019
Evacuees in North Cotabato displaced by powerful earthquakes last week have no access to water or restrooms.
Houses in North Cotabato's adjoining Matalam, Mlang and Tulunan towns and in the provincial capital, Kidapawan City, were destroyed by strong episodes of earthquakes that jolted the province and nearby areas in Central Mindanao from October 16 to October 31.
The Rapid Emergency Action on Disaster Incidence outfit of the Bangsamoro Autonomous Region in Muslim Mindanao has started distributing tarpaulins for makeshift shelters and other relief provisions to tremor-stricken communities in North Cotabato province in Administrative Region 12.
The Bangsamoro regional government dispatched no less than 10 tons of relief supplies to North Cotabato on Monday.
Residents of Barangay Malasila in Makilala town in North Cotabato have urged government agencies extending relief and rehabilitation services to earthquake-stricken communities in the province to help them fix immediately a bridge traversing a river separating villages that were badly affected by tremors that jolted Central Mindanao the past 19 days.
Barangay leaders say they need a good welder who can piece together its broken railings to preclude accidents while villagers are being relocated to evacuation sites using the footbridge. — The STAR/John Unson
November 2, 2019
Zamboanga City is sending relief assistance of 300 sacks of rice, 60 boxes (containing 100 cans each), 600 bottles of waters, 30 boxes with 200 sachets each of 3-1 coffee, 45 boxes with 2,160 cans of corn beef, 2000 cans of meat loaf, blankets and cooking wares contained in jerry cans, 1,000 pieces of melamine plates, and 455 dozens of sets of spoons and forks to areas of Davao City and North Cotabato affected by a series of powerful earthquakes this week.
"We are here with the Coast Guard to send relief assistance in response to the call of Davao City Mayor Sarah Duterte to help the earthquake victims. We would like to express our prayers and whole-hearted support for the victims," Mayor Maria Isabelle Climaco-Salazar says.
The relief goods are being transported by a PCG vessel headed for Davao City, which will be the strategic base of humanitarian assistance and disaster response operations.
-- The STAR/Roel Pareño
November 2, 2019
The Philippine Coast Guard is using Davao City as its strategic staging area for Humanitarian Assistance and Disaster Response operations, saying in a release that "Davao City has all the support system, accessibility to seaports, airports and roads and proximity to the distressed provinces."
The coast guard and PCG Auxiliary are also bringing their resources and relief goods to Davao City for the HADR operations.
"PCG has currently deployed the following assets and personnel: ten wheeler boom trucks from Manila, 15 pick-ups, six ambulances, one PCG Islander, 285 handheld radios, three Search and Rescue (SAR) Dogs, two Explosive Sniffing Dogs, ten doctors, and 12 nurses," it says.
BRP Bagacay and MCS 3010 are also sailing for Davao City from Zamboanga City with relief goods.
November 1, 2019
A magnitude 5 earthquake struck Makilala, Cotabato at 2:07 p.m. Friday.
The strongest shaking was at Intensity V or "strong" which was felt in Magsaysay, Davao del Sur.
November 1, 2019
A magnitude 5.5 earthquake hits the waters off Sarangani, Davao Occidental at 10:33 a.m. Friday.
Phivolcs warns of aftershocks but any damage is not expected.
October 31, 2019

Church leaders are calling for prayers in the aftermath of a powerful earthquake that rocked Kidapawan City in North Cotabato and Davao City, from where reports of earthquake damage are still coming in.
"We raise our minds and heart to the Lord and sincerely offered prayers for those people in great fear and anxiety and tension," Davao Archbishop Romulo Valles, who is also president of the Catholic Bishops' Conference of the Philippines, says in a Radio Veritas report.
"The bigger population will pray to the Lord that they will keep calm, alert and to be watchful for each other; to be caring," he also says.
Fr. Desiderio Balatero Jr., rector of Our Lady Mediatrix of all Grace Cathedral in Kidapawan says people in the region have been living in a state of worry after a previous eartthquake earlier this week.
"The people are in a state of worry. Others are in a state of trauma, others are costantly worried about the aftershocks and not knowing if it is just an aftershock or another powerful quake," he says in Filipino.
"We are asking for continued prayers for Mindanao, especially Region 9 and 11, the Diocese of Kidapawan, Archdiocese of Davao, Cotabato and Marbel. These are the hardest-hit areas by what is happening."
October 31, 2019
The thousands of houses and buildings destroyed after the powerful earthquakes that hit Mindanao may be due to zero or little enforcement of construction standards, a lawmaker hailing from the southern island says.
"Noting how thousands of homes and scores of buildings were destroyed and damaged in the latest earthquake to shock Mindanao, it is highly probable that there was little or no enforcement of construction standards in the affected localities," Rep. Lawrence Fortun (Agusan Del Norte 1st District) says in a statement.
The lawmaker says he filed House Resolution 379 directing the House Committee on Trade and Industry to conduct an inquiry into the alleged continuous smuggling and proliferation of substandard steel products in the Philippines resulting from the collusion between large steelmakers and officials of the Department of Trade and Industry and the Bureau of Customs.
"This seeming grand deception may have led to the rise in the past 10 to 12 years of structurally-compromised infrastructures that may not be able to withstand high intensity quakes, thus endangering the lives of millions of Filipinos," Fortun says.
As of Thursday, October 31, the National Disaster Risk Reduction and Management Council recorded that 2,704 structures were damaged after the 6.6 magnitude quake that hit Tulunan last October 29.
No data is available yet for the damage to structures caused by the second powerful quake that hit the region on Thursday morning.
October 31, 2019
The home of President Duterte in Davao City sustained cracks after the 6.5 magnitude quake, according to his former aide and now Sen. Bong Go.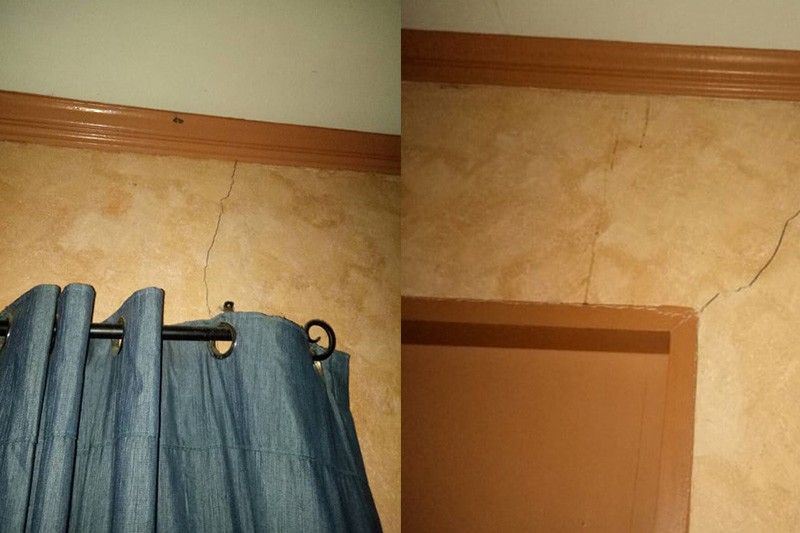 October 31, 2019
Eva's Hotel in Kidapawan City, where Intensity VII or destructive shaking was felt, collapsed following the magnitude 6.5 magnitude earthquake that jolted Mindanao on Thursday.
Kidapawan City Mayor Joseph Evangelista orders possible rescue operations, state news agency PNA says in a tweet.
LOOK | Eva's Hotel in Kidapawan City has collapsed following the magnitude 6.5 #earthquake mid-morning on Thursday. Kidapawan City Mayor Joseph Evangelista (in black shirt) has given out orders for possible rescue operations. | via Edwin Fernandez/Photos: Kidapawan City CIO pic.twitter.com/NL4EWyN7oe

— Phil News Agency (@pnagovph) October 31, 2019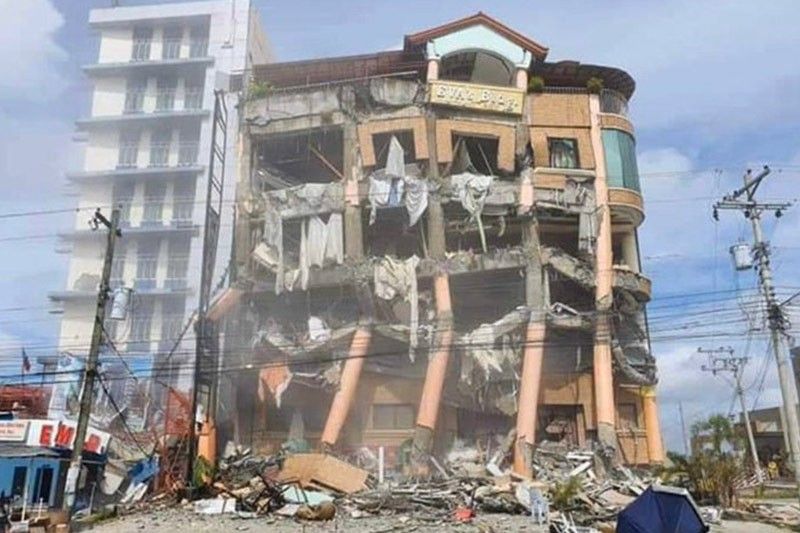 October 31, 2019
President Duterte was in Davao City when the strong 6.5 magnitude quake jolted parts of Mindanao this morning, Malacañang says, adding that the chief executive is safe.
October 31, 2019
Another powerful quake hits Tulunan, Cotabato at a magnitude of 6.5, days after the strong 6.6 magnitude quake jolted the town and other parts of Mindanao.
The strongest shaking was felt at Tulunan, Cotabato, Kidapawan City and Bansalan, Davao del Sur at Intensity VII or "destructive."
October 30, 2019
More than 300 aftershocks were felt in North Cotabato and other parts of central Mindanao after the region was jolted by a magnitude 6.6 earthquake on Tuesday morning.
Regional personnel of the Philippine Institute of Volcanology and Seismology told reporters Wednesday aftershocks were also felt in provinces in Region 11 and in South Cotabato, in Sultan Kudarat and in Sarangani, all in Region 12.
The Bangsamoro Autonomous Region in Muslim Mindanao has dispatched a team from its disaster response contingent to help local government units in North Cotabato attend to the needs of earthquake-stricken villagers now in makeshift evacuation sites. — The STAR/John Unson
October 29, 2019
The Philippine Institute for Volcanology and Seismology detects a magnitude 5.5 quake in Tulunan, Cotabato.
Cotabato, also called North Cotabato, was jolted by a magnitude 6.6 earthquake on Tuesday morning. Tulunan was one of the town most affected by that earthquake.
October 29, 2019
A retired hospital worker was killed while more than 20 others were hurt in the magnitude 6.6 earthquake that shook North Cotabato on Tuesday morning.
Initial radio and police reports identify the fatality as Nestor Narciso, 67, who was hit by a concrete slab that fell from the second floor of a building in Koronadal City, capital of South Cotabato province.
Narciso was a former ambulance driver in the South Cotabato provincial hospital.
Local officials said no fewer than 20 people, among them children, in different towns in North Cotabato were also hurt when their houses collapsed. -- The STAR/John Unson
October 29, 2019
Phivolcs adjusted the magnitude of the earthquake that struck Tulunan, Cotabato from 6.4 to 6.6.
Meanwhile below are the reported intensities:
Intensity VII - Tulunan & Makilala, Cotabato; Kidapawan City; Malungon, Sarangani
Intensity VI - Davao City; Koronadal City; Cagayan de Oro City
Intensity V -Tampakan,Surallah and Tupi, South Cotabato; Alabel, Sarangani
Intensity IV - General Santos City; Kalilangan, Bukidnon
Intensity III - Sergio Osmeña Sr., Zamboanga del Norte; Zamboanga City; Dipolog City; Molave,
Zamboanga del Norte; Talakag, Bukidnon
Intensity I- Camiguin, Mambajao
The state volcanology agency warned of aftershocks and damage while classes in some areas were suspended for today.
Follow updates in the aftermath of the 6.6 and 6.5 magnitude quakes that rocked Mindanao in a span of days.