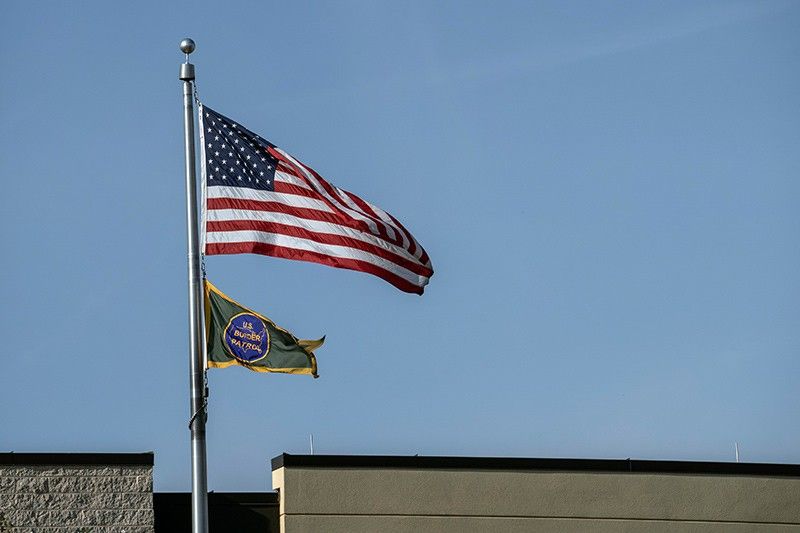 2020 US presidential race
LATEST UPDATE: September 17, 2020 - 7:29am
+ Follow Story
2 days ago
Democrat Joe Biden says that US President Donald Trump's refusal to take key steps to tackle the coronavirus pandemic, like instituting national guidelines on social distancing and testing, should disqualify him for the presidency.
"The president's first responsibility is to protect the American people, and he won't. And it's utterly disqualifying," the Democratic presidential candidate tells reporters, citing Trump's "lack of seriousness" in handling the pandemic. — AFP
2 days ago
President Donald Trump, in his latest shredding of political niceties, suggests that his Democratic opponent Joe Biden has taken drugs to improve his performance in debates.
The Republican, who is well behind in national polls, initially insinuated during a Fox News interview that "something was strange" with what he saw as Biden's improvement during the Democratic primary season debates.
Early on, when there were multiple Democratic candidates lined up on stage, Biden was "a disaster" and "grossly incompetent," Trump says. But at a later debate where Biden was one-on-one with leftist rival Bernie Sanders, "he was OK." — AFP
September 12, 2020
Facebook chief Mark Zuckerberg says the social network will launch a drive this weekend to recruit much-needed workers to staff US polling places in the coming election.
"We are seeing a massive shortage of poll workers to staff voting stations," Zuckerberg says in a post on his Facebook page.
"Shortages can lead to hours-long waits at the polls, which makes it harder for people to participate in the democratic process." — AFP
September 11, 2020
Microsoft says it thwarted recent cyberattacks from China, Russia and Iran targeting both Republican and Democratic presidential campaigns, as technology giants scramble to protect election security less than two months ahead of the US vote.
The announcement came as Twitter said it would implement a policy next week to remove "false or misleading information intended to undermine public confidence in an election," including unverified claims of victory; and Google said it would take steps to ensure its "auto complete" search feature doesn't make such misguided suggestions.
Microsoft says that attackers have been targeting staff from the campaigns of President Donald Trump and his Democratic rival, Joe Biden. — AFP
September 5, 2020
Melania Trump defends her husband against allegations that he referred to US Marines buried in a WWI cemetery in France as "losers" and "suckers."
In a rare public statement, the US first lady rejects as "not true" the accusations made in an article published in The Atlantic magazine.
"It has become a very dangerous time when anonymous sources are believed above all else, & no one knows their motivation. This is not journalism -- It is activism. And it is a disservice to the people of our great nation," she tweets. — AFP
September 3, 2020
Democratic presidential candidate Joe Biden has raised more than $364 million in August, reportedly breaking the record for monthly campaign donations even though his fundraising efforts were largely online because of the coronavirus pandemic.
The former vice president and the Democratic National Committee pulled in a total of $364.5 million, of which $205 million were pledged online from small donors, his campaign team said Wednesday.
The previous record was set by Barack Obama and the DNC in September 2008, when he raised almost $200 million, according to CBS and New York Times reports. — AFP
September 3, 2020
Joe Biden's campaign said the Democratic presidential nominee will on Thursday meet relatives of Jacob Blake, the African American shot in the back by a white police officer, triggering violent protests.
A campaign official confirmed Wednesday that the meeting would occur during the former vice president's trip to Kenosha, Wisconsin, but did not provide details.
Biden is challenging President Donald Trump in November's election, and is visiting Kenosha two days after his Republican rival flew to the city to meet police and survey damaged and destroyed businesses.
Trump did not meet the Blake family. — AFP
August 28, 2020
President Donald Trump warns that his election opponent Joe Biden wants to destroy "American greatness" in a speech accepting the Republican nomination for a second term against a backdrop of explosive racial tensions and the deadly coronavirus pandemic.
The former celebrity realestate developer declared himself all that stands between Americans and the disaster he claimed his "weak" Democratic rival would bring if he wins on November 3.
"This election will decide whether we save the American Dream," Trump says. — AFP
August 28, 2020
US democratic presidential nominee Joe Biden and running mate Kamala Harris launched a two-pronged attack Thursday against Donald Trump, saying the president is fueling unrest over police brutality and racial injustice and has failed to protect Americans.
Trump "refuses to even acknowledge there is a racial justice problem in America," Biden said in a statement amid swelling social unrest after an African-American man, Jacob Blake, was shot in the back at close range multiple times by police in Wisconsin.
The shooting sparked nationwide rage and three nights of violence in the city of Kenosha. Tensions soared when two protesters were shot dead Tuesday. — AFP
August 27, 2020
US president Donald Trump says he will call for a "drug test" for himself and Joe Biden before the first presidential debate, but did not offer any evidence for his suspicions about his Democratic opponent.
Trump says in an interview with the Washington Examiner that he was intrigued by Biden's improved performance during the Democratic primary.
"We're going to call for a drug test," Trump says, expressing surprise at the former vice president's bearing during the last debate against Vermont senator Bernie Sanders in March. — AFP
August 26, 2020
Hillary Clinton, who lost to Donald Trump in 2016, says that this year's Democratic challenger Joe Biden should refuse to concede until all votes are counted in a tight and possibly drawn-out contest.
Clinton says that possible delays in tallying ballots -- with mail-in voting set to reach unprecedented levels -- mean Biden must hold back from accepting defeat initially.
"Joe Biden should not concede under any circumstances because I think this is going to drag out and, eventually, I do believe he will win if we don't give an inch and if we are as focused and relentless as the other side," Clinton says in an interview with Showtime's "The Circus." — AFP
August 24, 2020
Democratic presidential nominee Joe Biden said Sunday he blames Donald Trump for "walking away" as COVID-19 ravaged the country, in a televised interview alongside running mate Kamala Harris on the eve of the Republican convention.
The president, who is trailing Biden in polls, has been heavily criticized for his response to the pandemic, during which he has pushed for lockdown restrictions to be lifted early, been hesitant to embrace face masks, touted treatments not supported by medical experts and insisted the virus will just "disappear."
"I don't blame him for the current crisis," Biden told ABC as the US neared 5.7 million infections and 177,000 deaths, by far the most in absolute terms of any country in the world. "I blame him for walking away and not dealing with solutions." — AFP
August 21, 2020
Meghan Markle calls for a "change" in the upcoming US presidential election.
Her comments came during a virtual "voter registration couch party" organized by When We All Vote, an outreach group co-chaired by former first lady Michelle Obama, actor Tom Hanks and others to increase participation at the polls.
"We all know what's at stake this year. I know it, I think all of you certainly know it," Markle says. "You're just as mobilized and energized to the change that we all need and deserve." — AFP
August 21, 2020
Joe Biden says while accepting the Democratic Party's nomination for president that he would implement a national plan to battle the coronavirus pandemic on his first day in office if he is elected.
"If I'm your president, on Day 1 we'll implement the national strategy I've been laying out since March," he says, adding that President Donald Trump's failure to protect more Americans from the deadly virus was "unforgivable."
"We'll take the muzzle off our experts so the public gets the information they need and deserve -- honest, unvarnished truth," he adds. — AFP
August 20, 2020
President Donald Trump's "failure of leadership" including his response to the coronavirus pandemic has led to unnecessary deaths as well as economic misery for countless Americans, Democratic vice presidential nominee Kamala Harris says.
"Donald Trump's failure of leadership has cost lives and livelihoods," she will tell the Democratic National Convention later in the evening as she accepts the party's nomination to be candidate Joe Biden's running mate, according to released excerpts.
Harris, the first woman of color on a major US presidential ticket, will also indict the president on his abilities and his character, saying that Trump's "incompetence makes us feel afraid (and) the callousness makes us feel alone." — AFP
August 20, 2020
US President Donald Trump fires back angrily at his predecessor Barack Obama after being branded an unserious president who had put US democracy in danger.
Trump tells reporters Obama was an "ineffective" and "terrible" leader.
"I see the horror that he's left us, the stupidity of the transactions that he made," Trump says.
"President Obama did not do a good job. The reason I'm here is because of President Obama and Joe Biden," he says. — AFP
August 18, 2020
Michelle Obama blasts Donald Trump as an incompetent president who displays an "utter lack of empathy," as the former first lady addresses the opening night of the US Democratic convention Monday.
"Whenever we look to this White House for some leadership, or consolation, or any semblance of steadiness, what we get instead is chaos, division and a total and utter lack of empathy," the wife of former president Barack Obama says in a blunt rejection of the Trump administration.
"Let me be as honest and clear as I possibly can: Donald Trump is the wrong president for our country," she adds. — AFP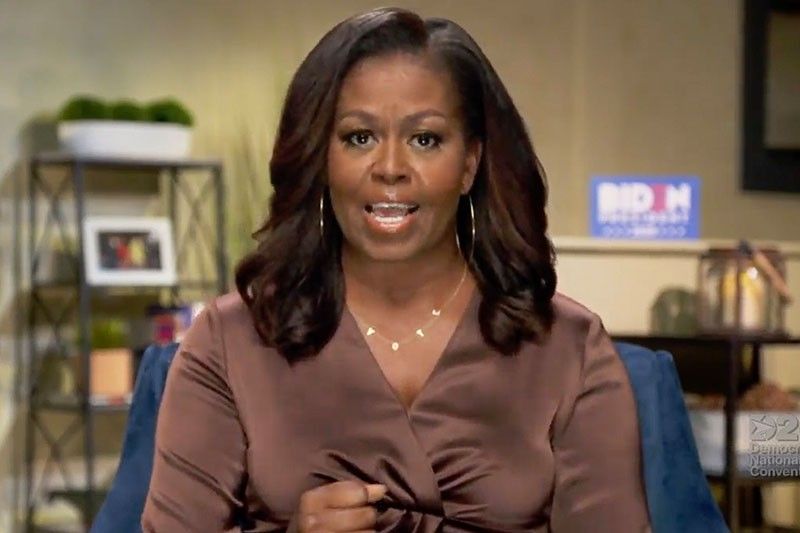 August 13, 2020
Kamala Harris declared that the United States is "crying out for leadership" in her first joint appearance Wednesday with Joe Biden as his pick for vice president on the Democratic ticket.
"The case against Donald Trump and Mike Pence is open and shut," said the former California attorney general, in a speech alongside Biden in his hometown of Wilmington, Delaware.
As the first woman of color to be a presidential running mate for a major US party, Harris said the country in particular needed to face up to the enduring problem of racism. — AFP
August 12, 2020
White House hopeful Joe Biden names Kamala Harris as his running mate, a landmark pick that puts the senator from California in contention to become America's first female, and first black vice president.
Biden's announcement cap a months-long search for a Democratic partner to challenge President Donald Trump in November.
"I have the great honor to announce that I've picked @KamalaHarris -- a fearless fighter for the little guy, and one of the country's finest public servants -- as my running mate," Biden, 77, said on Twitter.
"I'm proud now to have her as my partner in this campaign." — AFP
I have the great honor to announce that I've picked @KamalaHarris — a fearless fighter for the little guy, and one of the country's finest public servants — as my running mate.

— Joe Biden (@JoeBiden) August 11, 2020
.@JoeBiden can unify the American people because he's spent his life fighting for us. And as president, he'll build an America that lives up to our ideals.

I'm honored to join him as our party's nominee for Vice President, and do what it takes to make him our Commander-in-Chief.

— Kamala Harris (@KamalaHarris) August 11, 2020
August 8, 2020
A top US intelligence official says China has boosted its efforts to influence the US presidential election in November and wants President Donald Trump to lose because it sees him as "unpredictable."
"We assess that China prefers that President Trump -- whom Beijing sees as unpredictable -- does not win reelection," says William Evanina, director of the National Counterintelligence and Security Center.
"China has been expanding its influence efforts ahead of November 2020 to shape the policy environment in the United States, pressure political figures it views as opposed to China's interests, and deflect and counter criticism of China," Evanina says in a statement. — AFP
July 29, 2020
Joe Biden, the presumptive Democratic presidential nominee, says Tuesday that he will pick his running mate next week for the November election against President Donald Trump.
"I'm going to have a choice in the first week in August," Biden tells reporters. "And I promise, I'll let you know when I do."
Biden, who has pledged to put a woman on the Democratic ticket, was asked whether he would be able to meet face-to-face with his vice presidential pick because of the coronavirus pandemic. — AFP
July 18, 2020
Russia and China are trying to undermine US democracy in the run-up to November's presidential election, Joe Biden says, citing intelligence briefings he is now receiving.
"The Russians are still engaged in trying to delegitimize our electoral process. Fact," the presumptive Democratic challenger says at a fundraiser according to the Washington Post.
"China and others are engaged as well in activities that are designed for us to lose confidence in the outcome," he adds. — AFP
July 16, 2020
US President Donald Trump fires his campaign manager in an attempt to shake up his faltering re-election bid, with polls showing his popularity tanking four months ahead of November's vote.
"I am pleased to announce that Bill Stepien has been promoted to the role of Trump Campaign Manager," the president says on Twitter, promoting his former deputy campaign manager.
Trump says demoted Brad Parscale would return to his former duties leading the campaign's "tremendous digital and data strategies." — AFP
July 10, 2020
Joe Biden unveils a $700 billion plan to create millions of jobs and invest in new technologies in an aggressive challenge to President Donald Trump on economic policy, a critical campaign issue ahead of November's election.
Biden presents the sweeping "Build Back Better" proposal, a contrast to Trump's "America first" agenda, during a speech at a metal works plant in Pennsylvania, a battleground state seen as critical to either candidate's election victory. — AFP
July 8, 2020
White House hopeful Joe Biden says he will immediately reverse President Donald Trump's decision to pull the United States from the World Health Organization if elected.
"Americans are safer when America is engaged in strengthening global health. On my first day as President, I will rejoin the @WHO and restore our leadership on the world stage," the presumptive Democratic candidate writes on Twitter. — AFP
Americans are safer when America is engaged in strengthening global health. On my first day as President, I will rejoin the @WHO and restore our leadership on the world stage. https://t.co/8uazVIgPZB

— Joe Biden (@JoeBiden) July 7, 2020
April 29, 2020
Former Democratic presidential candidate Hillary Clinton endorses Joe Biden's White House bid.
"I want to add my voice to the many who have endorsed you to be our president," Clinton says during a live video conference with the former vice president.
"I wish you were president right now," the former First Lady and Secretary of State says.
"Think of what it would mean if we had a real president not just somebody who plays one on TV," she adds in a jab at President Donald Trump, Biden's expected opponent in November. — AFP
March 4, 2020
Joe Biden hails Super Tuesday as a "good night" that was getting "even better" as he secures early wins over Bernie Sanders in the race to win the Democratic presidential nomination.
"It's a good night and it seems to be getting even better! They don't call it Super Tuesday for nothing," he told cheering fans in Los Angeles. — AFP
March 4, 2020
Bernie Sanders voiced full confidence in his chances of winning the Democratic nomination to challenge Donald Trump, despite the early lead of his main rival Joe Biden on Super Tuesday.
"Tonight, I tell you with absolute confidence, we are going to win the Democratic nomination," Sanders told cheering supporters in his home state of Vermont — where he comfortably won the primary.
"You cannot beat Trump with the same old, same old kind of politics," said Sanders before launching into a broadside against the record of the centrist Biden. — AFP
March 4, 2020
Bernie Sanders wins the Democratic primary in Colorado, US media projected, his second win of the night in the crucial Super Tuesday contests to pick a challenger to take on President Donald Trump.
The western state sends 67 delegates to the party's convention and is Sanders' second win after his home state of Vermont.
The self-described democratic socialist's main rival Joe Biden has so far won five of the 14 states up for grabs, mainly in the south where the former vice president has demonstrated the depth of his support among African Americans. — AFP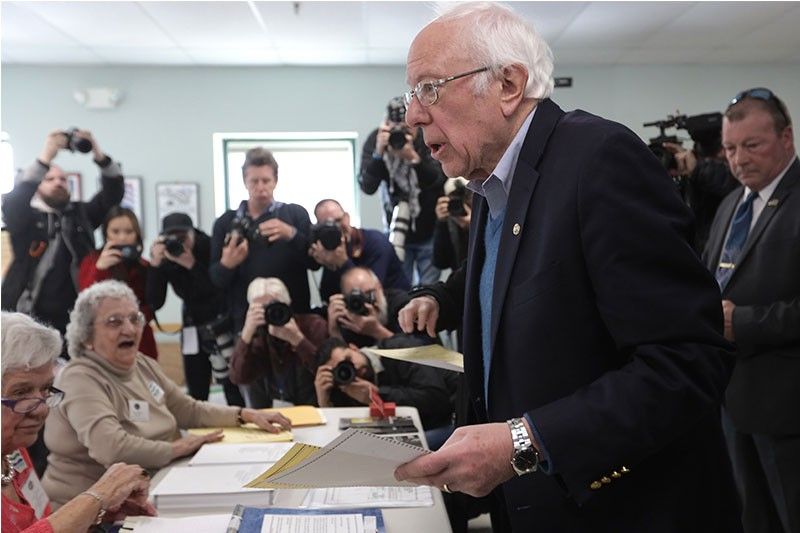 March 4, 2020
Joe Biden wins the North Carolina primary, US networks projected — his second victory in the crucial Super Tuesday primaries after Virginia, as voters cast ballots to pick the Democratic challenger to President Donald Trump.
His main rival, leftist Bernie Sanders, was earlier projected to pick up an easy win in his home state Vermont, where 16 delegates were up for grabs.
North Carolina has 110 delegates and has a relatively large black population, like Virginia with its 99 delegates. African-American voters appeared to be turning out heavily for Biden, the centrist former vice president, according to exit polls.
A total of 1,357 delegates are at stake on Tuesday, and Biden needs a good performance to prevent Sanders from taking a potentially insurmountable lead into the party's nominating convention in July. — AFP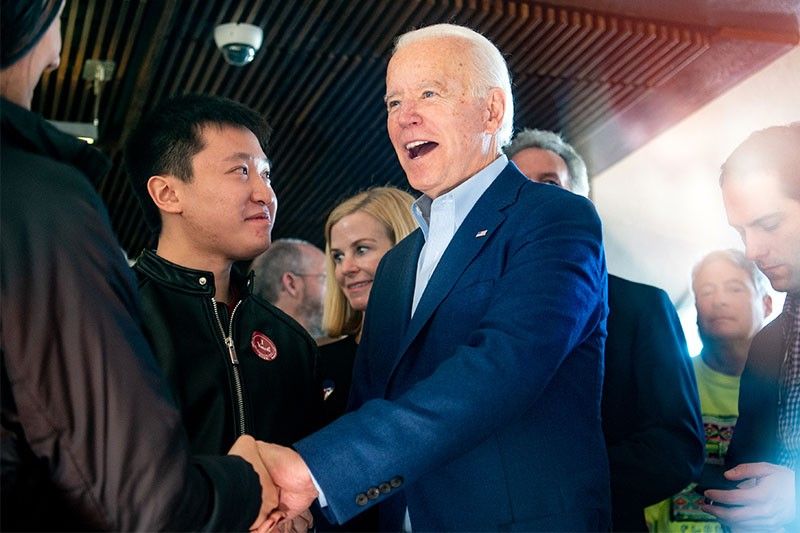 March 4, 2020
Joe Biden was projected to win the Virginia primary and Bernie Sanders triumphed in his home state of Vermont as polls closed in the first of 14 states voting Tuesday to pick a Democratic challenger to President Donald Trump.
The leftist Sanders had been expecting a comfortable Super Tuesday win in his home state, with 16 delegates up for grabs, but centrist Joe Biden hoped to stall his momentum nationwide — starting in Virginia with its 99 delegates.
A total of 1,357 delegates are at stake on Tuesday, and Biden needs a good performance to prevent Sanders from taking a potentially insurmountable lead into the party's nominating convention in July. — AFP
February 4, 2020
US President Donald Trump describes the Iowa caucuses as an "unmitigated disaster" after officials were unable to declare a winner.
"Nothing works, just like they ran the country," Trump says in a tweet.
Iowa Democratic party officials blamed reporting problems for the delay in announcing a winner in the vote Monday night that kicked off the American election season.
Alluding to the fact that he won the Republican caucuses in the Midwestern farm state, Trump says "the only person that can claim a very big victory in Iowa last night is 'Trump.'" — AFP
February 2, 2020
Democratic candidates bolt Sunday across Iowa, where no handshake or pit stop is too insignificant one day ahead of the state's presidential nominating process, which is the first in the nation.
Iowa has traditionally served as a vital launching point — or burial ground — for presidential campaigns.
However, Monday's crunch vote has created an air of suspense, with no clear frontrunner. — AFP
December 11, 2019
Russian Foreign Minister Sergei Lavrov denies that he discussed election interference with Donald Trump, after the White House said the US president warned him.
"We haven't even actually discussed elections," Lavrov tells a news conference shortly after his closed-door meeting with Trump. — AFP
December 11, 2019
President Donald Trump warned Moscow against trying to interfere in US elections, the White House says following a meeting between the US leader and Russia's foreign minister.
"President Trump warned against any Russian attempts to interfere in United States elections and urged Russia to resolve the conflict with Ukraine," the administration says after Trump's talks with Sergei Lavrov.
The meeting came on the day that House Democrats unveiled impeachment charges against Trump. The president is accused of pressuring Ukraine, which is battling a Russian invasion in its east, for help in the 2020 US election. — AFP
October 23, 2019
The White House rejects damning testimony from a US diplomat in Donald Trump's impeachment probe as part of a "smear campaign" from the far left of the Democratic Party.
Stunning congressional testimony by Bill Taylor appears to confirm allegations that Trump abused his office by conditioning foreign aid to Ukraine on its leader interfering on Trump's behalf in the 2020 election.
"President Trump has done nothing wrong — this is a coordinated smear campaign from far-left lawmakers and radical unelected bureaucrats waging war on the Constitution," White House press secretary Stephanie Grisham said in a statement. — AFP
October 9, 2019
Top Democrat Nancy Pelosi accuses the White House of an "unlawful attempt to hide the facts" after it ruled out cooperating with an impeachment probe of President Donald Trump.
Pelosi, the House Speaker, fires back after the White House sent her a letter blasting the impeachment process as partisan, illegitimate and unconstitutional.
"This letter is manifestly wrong, and is simply another unlawful attempt to hide the facts of the Trump Administration's brazen efforts to pressure foreign powers to intervene in the 2020 elections," Pelosi says in a statement. — AFP
June 28, 2019
Frontrunner Joe Biden accuses President Donald Trump of putting the United States in a "horrible situation" by overseeing a sharp rise in income inequality during his first presidential primary debate.
"Donald Trump has put us in a horrible situation," Biden says in the televised debate together with nine other Democrats seeking the party's nomination for the 2020 presidential election.
"Donald Trump thinks Wall Street built America. Ordinary, middle-class Americans built America."
— AFP
June 27, 2019
Ten Democrats step into the national spotlight to kick off their party's first debate of the 2020 presidential race, with Elizabeth Warren taking center stage arguing that her progressive policies can defeat incumbent Donald Trump.
The two-hour prime-time showdown presents Democrats like former Congressman Beto O'Rourke and Sen. Cory Booker with an opportunity to shine before an audience of millions early in the grueling nomination race.
But it is also seen as a warm-up event 24 hours before another 10 candidates take the stage, including frontrunning ex-Vice President Joe Biden and his current top challenger, liberal Sen. Bernie Sanders, as well as candidates near the top of the pack like Sen. Kamala Harris and Mayor Pete Buttigieg.
Monitor updates on the 2020 presidential race in the United States.