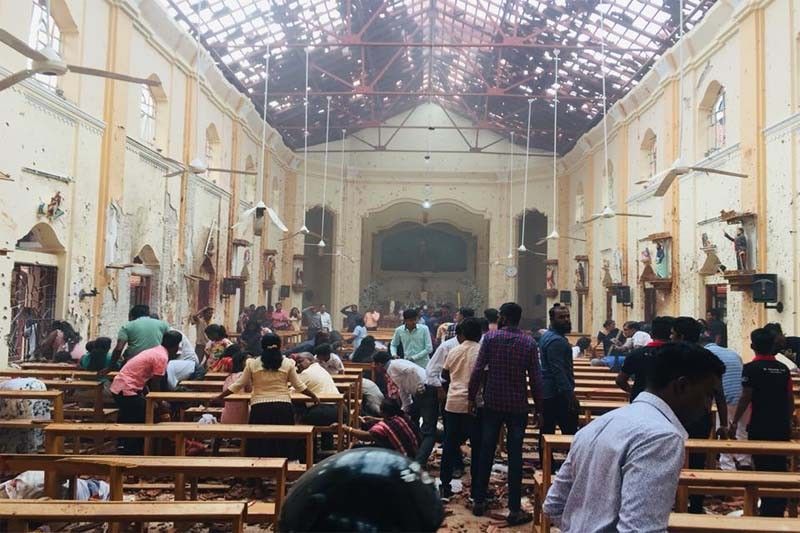 LATEST UPDATE: May 5, 2019 - 2:24pm
LOCATION:
+ Follow Story
May 5, 2019
Father Suranga Warnakulasuriya says prayers alone in his church Sunday, as Catholic services were suspended across Sri Lanka for the second straight week since the Easter suicide attacks.
With the army staging raids across the country and authorities maintaining high levels of security, the country's 1.25 million Christians are still on edge after jihadist bombers killed 257 people.
Warnakulasuriya has been saying mass in an empty church in Negombo, just north of the capital, every day since the slaughter at three hotels and three churches, one not far from his.
"Sometimes we feel lonely by not being able to celebrate the mass together," admits the fresh-faced 32-year-old who only became a priest in 2015. -- Agence France-Presse
April 23, 2019
The Islamic State group claims a series of bombings that killed more than 320 people in Sri Lanka.
"Those that carried out the attack that targeted members of the US-led coalition and Christians in Sri Lanka the day before yesterday are Islamic State group fighters," says a statement released by IS propaganda agency Amaq. — AFP
April 23, 2019
Sri Lanka falls silent for three minutes on a day of national mourning to honour more than 300 people killed in suicide bomb blasts that have been blamed on a local Islamist group.
Flags were lowered to half mast on government buildings, and people bowed their heads and reflected silently on the violence that has caused international outrage. — AFP
April 22, 2019
An improvised pipe bomb discovered close to Colombo's main airport was successfully diffused by the Sri Lanka airforce, police said.
A police source told AFP that a "homemade" pipe bomb had been found late Sunday on a road leading towards the main terminal, which remains open with heavy security after deadly attacks on churchs and hotels.
Airforce spokesperson Group Captain Gihan Seneviratne said the IED was believed to be locally manufactured. — AFP
Pope Francis stands with victims of 'such cruel violence' in Sri Lanka.
A series of eight devastating bomb blasts ripped through high-end hotels and churches holding Easter services in Sri Lanka on Sunday, killing nearly 160 people, including dozens of foreigners.