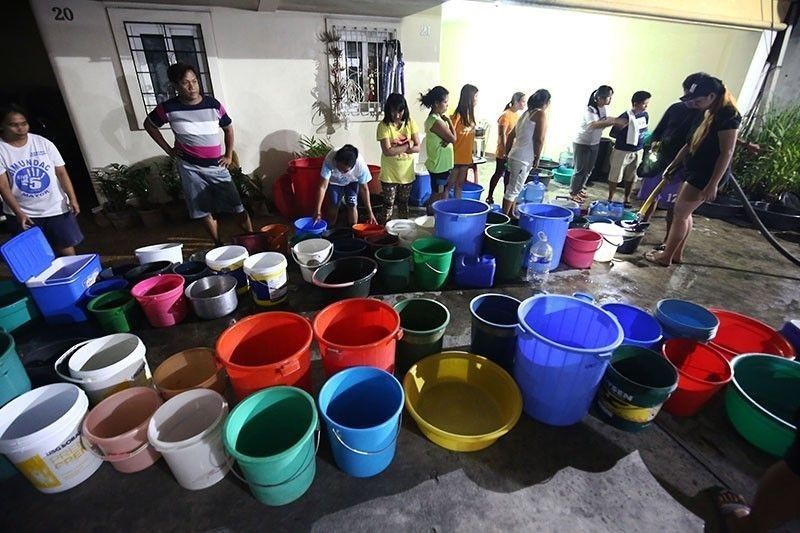 Water shortage in Metro Manila, Rizal
LATEST UPDATE: June 17, 2019 - 2:31pm
LOCATION:
+ Follow Story
June 17, 2019
Manila Water is now operating an additional 34 deep wells in its concession area to help meet the demand of customers while the new water sources are being completed.
As of June 9, 2019, 43.42 million liters of water per day have been drawn from these deep wells and is seen to bring more water supply upon full operation of more deep wells in the coming months.
"The operation of these deep wells is vital to recovering our service towards 24/7 supply at 7 psi or pressure up to the ground level as one of the means of augmenting the water supply deficit," Manila Water Corporate Strategic Affairs Group Head Jeric Sevilla says.
April 24, 2019
Manila Water President Ferdinand dela Cruz says in a statement that he will abide by the decision of the Metropolitan Waterworks and Sewerage System to pay a financial penalty upon over its momentary inability to meet its service obligations to provide round-the-clock water supply to consumers.
The MWSS board has sanctioned Manila Water Company Inc. with a total of P1.134 billion fine and an additional P600 million fund for development of a new water supply source following the water shortage last month that affected parts of Metro Manila and neighboring towns.
April 24, 2019
The imposition of penalties on Manila Water was due to its failure to comply with Article 10.4 of the concession agreement or the 24-hour available supply in its service areas.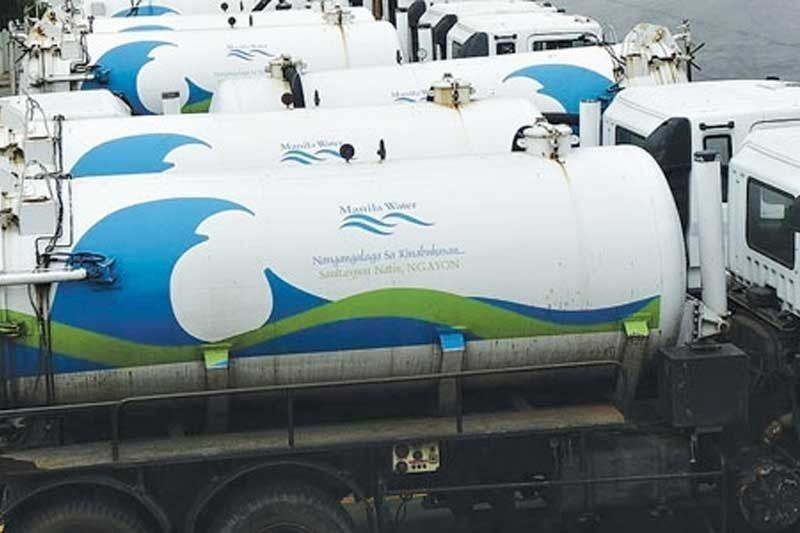 April 24, 2019
The MWSS Board sanctions Ayala-led Manila Water with P1.15 billion in fines following the supply mess last month.
— The STAR/Maureen Simeon
April 16, 2019
Manila Water says it accepted the resignation of Chief Operating Officer for Operations Geodino Carpio amid the water shortage that recently hit parts of Manila and Rizal.
The firm has appointed Abelardo Basilio as acting COO for Manila Water Operations.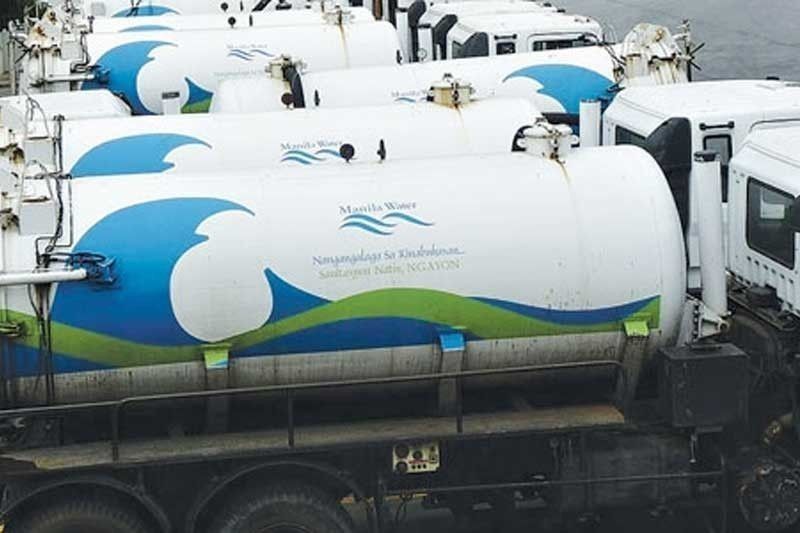 March 26, 2019
The recent water shortage in parts of Manila and Rizal show that the same issues that were used to argue for privatization remain in the system of water governance, Freedom from Debt Coalition says in a statement.
It says lawmakers at parallel hearings at the House and Senate found the current system inefficient and mismanaged.
"In addition, the hearings pounded on the failure of Manila Water and the MWSS to anticipate the water shortage and coordinate plans on how to prevent it. There are also criticisms on how water has become expensive through the years; how the two private concessionaires, Manila Water and Maynilad, are still unable to provide water service to all, the poor households in particular; and how these companies have been raking in, with Manila Water reporting a net income of P6.5 billion in 2018 alone," it also says.
"But are these not the same issues – inefficiency, mismanagement and incompetence -- that were raised two decades ago by those who pushed for the passage of Republic Act No. 8041 or the Water Crisis Act of 1995? Led by the World Bank, the neo-liberal economists and their partner technocrats in government argued loudly that the delivery of water and other essential public services should be transferred to the "more efficient" private sector," FDC also says.
March 26, 2019
Manila Water is waiving the minimum charge, which covers the first 10 cubic meters used, for its customers in response to service interruptions this month.
The waiver of the minimum charge will be reflected in the April bill, Manila Water Ferdinand Dela Cruz says in a press briefing.
JUST IN: Manila Water announces a voluntary and one time bill waiver scheme to be reflected in the April bill of its customers | @maureensimeon

— Philstar.com (@PhilstarNews) March 26, 2019
He says the waiver will cost the company about P150 million.
Users who did not have water service for 24 hours for more than a week will not be billed for their water consumption in March, he also says.
The Metropolitan Waterworks and Sewerage System says the waiver is a "voluntary action" on the concessionaire's part and is separate from the penalties that Manila Water faces for failure to meet commitments under the concession agreement.
"As far as MWSS is concerned, we have other things under the concession agreement. That will be up to the Regulatory Office," MWSS Administrator Reynaldo Velasco says at the same brieifing.
"Siguro wag na tayo mag-demand ng mas malaki," he says as he emphasizes the waiver by Manila Water is voluntary.
March 25, 2019
The Makati Business Club expresses its support for the efforts that the Manila Waterworks and Sewerage System and Manila Water Co. are taking to alleviate the water shortage, take steps to avoid or limit a repeat, and determine accountability and responsibility.
"MBC recognizes that it is critical for the government, the concessionaires, and other stakeholders to develop long-term solutions for both supply and demand. MBC stands ready with other business organizations to gather business sector inputs and support for these efforts."
"MBC reiterates its confidence in public-private partnerships in general and, in particular, the privatization of Manila's water system, which is considered a model around the world. Our members suffered with the rest of public, from the shortage of water in our homes and our businesses. But service is indisputably better than before privatization."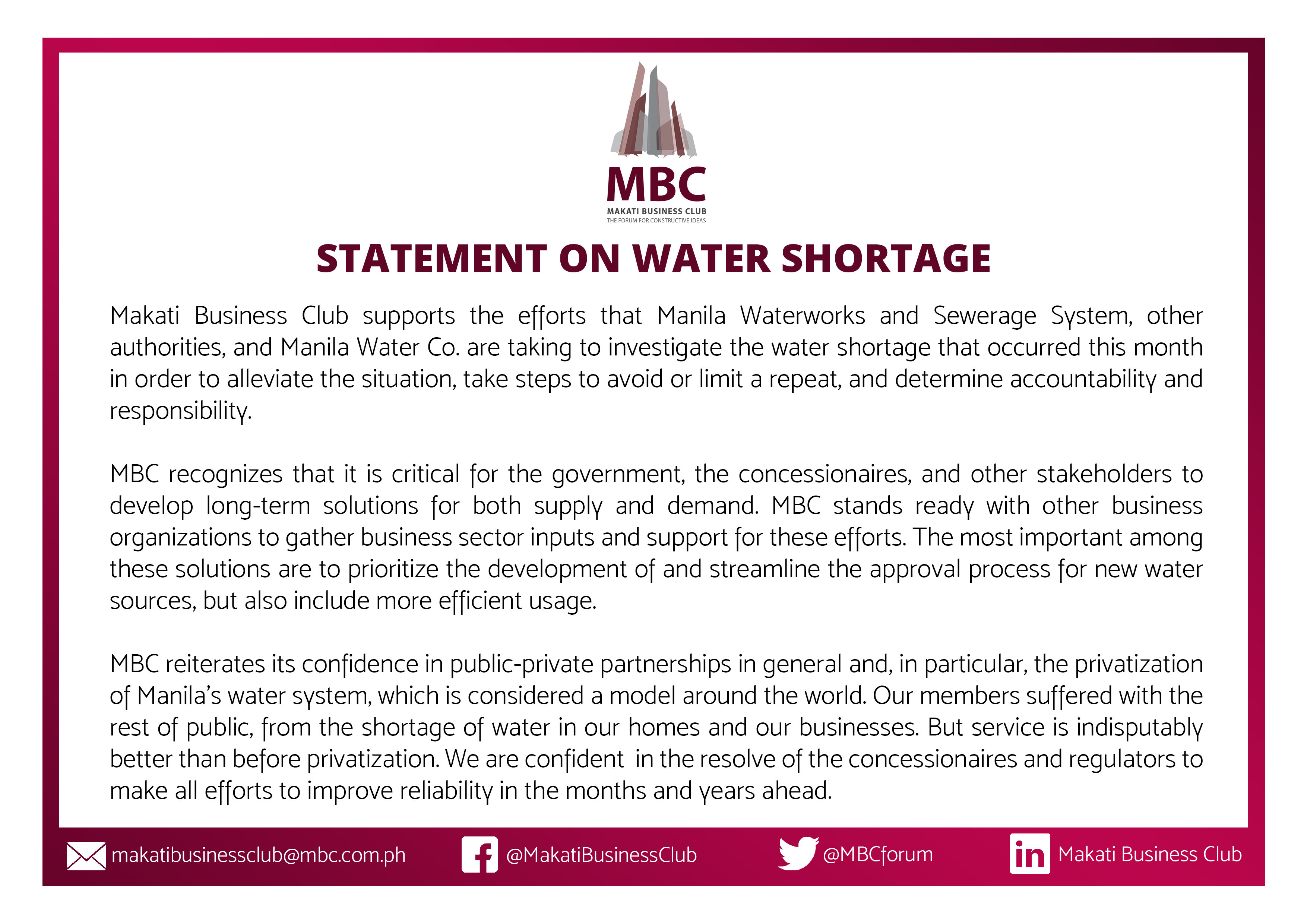 March 25, 2019
Concessionaire Manila Water should give customers affected by the water shortage a fair and just adjustment to their bill, which she says government regulator Metropolitan Waterworks and Sewerage System must ensure, Sen. Grace Poe says.
"Manila Water can absorb it, their income will not dry up. It is a drop in their bucket of profits. An apology is best expressed monetarily," Poe says in a press statement.
Users in the East Zone, where Manila Water operates, have been dealing with hours-long service interruptions attributed to a dry spell, a lack of water sources and an increased demand as people collect water in response to the interruptions.
March 19, 2019
"Tiyak may sasabunin, walang banlawan," Sen. Nancy Binay says of an ongoing Senate probe into a water shortage affecting parts of Manila and Rizal as she points out that concessionaires have conflicting explanations on what caused the service interruptions that have seen some areas without water for days.
"Lahat tayo ngayon ay nakararanas ng water shortage, at kung anu-anong dahilan na ang ating napakinggan mula sa mga ahensya ng gobyerno at concessionaires. But I'm sorry to say, their statements do not hold water," she says.
"The public is aghast at the response to the current crisis, and no explanation can wash the apparent neglect and inefficiency of those who have committed to provide us with clean water," she also says.
March 18, 2019
Rep. Lito Atienza (Buhay party-list) asks water concessionaires to submit details of its funding for water treatment and sewerage treatmant plants, saying the companies have been collecting fees for them since 1997 and have not delivered.
"Magkano po ba nakokolekta niyo sa sewage fee, environmental fee. Water should be used and reused and cannot run out," he says.
March 16, 2019
Manila Water says that after eight days water supply has resumed at Valle Verde 1, Brgy. Ugong in Pasig City.
March 16, 2019
Manila Water announces water supply has resumed in parts of Quezon City, Pasig and Mandaluyong.
Water supply in major hospitals in Quezon City — East Avenue Medical Center, Philippine Heart Center, Philippine Children's Hospital, Veterans Memorial Medical Center, Quirino Memorial Medical Center, National Kidney Transplant Institute, Philippine Blood Center, Lung Center of the Philippines and St. Luke's Medical Center — are back and dedicated tankers are on standby, it says in a tweet.
Other areas where water supply resumed include:
Mandaluyong
Pasig
Number 19 Lakeview, Brgy. Bagong Ilog
Felpris Compound, Number 1 Lakeview, Brgy. Bagong Ilog
Brgy. Kapitolyo, #Pasig. #ManilaWater
Kawilihan Village, Brgy. Bagong Ilog
March 15, 2019
Patrick Ty, chief regulator of the Metropolitan Waterworks and Sewerage System Regulatory Office, says the water shortage affecting Manila and parts of Rizal is not due to sabotage.
"Where will you hide the water?" he says in response to talk that the service interruptions, particularly in the East Zone (Mandaluyong, Marikina, Pasig, Pateros, San Juan, Taguig, Makati, parts of Quezon City and Manila), are "artificial."
Manila Water also serves Antipolo City and the Rizal towns of Angono, Baras, Binagonan, Cainta, Cardona, Jala-Jala, Morong, Pililla, Rodriquez, Tanay, Taytay, and San Mateo.
"There's no sabotage. All these conspiracy theorists... we'd like to ask them to be circumspect," he says. "Let's not add fuel to the fire."
He says that all waterways in the Angat-Ipo-La Mesa dam system are open and are being used.
"Unfortunately, the infrastructure can only handle 4,000 million liters per day," he says.
"Yes, there's a lot of water in Angat... but it cannot go here because of the existing infrastructure limitations in the system."
March 15, 2019
Health Care Without Harm Asia, which describes itself as a coalition of hospitals, health systems and environmental justice advocates, cautions against using the water shortage affecting Metro Manila and parts of Rizal "to justify the construction of the Kaliwa Dam" in Quezon.
In a press statement, HCWH Asia notes that presidential spokesperson Salvador Panelo has raised the possibility that the shortage may be "articial." Concessionaire Manila Water says is the shortage is caused by the low water level at La Mesa Dam, but there is enough water in Angat Dam, the main source of Metro Manila's water, according to reports.
"In the midst of the problem, a statement was released by the Metropolitan Waterworks and Sewerage System pushing to fast-track the construction of China-funded Kaliwa Dam in Infanta, Quezon to allegedly solve the problem.
Health Care Without Harm expresses solidarity with environmental groups and local communities in opposing this infrastructure project under the Build, Build, Build Program due, among others, to its adverse impacts on the environment, health, and rights of communities and indigenous peoples," the group said.
"Instead, stakeholders together with government must exercise due diligence and foresight in preparing for slow-onset crises like droughts which is one of the devastating effects of a changed climate. The time to prepare for water shortages must happen in times of plenty, and never when sources have dried up," HCWH Asia director Ramon San Pascual says in the same statement.
HCWH Asia stresses, however, that the shortage "whether or not it is artificial or real, denies Metro Manila residents of their basic rights."
March 14, 2019
Manila Archbishop Luis Antonio Cardinal Tagle asks that prayers for rain be included in the daily and Sunday masses amid the shortage in water supply.
Manila Archbishop Cardinal Tagle asks that prayers for rain be included in the daily and Sunday masses.?@PhilippineStar? pic.twitter.com/PG9QT8r6WC

— evelynzmacairan (@EZMacairan) March 14, 2019
March 14, 2019
March 14, 2019
The Commission on Human Rights calls on the government to expediently craft solutions, both immediate and long-term, to address the water shortage issue.
But it points out that the resolutions must "always be mindful of the rights of others" and "to the benefit of the majority of Filipinos" citing as an example the welfare of indigenous people communities in areas where dams may be developed.
"Water plays a crucial role in human life. Part of sustaining life is its role in nourishing, as well as ensuring that we achieve the highest attainable standard of health and living through sufficient, safe, and accessible water," CHR spokesperson Jacqueline de Guia says.
"The recent water interruptions, mainly those serviced by Manila Water, have already affected households and public services, such as hospitals."
CHR also adds that the role of the role of businesses, such as water companies, "in helping realize human rights due to their capacity to shape how we enjoy our rights" must also be equally recognized.
March 13, 2019
Manila Water announces that consumers in Metro Manila will experience water supply interruption for six to 21 hours from March 14 to 15 as it implements "operational adjustments."
Here is the schedule of service interruptions in Makati, Mandaluyong, Pasig, Pateros, San Juan, Taguig, Marikina, and parts of Quezon City and Manila:
March 13, 2019
The government is supposed to have put up rainwater collector systems in thousands of barangays in the Philippines, Sen. Nancy Binay says in a press release as she asks about implementation of Republic Act 6716, which mandated the construction of water wells and collectors across the country.
RA 6176, which was passed in 1989, "provides for the construction of 100,000 water wells, rainwater collectors and rehabilitation of existing wells in all barangays," Binay says.
"El Niño is here and the water crisis is real, imminent and prevalent. Thirty years mula nang maisabatas ang RA 6716, gusto nating malaman kung ilan sa mahigit 42,000 barangay ang meron rainwater collection system na ginawa ng DPWH," Binay says.
March 12, 2019
Despite the water level at the La Mesa Dam falling below the critical level of 69 meters, the Metropolitan Waterworks and Sewerage System says.
It says in a ONE News report that the Angat Dam, the main source of Metro Manila's water, has enough to last through the dry season.
The water level at the La Mes Dam drops to its lowest in 12 years. But the MWSS says there's no need to panic as the metro's main water source, Angat Dam has enough supply to fill demands despite the El Niño. #RushHour https://t.co/RbkDIhqV1T

— ONE News PH (@onenewsph) March 12, 2019
"This is very much—very high in terms of level. Hindi 'yan kukulangin kahit may El Niño," MWSS Administrator Reynaldo Velasco says in a report by News5's Patricia Mangune.
The water shortage has affected large parts of Metro Manila and parts of Rizal, where service interruptions can last for hours.
An environmental watch group advises the public to conserve water all the more as parts of the country grapple with the effects of drought brought by the onset of El Niño.
In a statement, the EcoWaste Coalition calls on Metro Manila households to take water conservation more seriously while also calling on establishments to intensify water conservation measures.
"We join our water authorities in asking household, businesses and government institutions in Metro Manila to use water more wisely amid the declining water level in Angat, Ipo and La Mesa Dams," Aileen Lucero, EcoWaste national coordinator, says.

She adds: "Let us all aim for zero water waste to reduce the impacts of low water supply during the summer months to the people, especially the poor, and the environment."
The water level in La Mesa Dam is now below critical level at 68.93 meters due to the summer season and the El Niño phenomenon.