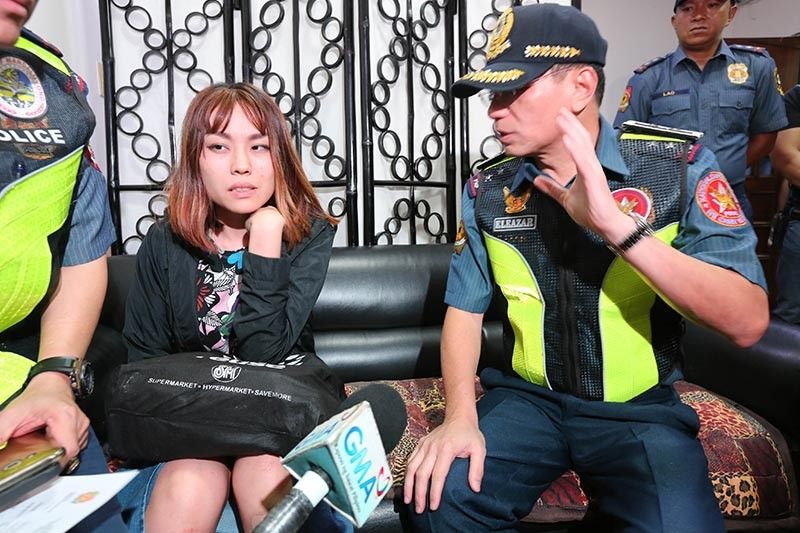 Chinese woman throws taho at cop
LATEST UPDATE: February 13, 2019 - 10:59am
LOCATION:
MANDALUYONG
PHILIPPINES
CHINA
+ Follow Story
February 13, 2019
The Bureau of Immigration says it has detained the Chinese student who threw taho at a police officer over the weekend.
In a statement, Immigration spokesperson Dana Sandoval says Zhang Jiale is now detained at the BI Warden Facility in Camp Bagong Diwa, Taguig.
Immigration operatives "were armed with a Mission Order signed by BI Commissioner Jaime Morente to gain custody over Zhang...for violating immigration laws," adds Sandoval.
Zhang posted bail on Tuesday night on cases filed against her by the police .The bureau also says it will resolve her possible deportation case "in the next few weeks."

February 12, 2019
The Bureau of Immigration's Legal Division has recommended filing a deportation case against the Chinese student who threw a cup of taho at a police officer at a Metro Rail Transit station over the weekend.
Bureau spokesperson Dana Sandoval says the division found probable cause to file a case against 23-year-old Zhang Jiale, who apologized Monday night for throwing the soybean drink at PO1 William Cristobal for barring her from entering the station with the drink.
"The BI can file a case motu proprio, especially since there are photos showing what happened," Sandoval says.
Immigration Commissioner Jaime Morente is quoted in the same BI release as calling Zhang's act "an utter display of disobedience and arrogance against a person of authority."
"The bureau will not tolerate such acts, as this shows disrespect to the country," he says.
February 11, 2019
Police have formally filed a complaint against Jiale Zhang, 23, for throwing taho at a police officer for refusing to let her bring the cup inside the MRT station on Boni Avenue.
Authorities have filed a complaint of unjust vexation, disobedience to a person in authority and direct assault against the foreign student who threw "taho"at a cop stationed at MRT.

The complaint was filed at the Mandaluyong prosecutor's office. | @kristinepatag pic.twitter.com/YkFwNFS74O

— Philstar.com (@PhilstarNews) February 11, 2019
Photos of the incident, which went viral on Saturday, have prompted calls to deport her to China. The Department of Foreign Affairs has said the incident is a non-issue.
Vice President Leni Robredo denounces the "disrespect" shown by a young Chinese woman who threw "taho" at a police officer conducting an inspection at an MRT station.
Robredo says the act was an "insult" not just to the police, but to all Filipinos.
"Hindi lang pambabastos sa pulis, pero pambabastos ito sa bansa natin," she says in her weekly radio show "BISErbisyong LENI."
She says Filipino hospitality extends to the Chinese and other foreign nationals in the country and in turn, these foreigners should also respect the Philippines and its people.
The Chinese woman was turned over to authorities on Saturday morning after she threw "taho" at a cop. The MRT-3 management said the incident happened at Boni Station in Mandaluyong City at around 8:30 a.m.
Authorities identified the Chinese woman as Jialz Zhang Nepomuceno, 42, and the cop as Police Officer 1 William Cristobal.
View full article here.