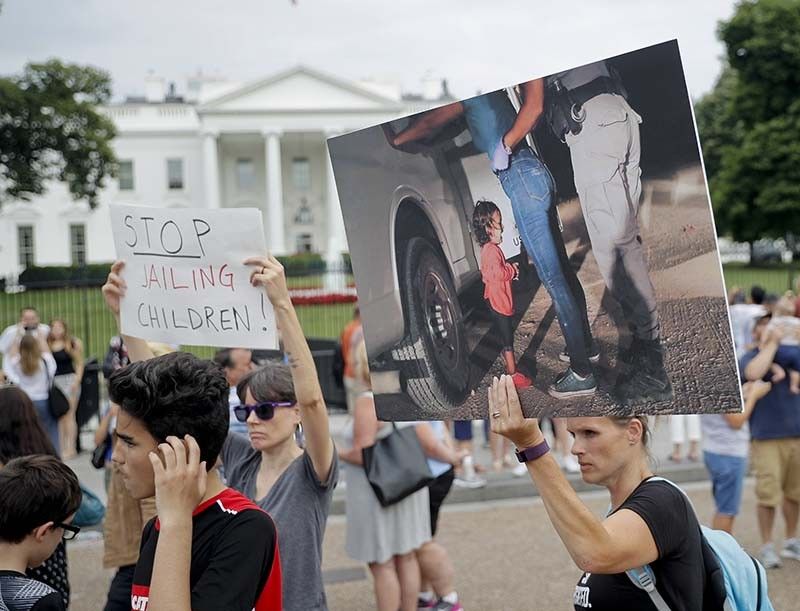 LATEST UPDATE: July 23, 2018 - 8:08am
LOCATION:
+ Follow Story
6 hours ago
US District Judge Dana Sabraw appeared conflicted in early May on whether to stop families from being separated at the border. He challenged the Trump administration to explain how families were getting a fair hearing guaranteed by the Constitution, but also expressed reluctance to get too deeply involved with immigration enforcement.
"There are so many (enforcement) decisions that have to be made, and each one is individual," he said in his calm, almost monotone voice. "How can the court issue such a blanket, overarching order telling the attorney general, either release or detain (families) together?"
Sabraw showed how more than seven weeks later in a blistering opinion faulting the administration and its "zero tolerance" policy for a "crisis" of its own making. He went well beyond the American Civil Liberties Union's initial request to halt family separation — which President Donald Trump effectively did on his own amid a backlash — by imposing a deadline of this Thursday to reunify more than 2,500 children with their families. — AP
3 days ago
The Trump administration says it has reunified 364 children ages 5 and older with their families after they were separated at the border, still leaving hundreds to go before a court-imposed deadline of next Thursday.
The Justice Department reaffirmed in a court filing Thursday that it has identified 2,551 children who may be covered by U.S. District Judge Dana Sabraw's order. — AP
July 17, 2018
A federal judge on Monday orders a temporary halt to deportations of immigrant families reunited after being separated at the border, as the Trump administration races to meet a July 26 deadline for putting more than 2,500 children back in their parents' arms.
U.S. District Judge Dana Sabraw imposed a delay of at least a week after a request from the American Civil Liberties Union, which cited "persistent and increasing rumors ... that mass deportations may be carried out imminently and immediately upon reunification."
Justice Department attorney Scott Stewart opposed the delay but did not address the rumors in court. — AP
July 14, 2018
The Trump administration says it expects to begin reunifying about 2,500 children ages 5 and older with their parents after they were separated at the border.
The Justice Department says in a court filing in San Diego that the reunifications are expected to begin and occur "on a rolling basis" up to a July 26 court-imposed deadline.
The reunifications will occur at six to eight unidentified U.S. Immigration and Customs Enforcement locations.
The administration says it is using truncated procedures to verify parentage and perform background checks. It says those procedures raise child safety concerns but are being used to comply with court orders. — AP
July 13, 2018
The Trump administration said Thursday all eligible small children who were separated from their families as a result of its zero-tolerance immigration policy have been reunited with their parents.
But nearly half of the children under 5 remain apart from their families because of safety concerns, the deportation of their parents and other issues, the administration said.
The administration was under a court mandate to reunite families separated between early May and June 20, when President Donald Trump signed an executive order that stopped separations. The American Civil Liberties Union filed a lawsuit on behalf of a woman who had been separated from her child, and U.S. District Court Judge Dana Sabraw ordered all children reunited with their parents.
Fifty-seven children were reunited with their parents as of Thursday morning, administration officials said. — AP
July 12, 2018
Advocates for asylum-seeking parents who have been detained in Washington state say some have started to be released from custody, but it's unclear when they might be reunited with their children.
The Northwest Immigrant Rights Project in Seattle says it knows of 55 people detained at the U.S.-Mexico border before being separated from their children and transferred to Washington under U.S. President Donald Trump's "zero-tolerance" policy.
One, 24-year-old Yolany Padilla, from Honduras, was released on $8,000 bond from a private immigration jail in Tacoma on Friday. Another was released Monday and three more on Wednesday.
Padilla's attorneys told a news conference Wednesday her son remains in federal custody in New York, and it's unclear when the government will release him to her. She says he cries when she speaks to him because he can't understand why they haven't been reunited. — AP
July 11, 2018
Lugging little backpacks, smiling immigrant children were scooped up into their parents' arms Tuesday as the Trump administration scrambled to meet a court-ordered deadline to reunite dozens of youngsters forcibly separated from their families at the border.
In Grand Rapids, Michigan, two boys and a girl who had been in temporary foster care were reunited with their Honduran fathers at a U.S. Immigration and Customs Enforcement center about three months after they were split up.
The three fathers were "just holding them and hugging them and telling them that everything was fine and that they were never going to be separated again," said immigration lawyer Abril Valdes. — AP
July 10, 2018
A Los Angeles federal judge has rejected a Trump administration request to detain immigrant families together, calling it a "cynical" attempt to undo a longstanding court settlement.
U.S. District Judge Dolly Gee said Monday that the federal government had failed to present new evidence to support revising a court order that limits the detention of children who crossed the border illegally.
The Department of Justice asked Gee to alter a 1997 settlement after the president reversed his zero-tolerance policy that caused uproar when children were taken from their parents in emotional scenes caught on camera.
The government wants to change the settlement so it can detain families together. — AP
July 10, 2018
More than 50 immigrant children under age 5 will be reunited with their parents by Tuesday's court-ordered deadline for action by Trump administration, and the families will then be released into the U.S., a government attorney says.
That's only about half of the 100 or so toddlers covered by the order.
At a court hearing, Justice Department lawyer Sarah Fabian acknowledged the government wouldn't meet the deadline for all the children, citing a variety of reasons, including that the parents of some of the youngsters have already been deported. — AP
July 6, 2018
Pope Francis is celebrating a special Mass for migrants in St. Peter's Basilica, calling attention to their plight and inviting them to the Vatican as Europe, the U.S. and other countries increasingly close their doors to them.
Several migrants and representatives of aid groups that care for them were among the guests at the intimate Mass marking the fifth anniversary of Francis' landmark visit to Lampedusa, the Sicilian island that for years was the primary destination of migrants smuggled from Libya.
During that trip the new pope denounced what he called the "globalization of indifference" shown by the world to migrants escaping war, poverty and climate-induced natural disasters. — AP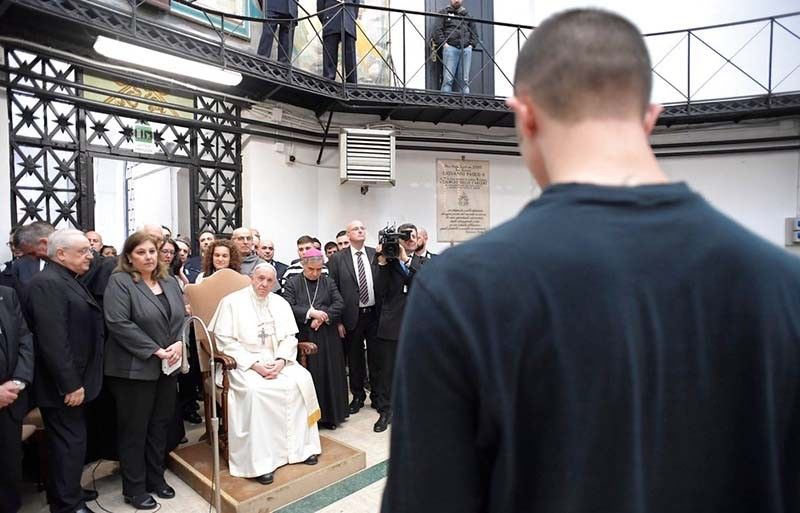 June 30, 2018
Liberal activists, parents and first-time protesters motivated by accounts of children separated from their parents at the U.S.-Mexico border plan to rally in hundreds of cities nationwide Saturday to press President Donald Trump's administration to reunite the families quickly.
More than 600 marches could draw hundreds of thousands of people across the country, from immigrant-friendly cities like Los Angeles and New York City to conservative Appalachia and Wyoming under the banner Families Belong Together. — AP
June 30, 2018
The Trump administration says a ruling this week by a federal judge in San Diego requiring the government to reunify families separated at the border means authorities can legally keep families detained, even those seeking asylum.
The Department of Justice says in a court filing that the government is allowed to detain families now that the California judge has barred their separation.
The filing cites exemptions in a settlement known as the Flores agreement that allow authorities to keep families in custody.
The Flores agreement requires the government to release children "without unnecessary delay," which the government has generally interpreted to mean about 20 days.
The government is still pushing to amend the agreement, despite its new interpretation.
The judge in San Diego on Tuesday set a 30-day deadline for reuniting parents and children, and quicker for very young kids. — AP
June 28, 2018
The plaintiff in a lawsuit against the separation of immigrant parents from their children says she hopes a judge's order will prompt the government to act quickly.
A Brazilian mother who identified herself only as Jocelyn because of her asylum case said Thursday that she went more than nine months without seeing her son after they were separated at the Texas border in August 2017. She doesn't want other mothers to go through the same thing.
A U.S. District Court judge in San Diego ordered Tuesday that thousands of immigrant children be reunited with parents within 30 days, or sooner for young children.
Jocelyn now lives with her son in a shelter in El Paso pending the outcome of legal proceedings. — AP
June 27, 2018
The clock is ticking for the Trump administration after a federal judge ordered thousands of migrant children and parents reunited within 30 days, sooner if the youngster is under 5, The Associated Press reports.
The hard deadline was set Tuesday night by U.S. District Judge Dana Sabraw in San Diego after President Donald Trump's order ending the separation of families at the Mexican border gave way to days of uncertainty, conflicting information and no guidance from the administration on when parents might see their children again.
"This situation has reached a crisis level," Sabraw wrote.
June 27, 2018
A judge in California has ordered U.S. border authorities to reunite separated families within 30 days.
If the children are younger than 5, they must be reunified within 14 days of the order, issued Tuesday.
U.S. District Judge Dana Sabraw in San Diego issued the order in a lawsuit by the American Civil Liberties Union. The lawsuit involves a 7-year-old girl who was separated from her Congolese mother and a 14-year-old boy who was separated from his Brazilian mother. — AP
June 26, 2018
The children at the center of the national debate over President Donald Trump's immigration policy have been heard about but rarely seen, The Associated Press reports.
News organizations say they are pushing back every day against Trump administration restrictions on access to facilities where children separated from their parents are being held. Government handouts satisfy few, and there have been disputes raised in some of the few independent instances where a sense emerges of what is happening at the border.
New video emerged late Monday on Rachel Maddow's MSNBC program allegedly showing young children at a government facility in New York City. Maddow said it was taken and smuggled out by an employee who has since quit and wishes to remain anonymous.
June 24, 2018
Trump administration officials say the U.S. government knows the location of all children in its custody after separating them from their families at the border and is working to reunite them.
A fact sheet on "zero-tolerance prosecution and family reunification" released Saturday night by the Department of Homeland Security also says a parent must request that their child be deported with them. In the past, the agency says, many parents have elected to be deported without their children. That may be a reflection of violence or persecution they face in their home countries.
As part of the effort, Immigration and Customs Enforcement officials have posted notices in all its facilities advising detained parents who are trying to find or communicate with their children to call a hotline staffed 8 a.m. to 8 p.m. Monday through Friday. — AP
June 24, 2018
President Donald Trump presses his tough anti-illegal immigration stance before supporters Saturday, saying "we have to be very strong" as he sought to help boost the candidacy of a one-time critic.
Trump portrays himself as the toughest against illegal immigration, saying at one point, "I think I got elected largely because we are strong on the border."
But he excluded any mention of the fact that a massive public outcry, including from members of his own family, forced him to reverse course this week and end the practice of separating children from families after they illegally cross the southern border into the U.S. — AP
June 23, 2018
Kansas' child welfare agency has concluded after an inspection that immigrant children housed in Topeka group homes are "having their needs met."
Spokeswoman Taylor Forrest issued an email statement Friday evening after the state Department for Children and Families completed an inspection of The Villages homes on a 400-acre site outside Topeka. The statement was not specific about the inspector's findings.
Republican Gov. Jeff Colyer ordered the inspection after four Democratic legislators accused him of not being aggressive enough in seeking information about the immigrant children at The Villages homes.
The nonprofit group has a contract with the federal government to house up to 50 unaccompanied immigrant children. It's not clear how many were separated from their parents during a recent crackdown at the U.S-Mexico border. — AP
June 22, 2018
Even as many religious organizations, from liberal to conservative, denounce the Trump administration's policy of separating immigrant families at the U.S.-Mexico border, some major advocacy groups that depict themselves as "pro-family" declined to join in the criticism.
Two of the most influential anti-abortion groups in the U.S. — the National Right to Life Committee and the Susan B. Anthony List — say their focus on abortion is so intense that they avoid wading into other issues. — AP
A senior Trump administration official says about 500 of the more than 2,000 children separated from their families at the border have been reunited since May.
The official says those children had been separated from their parents as a result of a "zero tolerance" policy that calls for the criminal prosecution of anyone caught crossing the U.S. border illegally. The official was not authorized to give out the number and spoke to The Associated Press on condition of anonymity.
The official says many of the children were reunited within days after being separated from their families. The official wasn't certain how many of the reunited children remained in custody with their families or how many were no longer in the country.
The official says U.S. Immigration and Customs Enforcement and Health and Human Services are working to set up a centralized reunification process at the Port Isabel Detention Center near Los Fresnos, Texas. — AP