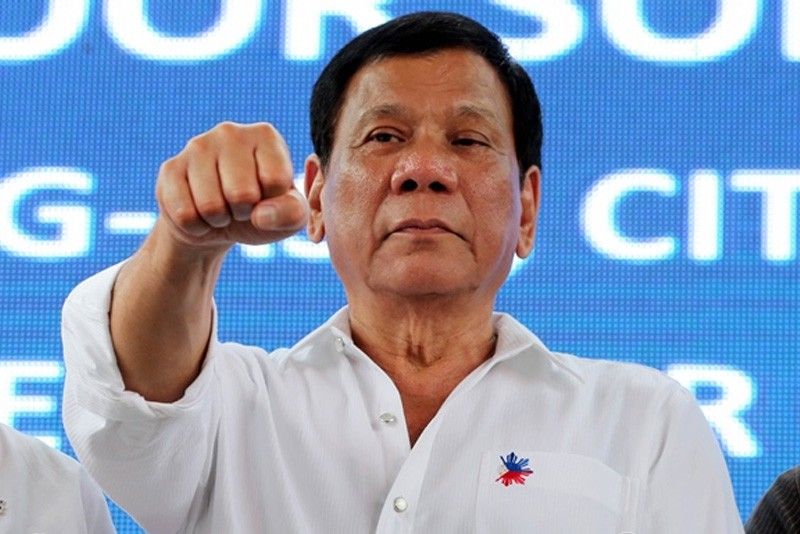 LATEST UPDATE: December 21, 2018 - 7:39pm
+ Follow Story
December 21, 2018
President Rodrigo Duterte appoints another general to a ranking government post. This time it's retired Philippine Air Force Lt. Gen. Galileo Kintanar Jr., whom he named the new head of the Philippine Coconut Authority board.
December 13, 2018
The Palace says President Duterte continues to trust Budget Secretary Benjamin Diokno after the House of Representatives adopted a resolution urging the chief executive to reconsider the budget official's appointment.
The House on Wednesday adopted House Resolution 2365. Diokno underwent questioning by lawmakers on Tuesday over his role in the P75 billion in "insertions" in the Public Works department's proposed 2019 budget.
Palace: The President continues to trust Budget Sec. Benjamin Diokno and the confidence reposed on him remains unimpaired pic.twitter.com/V53fbKFnlk

— christina mendez (@xtinamen) December 13, 2018
November 12, 2018
Jesus Melchor Quitain, an undersecretary at the Office of the President, has been designated officer-in-charge of the Office of the Special Assistant of the President.
Look | Memorandum designating Usec. Jesus Melchor Quitain as Officer-in-Charge of the Office of the Special Assistant to the President pic.twitter.com/jmhrMa8Ght

— Maricel Halili-Gahol (@halili_maricel) November 12, 2018
According to the memorandum signed by Executive Secretary Salvador Medialdea, the designation is effective immediately.
Christopher "Bong" Go, the former special assistant to the president, is running for senator and has officially vacated the post. He has still been seen with President Rodrigo Duterte at the president's official functions, however.
October 25, 2018
Speaking at the anniversary of the Philippine Coast Guard, President rodrigo Duterte says he will transfer Customs Commissioner Isidro Lapeña to the Technical Skills and Education Development Authority.
There was talk earlier this month that TESDA Director General Guiling Mamondiong would be running for local office.
Replacing Lapeña at the Bureau of Customs is former Armed Forces chief Rey Leonardo Guerrero, who was made administrator of the Maritime Industry Authority in April.
The transfers come in the wake of the Customs commissioner's acknowledgement that magnetic lifters seized by the Philippine Drug Enforcement Authority seized in August may have contained drugs.
He had previously denied the PDEA's claim that the lifters contained drugs—the president himself dismissed it as "mere speculation"—and said earlier this month that he will not resign.
October 25, 2018
President Duterte has made columnist Ramon Tulfo his Special Envoy for Public Diplomacy to the People's Republic of China, appointment papers released to the media show.
Tulfo was involved in a public spat in August with the Philippine General Hospital, where he took a video on his mobile phone while berating an emergency room doctor for allegedly not treating a child his driver had run over. Tulfo insisted the emergency room was a public place because the PGH is a public hospital.
The president has also named Presidential Adviser on the Peace Process Jesus Dureza his special envoy to the European Union. It is unclear if that will mean Dureza will leave his post as peace adviser.
October 15, 2018
President Duterte attends the change of command ceremony of the Philippine Army at Fort Bonifacio in Taguig.
Maj. Gen. Macairog Alberto, chief of the Armed Forces' Intelligence Service, is taking over as commanding general of the 98,000-strong Army.
Prior to his appointment, the Armed Forces of the Philippines bared a supposed "Red October" plot led by communist rebels and allegedly involving Sen. Antonio Trillanes IV's Magdalo and the Liberal Party. All parties allegedly involved denied the existence of the supposed plot.
Nevertheless, the government said last week that the plot had fizzled out but that rebels will try again in December.
October 12, 2018
Teddy Locsin Jr., who currently serves as the Philippines' Permanent Representative to the United Nations, confirms he will be the next Foreign Affairs chief.
He will be replacing Secretary Alan Peter Cayetano who will be running for Congress. Cayetano on Thursday, October 12, said he would be seeking the House speakership if he wins.
I was asked I said yes; but love UN, the many friends & intellectual companions I made. But I didn't say no when asked as I didn't when he told me I was UN ambassador. If my Tito Chito Ayala trusted him implicitly; how can I not. Still UN work is like sharpening a blade every day https://t.co/Zc0SHbtpE4

— Teddy Locsin Jr. (@teddyboylocsin) October 11, 2018
October 9, 2018
Taguiwalo says that historically, no general has been appointed as DSWD chief even during Martial Law.
"I think the DSWD has a mandate of providing assistance to vulnerable groups, marginalized groups. And historically, it has been a civilian position even during the martial law period it was headed by a social worker, a doctor of medicine, a development worker or even an economist but never a military man."
"... Social welfare requires [a] participatory process. We place premium on the dignity of an individual, providing them choices and the process even in the department is consultative. So, we have regular meetings which is very much different from how a military organization functions so it is very hierarchical, you obey the commander-in-chief or the general."
October 9, 2018
Former Social Welfare Secretary Judy Taguiwalo expresses dismay over the appointment of a military general to head the Department of Social Welfare and Development, citing the clashing natures of the two agencies.
"We're not talking about General Bautista per se here. We're talking about the principle of civilian supremacy over the military... We're talking of experience and background in a different field," she says in an interview over CNN Philippines' "The Source."
"Why not give it, there are so many qualified, I think, social workers, social development workers who have been in the department for so long or else have been doing assistance to vulnerable groups and communities for the longest time."
Retiring Army chief Lieutenant General Rolando Bautista was appointed by President Rodrigo Duterte as the next social welfare secretary.
September 24, 2018
Agriculture Secretary Emmanuel Piñol denies he wants Jason Aquino back as administrator of the National Food Authority.
"I don't have the power to decide on the fate of Jason Aquino... The fact is that the president's replacement for Jason Aquino, Gen. Rolly Bautista, will only assume mid-October... Now, until such time, since wala pa naman sinasabi si presidente na sinisibak niya si Aquino, Aquino remains as NFA administrator until such time that Gen. Rolly Bautista takes over," he says.
Aquino has asked President Rodrigo Duterte to be relieved from his post amid the country's rice woes. Duterte had faced criticism for allowing Aquino to resign instead of firing him.
Duterte last week said he would be appointing Army chief Lt. Gen. Rolando Bautista as administrator of the embattled NFA.
June 25, 2018
The Judicial and Bar Council finishes drafting a shortlist of nominees who will next take a seat at the Supreme Court, according to a report by The STAR. The nominees are:
SC Court Administrator Jose Midas Marquez
Court of Appeals Associate Justice Jose Reyes
Court of Appeals Associate Justice Rosmari Carandang
Court of Appeals Associate Justice Ramon Garcia
Court of Appeals Associate Justice Amy Javier
Court of Appeals Associate Justice Apolinario Bruselas
Court of Appeals Associate Justice Ramon Hernando
Ex-Ateneo law dean Cesar Villanueva
President Rodrigo Duterte will pick one of them to take the seat of SC Associate Justice Presbitero Velasco Jr. who is set to retire in August. - with Edu Punay
June 4, 2018
President Duterte picks Dr. Roy Ferrer as the new PhilHealth chief.
He is replacing Celestina Ma. Jude Dela Serna who faced controversy amid reports on her excessive trips and costly accommodations.
LOOK: Pres. Duterte names new Philhealth chief @PhilippineStar @PhilstarNews pic.twitter.com/N1uxH9iKa5

— Alexis B. Romero (@alexisbromero) June 4, 2018
May 30, 2018
Guevarra gets appointment body's nod as the country's justice secretary.
This comes a day after the commission confirmed Bernadette Romulo-Puyat as tourism chief in a swift hearing that lasted around six minutes.
May 30, 2018
Menardo Guevarra faces the Commission on Appointment for his confirmation hearing as justice secretary.
May 24, 2018
President Duterte appoints Philippine Drug Enforcement Agency Assistant Secretary Jesus Fajardo as Customs deputy commissioner, The STAR's Christina Mendez reports.
May 9, 2018
Agriculture Secretary Emmanuel Piñol says Agriculture Undersecretary Bernadette Romulo-Puyat's appointment as the new tourism chief is a big loss to the Agriculture department.
She is a big loss to the DA especially in our marketing advocacies. But, I am happy for her. Looking at the brighter side, she and I could now work closely and coordinate our efforts and funding in promoting farm tourism and agri-tourism. Knowing her work habits and her honesty as a public official, I know she will excel as tourism secretary.
— with Louise Maureen Simeon
April 16, 2018
Dela Rosa says he believes he was able to bring back the public's trust to the PNP during his term.
"But generally, naniniwala ako na naibalik ko yung respeto ng taumbayan dahil noon kumpara ngayon, noon pinapabayaan yung problema sa droga ngayon po ay talagang inaaddress ng inyong PNP."
The PNP was taken out of the government's war on drugs, which it has been leading since President Rodrigo Duterte assumed power, twice over credibility and human rights concerns.
The first time was in February 2017 after the murder of Korean Jee Ick-Joo by cops right inside Camp Crame.
The second time was in October 2017 after Duterte's satisfaction ratings significantly dropped amid protests triggered by the death of minors in the hands of Caloocan City cops.
April 16, 2018
Philippine National Police chief Ronald dela Rosa delivers his final flag ceremony speech as the country's top cop with a vow that the war on drugs will continue under the new leadership.
National Capital Region Police Office chief Oscar Albayalde will be the next PNP chief while Dela Rosa will assume his post as the next director of the Bureau of Corrections.
He also announces that the Bell 429 helicopter the PNP has purchased has arrived. The chopper is expected to enhance the flexibility of operations by providing air support to cops on the ground.
Dela Rosa says the lowest points in his career as PNP chief were the Jee Ick Joo "Tokhang for ransom" case and the Senate probe into the government's crackdown on drugs.
April 16, 2018
Menardo Guevarra addresses Department of Justice personnel for the first time as justice secretary.
He says his only ambition is to do his job well before retiring in the private company of his grandchildren.
"This is the mandate the president gave me: Do what is right," he says.
The former senior deputy executive secretary says the DOJ is suffering from a huge image problem.
"It looks solid but its structural integrity is suspect both literally and metaphorically," he says.
"So it is my personal mission to restore the DOJ's dignified and respectable image."
Guevarra replaced former Justice Secretary Vitaliano Aguirre who resigned after drawing flak for the DOJ's handling of controversial cases, especially the dismissal of raps against alleged drug lords.
April 5, 2018
Senior Deputy Executive Secretary Menardo Guevarra is the new Justice secretary, presidential spokesman Harry Roque says.
Guevarra replaces Vitaliano Aguirre II, whose resignation President Rodrigo Duterte said earlier Thursday that he had accepted. Aguirre's resignation comes after reports that he would be fired this week.
Guevarra's government service includes work in the 2010 Philippine Truth Commission, a stint as deputy executive secretary for legal affairs of the Office of the President in 2015 and as commissioner on the Philippine Competition Commission n February 2016.
He studied law at Ateneo de Manila, where he also took up Political Science as an undergraduate. He has a graduate degree in Economics.
President Rodrigo Duterte says National Capital Region Police Office chief Director Oscar Albayalde will be the next Philippine National Police chief.