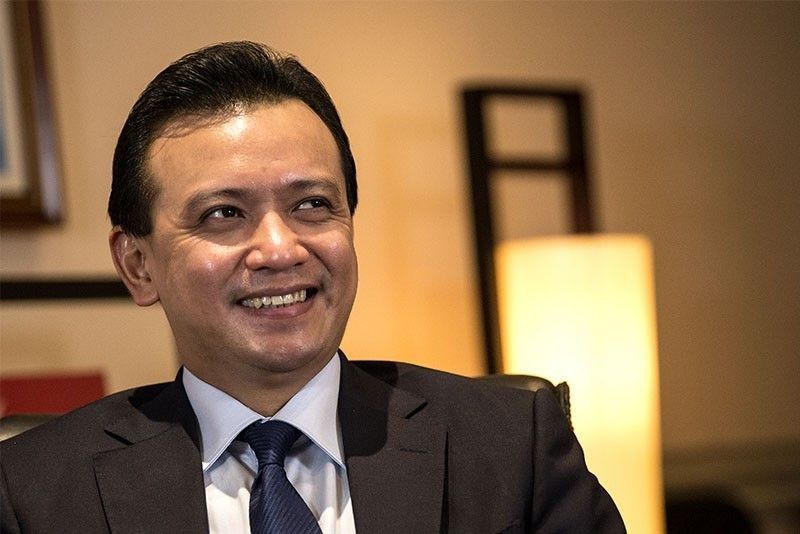 LATEST UPDATE: March 2, 2021 - 12:48pm
LOCATION:
MANILA PHILIPPINES
+ Follow Story
March 2, 2021
Ex-Sen. Antonio Trillanes IV wins in Court of Appeals. CA reverses Makati RTC Branch's order that revived the rebellion case against him, over supposed amnesty revocation.
"The assailed orders of 25 September 2018 and 18 December 2018, having been issues by the respondent court that no longer had jurisdiction on a dismissed criminal action and that acted with grave abuse of discretion, are set aside and vacated," the CA says. — Kristine Joy Patag
JUST IN: Ex-Sen. Antonio Trillanes IV wins in Court of Appeals. CA reverses Makati RTC Branch's order that revived the rebellion case against him, over supposed amnesty revocation. @PhilstarNews pic.twitter.com/qbKv4DCAGq

— Kristine Patag (@kristinepatag) March 2, 2021
October 22, 2019
Former Sen. Antonio Trillanes IV denies allegations that he was involved in the alleged kidnapping of a certain Guillermina Lalic Barrido, also known as Guillerma Arcillas, in 2016.
The Philippine National Police in August accused Trillanes of kidnapping with illegal detention Barrido's signed affidavit where she claimed that, in December 2016, she was brought to a room in the "Convent of Cannussian Sisters" and was not allowed to leave.
She said that Trillanes had repeatedly called her, telling her she cannot leave unless she signs an affidavit against President Rodrigo Duterte.
But Trillanes, in a counter-affidavit submitted to the Department of Justice, says "until I accidentally saw her at the DOJ Compound sometime on September 5, 2019, I have never met or even seen Ms. Barrido in person, and I have never talked to or spoken with her, whether by phone or in person."
He also points out that in photographs that Barrido provided as supposed proof of the kidnapping, "in almost all the said pictures, Ms. Barrido and [her] companions were all smiling and seemingly enjoying themselves."
"Obviously, these are not the normal, usual or expected imagesand demeanor of a person who is supposedly being 'detained' against her will or is being 'kidnapped', unless Ms. Barrido can genuinely claim that she was happy to be detained."
May 7, 2019
The Pasay court will proceed to trial on an inciting to sedition case against Sen. Antonio Trillanes IV for allegedly saying that soldiers should shoot President Rodrigo Duterte using an M-60 machine gun for his alleged hidden wealth.
Pasay court junks Sen. Antonio Trillanes IV's plea seeking the immediate dismissal of the second inciting to sedition case filed against him. The case stemmed from his call on the military to take up arms against Pres. Rodrigo Duterte. (via @PhilippineStar / Edu Punay) pic.twitter.com/BEu6M7cv89

— ONE News PH (@onenewsph) May 7, 2019
In a speech in October 2017, Trillanes said: "Kung makikita ito ng mga sundalo, M60 machine gun ang gagamitin sa 'yo. Marami-rami itong maubos magazine kung P40 million hinahanap mo, Mr. Duterte."
(If soliders see this, they might use an M60 machine gun against you. This is a lot of magazine if you are looking for P40 million, Mr. Duterte.)
The speech was in reference to a Duterte speech that same month where he denied having undeclared wealth.
"It could not be more than P40 million. It is a lifetime saving. Seventy-two [na] ako. I started to work when I was 27. Naging prosecutor ako. Pati kasali ang mga minana kong lupa. You can shoot me. You can overthrow me if you want kapag sumbobra ako doon," Duterte said then.
"I promise you now in front of the soldiers and everybody: I will produce that account at sinasabi ko sa inyo, you can shoot me if it exceeds 40 million (pesos). Lifetime na iyan na savings ko. Hindi sosobra iyan, sigurado."
February 26, 2019
A local prosecutor finds probable cause to indict Sen. Antonio Trillanes IV on inciting to sedition raps filed by Labor Undersecretary Jing Paras and lawyer Manuelito Luna.
January 15, 2019
Sen. Antonio Trillanes IV, who is in Davao City, has pleaded not guilty to the four charges of libel filed before Regional Trial Court Branch 54 by former Davao City Vice Mayor Paolo Duterte.
December 10, 2018
Sen. Antonio Trillanes IV posts bail of P96,000 before the Pasay City Regional Trial Court after a Davao court issued a warrant of arrest against him for four counts of libel filed by President Rodrigo Duterte's son, Paolo.
Judge Rowena Nieves Tan of Pasay City of Branch 118 lifted the warrant after the bail was settled, STAR's Romina Cabrera reports.
December 7, 2018
Davao City Regional Trial Court Branch 54 issues a warrant of arrest against Sen. Antonio Trillanes IV for a libel case filed by Paolo Duterte. His bail is set at P24,000.
The presidential son accused Trillanes of defaming him and his family in a radio interview in Cebu where the senator allegedly accused him of corruption and extortion involving Uber and other companies regulated by the Land Transportation Franchising and Regulatory Board, the Road Board and the Department of Public Works and Highways.
June 6, 2018
Labor Undersecretary Jacinto "Jing" Paras files a grave threat complaint against Sen. Antonio Trillanes IV before the Pasay City Prosecutor's Office.
Paras, in his complaint, specifically cites Trillanes' remark: "Ang lakas ng loob mo. Hindi magtatagal ang amo mo. Matatapos din yan. Yayariin kita. Mercenaryo ka. Yayariin kita."
According to the complaint, Trillanes approached the labor undersecretary after a hearing on the Oversight Committee on Overseas Foreign Workers last May 29.
Paras wants Trillanes charged over the senator's alleged violation of Paragraph 2, Article 282 of the Revised Penal Code.
A Pasay City prosecutor's office recommends the filing of an inciting to sedition case against Sen. Antonio Trillanes IV stemming from a privilege speech in the Senate calling on military men to shoot President Rodrigo Duterte for his unexplained wealth.