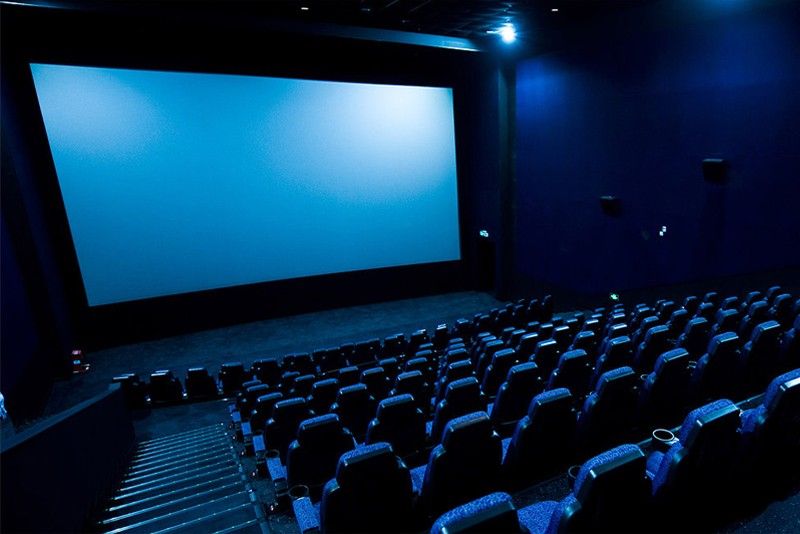 LATEST UPDATE: May 16, 2018 - 12:02pm
+ Follow Story
May 16, 2018
The Queen and Freddie Mercury biopic "Bohemian Rhapsody" releases its first teaser trailer.
"Bohemian Rhapsody" is a foot-stomping celebration of Queen, their music and their extraordinary lead singer Freddie Mercury, who defied stereotypes and shattered convention to become one of the most beloved entertainers on the planet.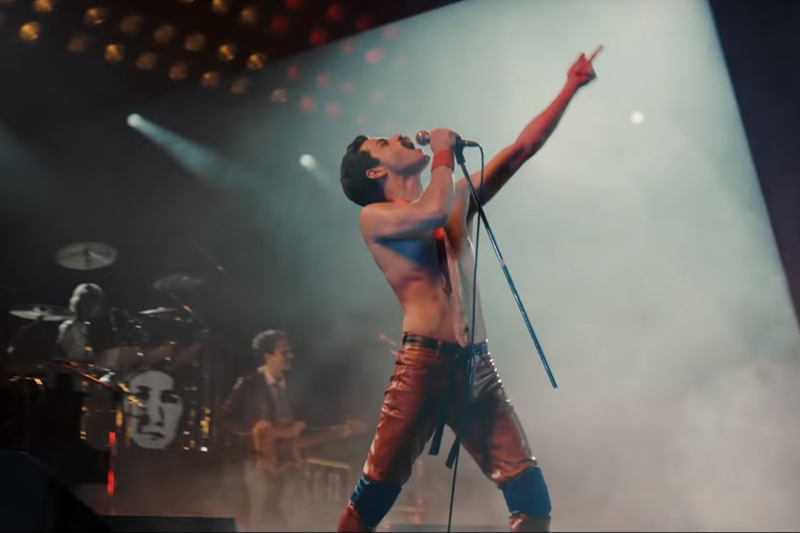 The film traces the meteoric rise of the band through their iconic songs and revolutionary sound, their near-implosion as Mercury's lifestyle spirals out of control, and their triumphant reunion on the eve of Live Aid, where Mercury, facing a life-threatening illness, leads the band in one of the greatest performances in the history of rock music. In the process, cementing the legacy of a band that was always more like a family, and who continue to inspire outsiders, dreamers and music lovers to this day.
The film opens in theaters on Nov. 2, 2018.
Watch the new teaser trailer below:
May 16, 2018
'Mamma Mia!' sequel drops lyric video of film's opening number
"What a mad day!" Universal Pictures unveils a lyric music video of the ABBA song "When I Kissed the Teacher," the opening number in the new musical comedy "Mamma Mia! Here We Go Again."
The song is performed in the film (and music video) by Lily James and co-stars Jessica Keenan Wynn, Alexa Davies and Celia Imrie who play the earlier incarnations of the film's girl group Donna & The Dynamos.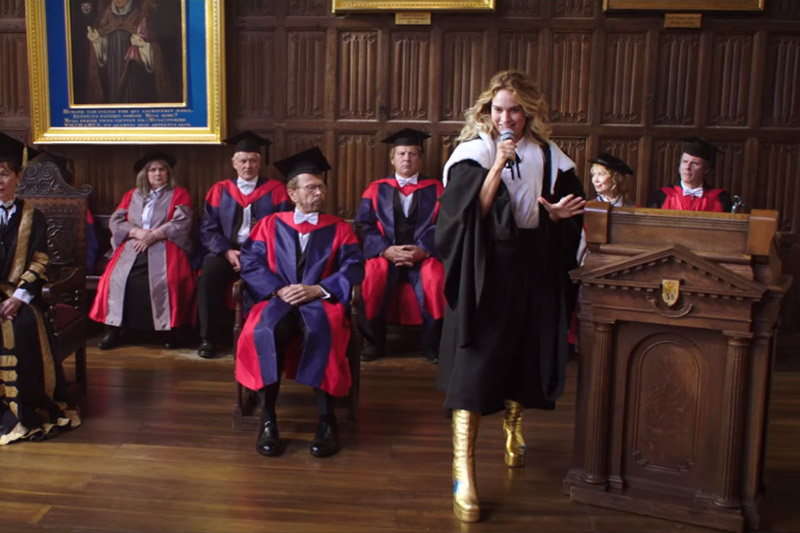 Ten years after "Mamma Mia! The Movie" grossed more than $600 million around the world, you are invited to return to the magical Greek island of Kalokairi in an all-new original musical based on the songs of ABBA. The film's original cast returns with new additions including James (Cinderella, Baby Driver).
Reprising their roles from "Mamma Mia! The Movie" are Academy Award® winner Meryl Streep as Donna, Julie Walters as Rosie and Christine Baranski as Tanya. Amanda Seyfried and Dominic Cooper reunite as Sophie and Sky, while Pierce Brosnan, Stellan Skarsgård and Oscar® winner Colin Firth return to play Sophie's three possible dads: Sam, Bill and Harry.
As the film goes back and forth in time to show how relationships forged in the past resonate in the present, James will play the role of Young Donna. Filling the roles of Young Rosie and Young Tanya are Davies (A Brilliant Young Mind) and Wynn (Broadway's Beautiful). Young Sam will be played by Jeremy Irvine (War Horse), while Young Bill is Josh Dylan (Allied) and Young Harry is Hugh Skinner (Kill Your Friends).
Check out the lyric video below and watch "Mamma Mia! Here We Go Again" in Philippine cinemas July 18.
May 10, 2018
"Solo: A Star Wars Story" releases featurette "Becoming Solo"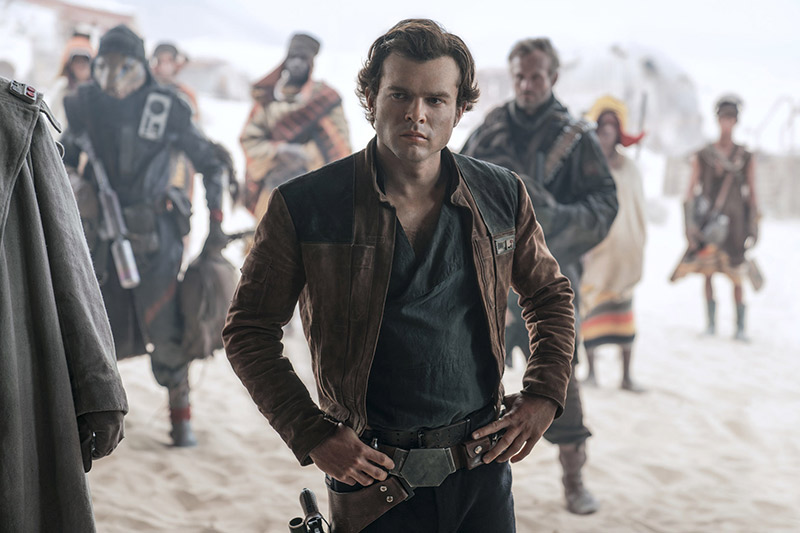 Board the Millennium Falcon and journey to a galaxy far, far away in "Solo: A Star Wars Story," an all-new adventure with the most beloved scoundrel in the galaxy. Through a series of daring escapades deep within a dark and dangerous criminal underworld, Han Solo meets his mighty future copilot Chewbacca and encounters the notorious gambler Lando Calrissian, in a journey that will set the course of one of the Star Wars saga's most unlikely heroes.

Take a peek at a new special look featuring director Ron Howard and the cast of "Solo: A Star Wars Story" as they share exciting new footage and insights into the young scoundrel Han in the new featurette entitled, "Becoming Solo."
"Solo: A Star Wars Story" will be showing in Philippine cinemas on May 23, 2018.
May 2, 2018
The highly anticipated follow up to the box office hit "Heneral Luna," "Goyo: Ang Batang Heneral" is finally coming to theaters on Sept. 5, 2018.
The film, starring Paulo Avelino as the hero of Tirad Pass, also casts Carlo Aquino, Arron Villaflor, Alvin Anson, Empress Schuck, among many others. It announced its official playdate alongside the release of a new teaser video and teaser poster on Wednesday.
"Tandaan mo kung sino ka."

Kilalanin si Gregorio del Pilar sa GOYO: Ang Batang Heneral. September 5, 2018#GoyoAngBatangHeneral pic.twitter.com/17s3SHuFXh

— Goyo: Ang Batang Heneral (@Heneral_Goyo) May 2, 2018
"Goyo: Ang Batang Heneral" is directed by Jerrold Tarog and produced by TBA Studios, Artikulo Uno Productions and Globe Studios.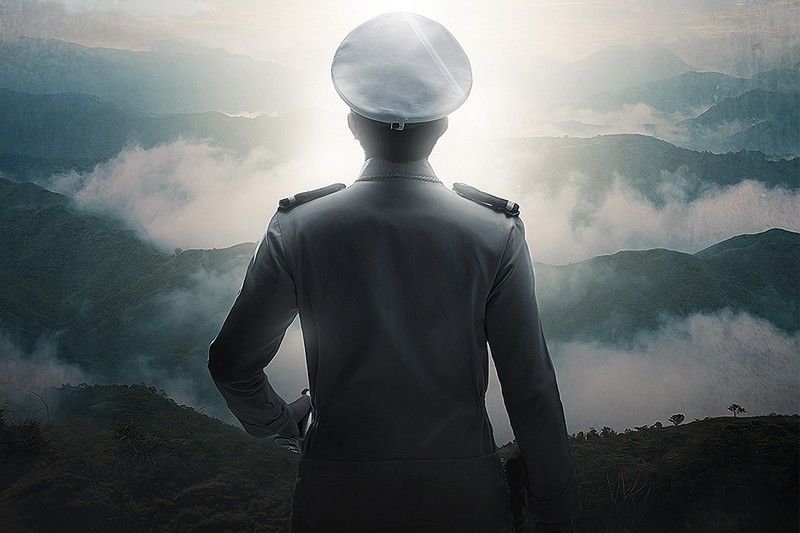 The highly anticipated follow up to the box office hit "Heneral Luna," "Goyo: Ang Batang Heneral" is finally coming to theaters on Sept. 5, 2018.
May 2, 2018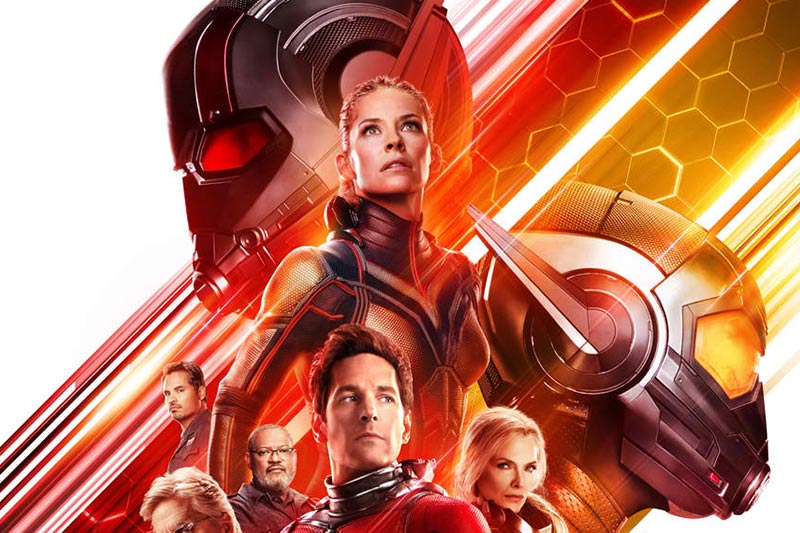 Brand new trailer and poster of 'Ant-Man and the Wasp' out
Marvel Studios releases the brand new official trailer and main poster of its upcoming action-adventure "Ant-Man and the Wasp," the highly anticipated sequel to the 2015 hit, "Ant-Man."
In the aftermath of "Captain America: Civil War," Scott Lang (Paul Rudd) grapples with the consequences of his choice as both a Super Hero and a father. As he struggles to rebalance his home life with his responsibilities as Ant-Man, he's confronted by Hope van Dyne (Evangeline Lilly) and Dr. Hank Pym (Michael Douglas) with an urgent new mission. Scott must once again put on the suit and learn to fight alongside the Wasp as the team works together to uncover secrets from the past.
The film opens in Philippine cinemas in July this year.
Watch the trailer here:
April 19, 2018
Final trailer of 'Jurassic World: Fallen Kingdom' released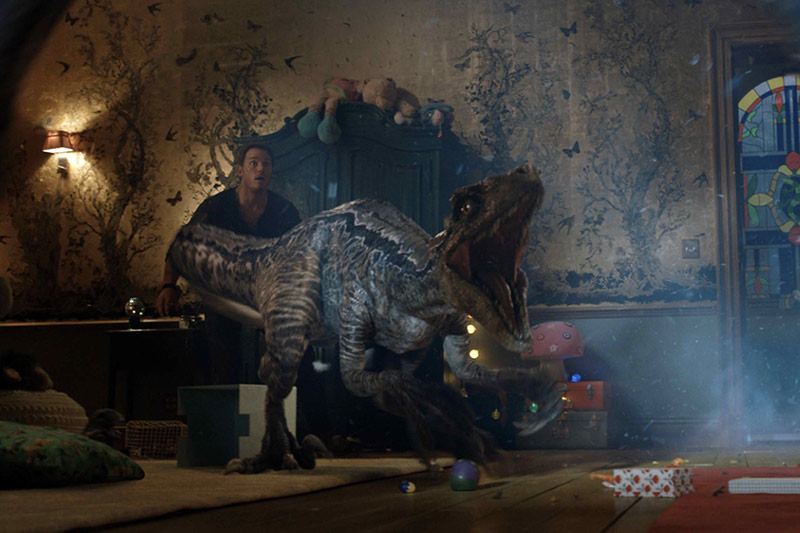 Universal Pictures releases the new and final trailer for "Jurassic World: Fallen Kingdom," the highly anticipated sequel to the blockbuster hit, Jurassic World.
It's been four years since theme park and luxury resort Jurassic World was destroyed by dinosaurs out of containment. Isla Nublar now sits abandoned by humans while the surviving dinosaurs fend for themselves in the jungles.
When the island's dormant volcano begins roaring to life, Owen (Chris Pratt) and Claire (Bryce Dallas Howard) mount a campaign to rescue the remaining dinosaurs from this extinction-level event. Owen is driven to find Blue, his lead raptor who's still missing in the wild, and Claire has grown a respect for these creatures she now makes her mission. Arriving on the unstable island as lava begins raining down, their expedition uncovers a conspiracy that could return our entire planet to a perilous order not seen since prehistoric times.
"Jurassic World: Fallen Kingdom" opens in Philippine cinemas on June 6, 2018.
Check out the trailer below:
April 17, 2018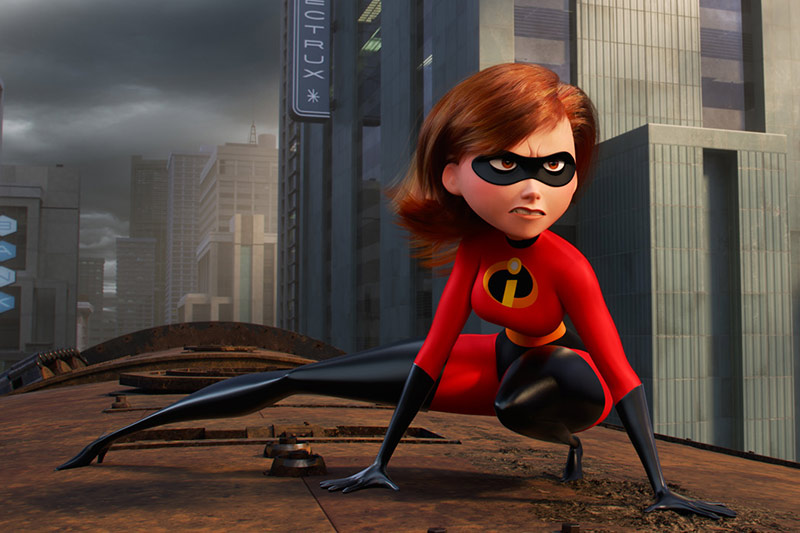 Elastigirl gets the spotlight in new 'Incredibles 2' trailer
Everyone's favorite family of superheroes is back in "Incredibles 2." But this time Helen Parr aka Elastigirl is in the spotlight, leaving Bob aka Mr. Incredible at home with kids Violet, Dash and Jack-Jack to navigate the day-to-day heroics of "normal" life.
It's a tough transistion for everyone, made tougher by the fact that the family is still unaware of baby Jack-Jack's emerging superpowers. When a new villain hatches a brilliant and dangerous plot, the family and Frozone must find a way to work together again—which is easier said than done, even when they're all Incredible.
Watch the brand new trailer here:
April 13, 2018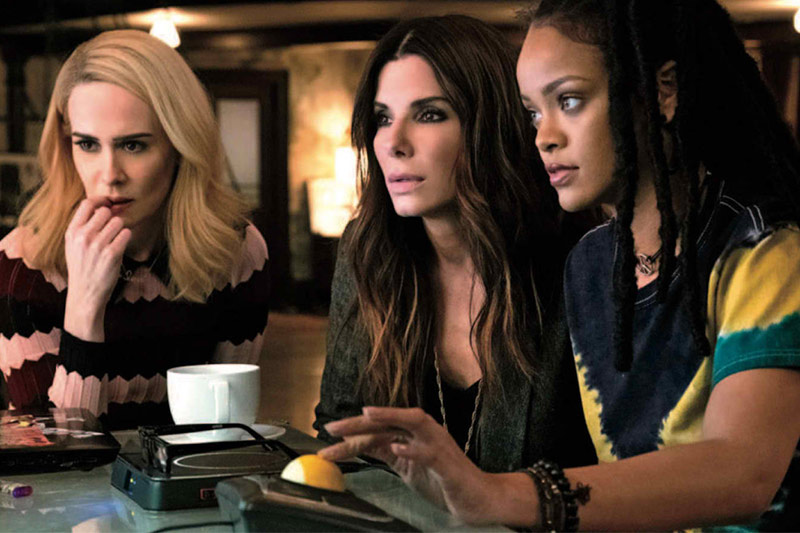 Official 'Ocean's 8' main trailer out
Five years, eight months, 12 days… and counting. That's how long Debbie Ocean (Sandra Bullock) has been devising the biggest heist of her life. She knows what it's going to take—a team of the best in their field, starting with her partner-in-crime Lou Miller (Cate Blanchett). Together, they recruit a crew of specialists: jeweler Amita (Mindy Kaling); street con Constance (Awkwafina); expert fence Tammy (Sarah Paulson); hacker Nine Ball (Rihanna); and fashion designer Rose (Helena Bonham Carter). The target is a cool $150 million dollars in diamonds—diamonds that will be around the neck of world-famous actress Daphne Kluger (Anne Hathaway), who will be center stage at the event of the year, the Met Gala. The plan is rock solid, but everything will need to be flawless if the team is going to get in and get away with the ice. All in plain sight.
"Ocean's 8" opens in Philippine cinemas on June 13.
Watch the official main trailer here:
March 23, 2018
'Pacific Rim Uprising' opens on Black Saturday
In the original "Pacific Rim," a Breach opened at the bottom of the Pacific Ocean, and through it emerged giant Kaiju, monsters engineered by the alien Precursors to move from dimension to dimension terraforming planets by exterminating the indigenous species and taking full territorial control.
These Kaiju unleashed their fury on coastal cities along the Pacific Rim, and proved virtually unstoppable with conventional weapons. Giant robotic warriors called Jaegers—piloted by humans connected by a neural bridge—were engineered to fight back.
Universal Pictures' new epic action-adventure "Pacific Rim Uprising" continues the mythology of a richly detailed, wholly original sci-fi universe.
It is the year 2035, 10 years after the events of the first film, in which humanity supposedly defeated the threat of the Kaiju. The war is over. The Breach, the gateway beneath the Pacific Ocean that spawned the Kaiju, has been closed, but the fear that these unrelenting beasts from another dimension may somehow rise again is ever-present.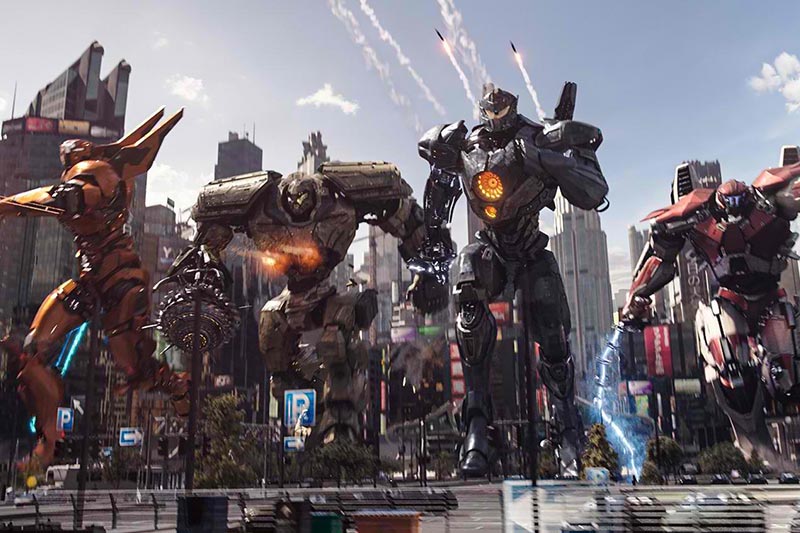 Vigilance has become a way of life, and the Pan Pacific Defense Corps has been reborn as a global force of highly advanced robotic warriors, with a new generation of young pilots at the helm. When an even more deadly Kaiju threat emerges, these young fighters—dubbed the Cadets—are powered by a drive to avenge and to protect what is left of the world they inherited.
"Pacific Rim Uprising" opens in Philippine cinemas on March 31. Check out its trailer here: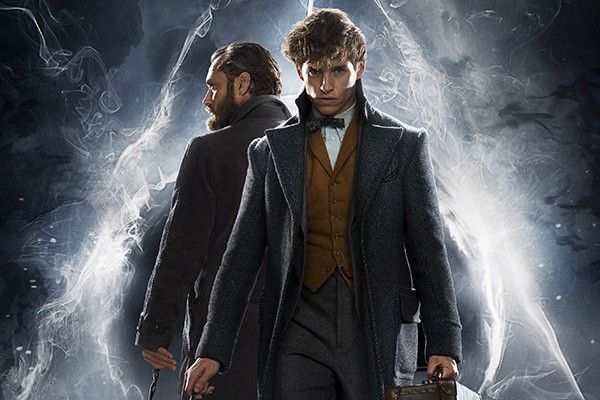 First look at 'Fantastic Beasts' sequel trailer
Get your wands ready, Warner Bros. Pictures has just revealed the official trailer of "Fantastic Beasts: The Crimes of Grindelwald."
Take your first look at the official teaser trailer below:
The film features an ensemble cast led by Eddie Redmayne, Katherine Waterston, Dan Fogler, Alison Sudol, Ezra Miller, Jude Law and Johnny Depp. It will be opening on November 16 in the Philippines.