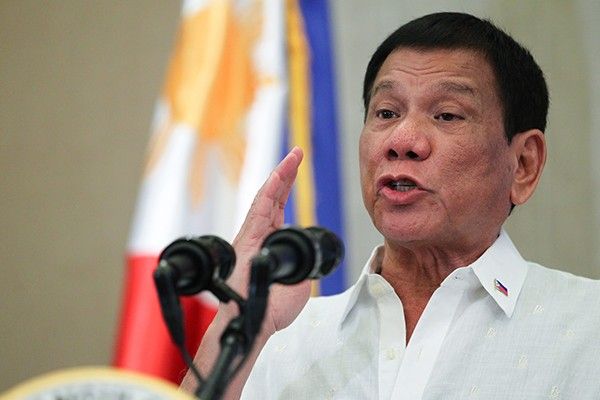 LATEST UPDATE: June 3, 2018 - 5:32pm
LOCATION:
+ Follow Story
June 3, 2018
In his speech before Filipinos in Seoul, South Korea, President Rodrigo Duterte reiterates his ire against corruption.
He says he has fired many, including those he personally knows, from government service.
"What did you achieve? You wasted our money. All of the travels are more than 10 times, what made you think that the Philippines' money is yours?" Duterte was quoted by News5 as saying in Filipino and English.
The president is in South Korea for his three-day official visit. He kicked off the visit by meeting Filipinos residing and working in Seoul.
May 24, 2018
Speaking in Davao City, Duterte clarifies that he does not look down on women.
"You (women) cannot stand threats and intimidation. I believe in (women's) competence and capability pero di lahat sa buhay," he explains.
Itong mga babae, prim and proper mga yan. Isang tingin sa nanay, tunaw na yan | @alexisbromero

— Philstar.com (@PhilstarNews) May 24, 2018
May 16, 2018
Duterte, speaking at the Palace, says there is no point in confronting China.
"I can declare war on China tonight, pero sino ang magpunta? Sundalo ko? Pulis ko? Mamatay lahat yan? Why would I go into a battle I would not win?" he tells reporters.
The Philippines has options like diplomatic protests .
May 8, 2018
Speaking before newly promoted generals and flag officers, President Duterte talks about firing government officials for corruption.
"Marami akong napaalis sa corruption. Meron bago," he says within hours of Tourism Secretary Wanda Tulfo-Teo confirming that she had resigned over a controversial advertising deal involving the Deaprtment of Tourism, state-owned People's Television Network, and her brother's media company.
Her lawyer, Ferdinand Topacio, initially denied the resignation then later said that it was done out of delicadeza, or propriety. He said Duterte did not tell Teo to resign.
April 3, 2018
Speaking in Mindoro, President Duterte says he is open to resuming peace talks with the CPP-NPA-NDF.
He said he wants a ceasefire with communist guerrillas. He also urged them to stop collecting "revolutionary taxes" from businesses.
Duterte not closing doors to peace talks with Reds: "Hindi totoo iyang forever," he said | @alexisbromero

— Philstar.com (@PhilstarNews) April 3, 2018
April 2, 2018
Duterte distributes certificates of land ownership awards in Isulan, Sultan Kudarat and renews the government's commitment to pursue genuine land reform.
President Duterte distributes land ownership awards in Sultan Kudarat, renews commitment to pursue genuine land reform.

"Kayo ang idol ko," the president tells farmers | @alexisbromero

— Philstar.com (@PhilstarNews) April 2, 2018
The congressional Commission on Appointments rejected the nomination of Rafael Mariano, Duterte's nominee as Agrarian Reform secretary, last year.
March 21, 2018
Speaking before members of the Mayor Rodrigo Roa Duterte National Executive Coordinating Committee in Pasay, President Duterte says a ban on new OFW deployments to Kuwait will stay unless his conditions are met.
He says that OFWs in Kuwait should get to keep their passports with them.
They should also be allowed seven hours of sleep a day and a day off. They should also be allowed to cook their own food.
March 21, 2018
Speaking at the graduation rites of the Philippine National Police Academy, Duterte says the Philippines will not support further US wars and expeditions.
Duterte to US: Whatever expeditions you conduct, any wars you will fight in any country, count us out | @alexisbromero

— Philstar.com (@PhilstarNews) March 21, 2018
The president has, in the past, said he wants US troops in Mindanao to leave and that he would no longer allow military exercises in the Philippines with American forces.
The annual Balikatan exercises have continued, although the 2017 exercises focused on disaster response and on medical missions.
March 20, 2018
Speaking at the 121st anniversary of the Philippine Army, Duterte tells soldiers he will take care of their needs.
"Your continuous internal security operations in Mindanao and the rest of the country have allayed people's fear of possible resurgence of terrorists. As your commander-in-chief, you have made me proud and you continue to do so," he also says.
March 7, 2018
Duterte, speaking to local leaders, says he will order the arrest of officials and resort owners who interfere in an investigation into Boracay Island's environmental problems.
He also warned the courts against issuing restraining orders if the government decides to close down Boracay for rehabilitation.

President Rodrigo Duterte, speaking at the 145th founding anniversary of Tarlac, again defended his decision to bury ousted dictator Ferdinand Marcos at the Libingan ng mga Bayani in Taguig City.
Tarlac is the home province of former President Benigno Aquino III and his family.
Duterte, who stressed that his father was a member of Marcos' Cabinet, said that Marcos was qualified to be buried there as a former soldier and a former president.
The burial, which was done without public announcement, sparked spontaneous protests in Manila.