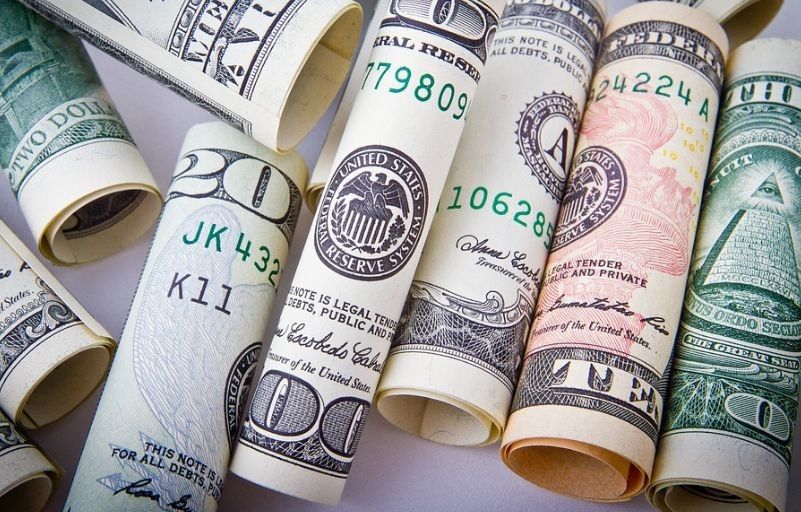 Bank and company updates 2018
LATEST UPDATE: October 13, 2018 - 1:07pm
LOCATION:
+ Follow Story
2 days ago
A nonprofit auto safety group is demanding that Hyundai and Kia recall 2.9 million cars and SUVs in the U.S. due to consumer complaints that they can catch fire.
The Center For Auto Safety says that there have been more than 220 complaints to the U.S. government since 2010 about fires and another 200 complaints about melted wires as well as smoke and burning odors.
The complaints involve the 2011 through 2014 Kia Sorento and Optima and the Hyundai Sonata and Santa Fe. Also included is the 2010 through 2015 Kia Soul. — AP
2 days ago
US ratings agency Moody's downgrades its long-term ratings for Denmark's biggest bank, Danske Bank, which is at the centre of a scandal over alleged money-laundering.
The decision "follows the announcement that the bank is the subject of criminal investigations by the US Department of Justice linked to money laundering through its Estonian branch between 2007-2015," Moody's says in a statement.
Investors and clients have already headed for the exits amid growing fears of a possibly huge US fine for laundering funds for 15,000 mainly Russian clients. — AFP
October 9, 2018
Netflix has chosen New Mexico as the site of a new U.S. production hub and is in final negotiations to buy an existing multimillion-dollar studio complex on the edge of the state's largest city, government and corporate leaders announced Monday.
It's the company's first purchase of such a property, and upcoming production work in Albuquerque and at other spots around New Mexico is forecast to result in $1 billion in spending over the next decade. — AP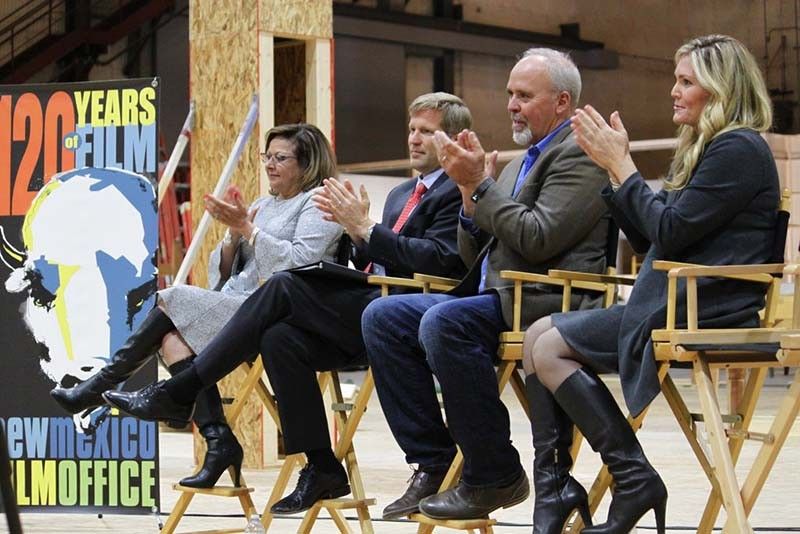 October 5, 2018
US sportswear giant Nike says it is "deeply concerned" by rape allegations against Cristiano Ronaldo and shares in Italian champions Juventus fell over five percent on the Italian stock exchange on Friday.
Ronaldo's coach at Juventus, Massimiliano Allegri, says the striker is "doing well" and is "ready to play" when the Turin giants travel to Udinese in Serie A on Saturday.
But the player's relationship with Nike, which is rumoured to be worth $1 billion dollars (869 million euros), is under scrutiny after police in Las Vegas announced this week they were reopening an investigation into allegations made by a former model, Kathryn Mayorga, relating to an incident in 2009. — AFP
October 5, 2018
Chinese tech stocks Lenovo Group and ZTE Corp. has tumbled in Hong Kong on Friday following a news report Chinese spies might have used chips supplied by another company to hack into U.S. computer systems.
Lenovo shares has closed down 15.1 percent while ZTE lost 11 percent. — AP
September 27, 2018
Swedish ready-to-wear giant H&M says it saw a major boost in online sales in the third quarter, even as a cumbersome shift to faster logistics weighed down on profits.
For this year's summer months, H&M reported a 32 percent increase in online sales, even as profits shrank 19.2 percent. — AFP
September 27, 2018
McDonald's USA announces that its iconic burgers, including the Big Mac and the Quarter Pounder with Cheese, no longer have artificial preservatives, artificial flavors or added colors from artificial sources.
Only the pickle slices still contain an artificial preservative, the American fast food giant says. — AFP
September 22, 2018
A Thai court has ordered a local sales affiliate of Ford Motor Co. to pay 291 customers a total of about $720,000 in compensation for selling cars equipped with faulty transmissions.
The Bangkok South Civil Court's decision is welcomed as a victory in a country where consumers rarely win redress.
Most of the plaintiffs in the class action suit will get payments of $800 to $8,000 each depending on the number of times and length of time their cars took to be repaired, the court said Friday. But 12 plaintiffs were denied compensation because their cars were modified before they were repaired. — AP
September 19, 2018
Qatar Airways says it suffered a $69 million loss this year off revenue of $11.5 billion amid a boycott of Doha by four Arab nations.
The carrier made the announcement in a statement, over a year after the boycott saw Qatar Airways locked out the airspace of Bahrain, Egypt, Saudi Arabia and the United Arab Emirates.
The four Arab nations are boycotting Doha in a political dispute. Mediation by Kuwait and the United States hasn't managed to stop the boycott. — AP
September 18, 2018
Most of the cars made by Ferrari will be hybrid petrol-electric by 2022, the Italian sports car manufacturer says, also announcing its first SUV.
"By 2022, nearly 60 percent of the models we produce will be built around hybrid powertrains," new CEO Louis Camilleri says at the company's Maranello headquarters.
September 10, 2018
Davao-based businessman Dennis Uy, CEO of Phoenix Petroleum, has acquired restaurant-bakery chain Contis, STAR business reporter and columnist Iris Gonzales reports.
Contis, which opened its doors in 1997, is known for its rich pastries, particularly the Mango Bravo cake. It was founded by Conti sisters Cecille Maranon, Carole Sumulong and Angie Martinez.
Uy has diversified business interests including listed firms Chelsea Logistics Holdings, Phoenix Petroleum Philippines. and the 2GO Group. He and his wife, Cherylyn, own Udenna Corp., a parent company of more than a dozen firms, as well as Udenna Management & Resources.
Uy also has a stake in Enderun Colleges Inc., known for its culinary program.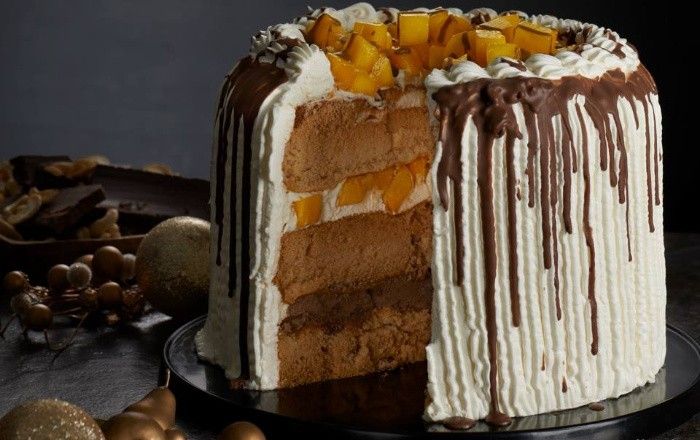 September 10, 2018
Alibaba co-founder and chairman Jack Ma will step down as head of the e-commerce giant on September 10, 2019, the company says.
Ma is staying on as executive chairman for 12 months to "ensure a smooth transition" before handing over his role to chief executive officer Daniel Zhang, Alibaba says in a statement. — AFP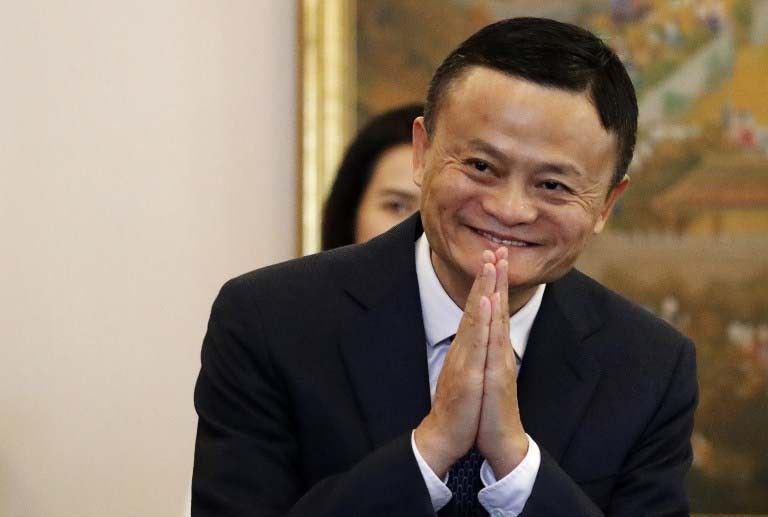 September 8, 2018
Alibaba co-founder and chief Jack Ma says he plans to retire from the Chinese e-commerce giant on Monday to devote his time to philanthropy focused on education. — AFP
September 1, 2018
An Indian athlete with six toes on each foot who won gold at the Asian Games is to receive special custom-made shoes after a company boss was touched to hear of the pain she suffered while running in the heptathlon.
The 21-year-old Swapna Barman spoke after winning the regional Olympics titleof how her rare deformity caused agony with each step in her final event, the 800m.
A government-run enterprise in the southern city of Chennai has come forward to help Barman get customised shoes. — AFP
September 1, 2018
The Bank of Japan will not raise interest rates "for quite a long time", its chief says in an interview even as its US and European peers tighten monetary policy. — AFP
August 31, 2018
The Indian offshoot of Britain's Vodafone completes a merger with Idea Cellular to become the country's biggest mobile phone company with more than 400 million customers.
The new $23 billion Vodafone Idea giant deposes Bharti Airtel -- with its 350 million subscribers -- as India's top mobile firm. — AFP
August 30, 2018
Panasonic plans to move its European headquarters from Britain to the Netherlands later this year over concerns about potential tax issues related to Brexit, a company spokeswoman says.
"We will move our European headquarters to the Netherlands," the spokeswoman says, confirming a report in the Nikkei business daily about the Japanese electronics giant's decision. — AFP
August 25, 2018
Automaker Tesla to remain a public company, Elon Musk says. — AFP
August 24, 2018
German industrial conglomerate Siemens denies a media report that it would cut thousands of jobs as part of a massive restructuring plan.
"The report claiming that 20,000 jobs are to be cut... is completely unfounded", the firm says in a statement. — AFP
August 23, 2018
Chinese telecom giants Huawei and ZTE have effectively been banned from rolling out Australia's 5G network, after Canberra says there were security risks with companies beholden to foreign governments.
Huawei -- one of the world's largest telecommunications equipment and services providers -- has been under scrutiny in some countries including the United States and Australia over its alleged close links to Beijing. — AFP
August 18, 2018
Tesla shares take a pounding amid fresh fears about the future of the electric carmaker after a wide-ranging interview with chief executive Elon Musk in which he revealed his struggles with exhaustion and a lengthy but unsuccessful effort to find a number two executive.
In closing trade, Tesla shares skid 8.9 percent to $305.50 following the publication of the interview with The New York Times. — AFP
August 16, 2018
Shares are higher in early European trading after a downbeat day in Asia. Benchmarks in Germany and France rise Thursday while shares in Tokyo, Shanghai and Hong Kong decline. — AP
August 15, 2018
Tesla is forming a special committee to evaluate proposals to take the company private one week after CEO Elon Musk said he was considering it.
The committee, made up of three independent directors, says that it has not received any formal proposal from Musk, who on Aug. 7 tweeted that he had "funding secured" to buy Tesla shares at $420 per share.
Am considering taking Tesla private at $420. Funding secured.

— Elon Musk (@elonmusk) August 7, 2018
— AP
August 14, 2018
Home Depot is roaring back from a slow start to the year, topping all expectations and raising its revenue and profit projections for the year.
Shares in the home-improvement chain jumped about 3 percent before the opening bell. — AP
August 8, 2018
China's National Health Commission says investigators have begun recalling defective vaccines produced by a Chinese drugmaker from domestic and overseas markets.
Investigators say they found Changchun Changsheng Life Sciences Ltd. had blended expired fluids in its vaccines and falsified records from as early as April 2014.
The names of the overseas countries involved were not given, but the recall indicated the scandal gripping China may have spread to foreign markets, dealing a potentially heavy blow to the reputation of China's massive pharmaceutical industry. — AP
August 3, 2018
Amazon is facing criticism after its British tax bill fell despite a big jump in sales and profits.
Records show Amazon U.K. Services Ltd. faced a 2017 tax bill of 4.6 million pounds ($6 million) but paid 1.7 million pounds ($2.2 million), deferring the rest. — AP
August 3, 2018
Apple is worth $1,001,679,220,000.
The maker of the iPhone and other gadgets becomes the world's first publicly traded company with a market value of $1 trillion.
The company reached the milestone a couple of hours into the trading session when its shares reached $207.04. They closed with a gain of 2.9 percent to $207.39. The shares are up 23 percent so far this year. — AP
July 31, 2018
Samsung Electronics Co. reports a lower-than-expected gain in the second-quarter earnings, indicating an end to its streak of record-breaking financial results as sales of smartphones and display panels slowed while memory chip profit stabilized.
The South Korean tech giant says that its April-June net income stood at 10.98 trillion won ($9.8 billion), up 2 percent from 10.80 trillion won a year earlier. — AP
July 26, 2018
Mattel, hurt by the closing of Toys R Us stores, says that it will cut more than 2,200 jobs as the maker of Barbie dolls and Hot Wheels cars seeks to save money.
Like other toy companies, Mattel has lost sales as Toys R Us faltered. The toy retailer filed for bankruptcy protection last year, announced it was liquidating its business in March and then closed all its stores last month. — AP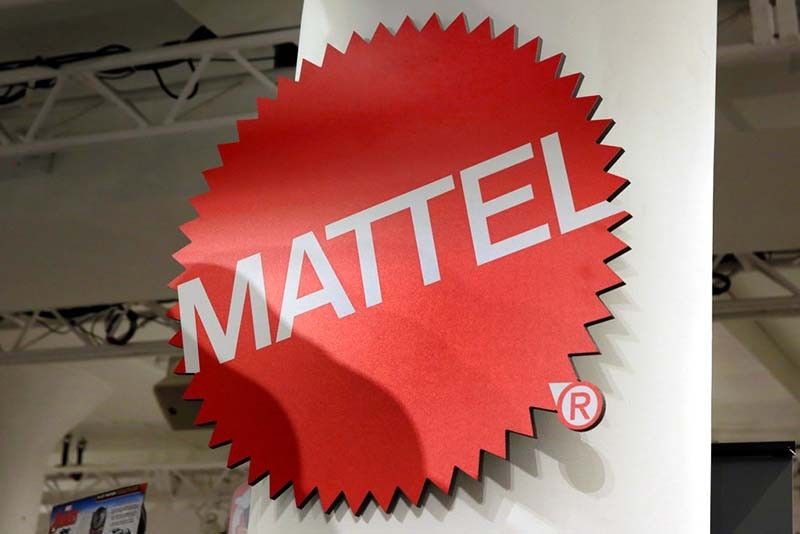 July 25, 2018
European Union judges have ruled that the four-fingered shape of the KitKat chocolate bar is not distinctive enough to be trademarked.
KitKat maker Nestle, the food multinational, has been trying since 2002 to establish a European trademark for the snack. But the European Court of Justice in Luxembourg on Wednesday ruled against it.
That will come as a relief to lovers of a Norwegian chocolate bar, the Kvikk Lunsj, that has a similar shape. Its maker, Mondelez, can continue to market and sell the 80 year old Kvikk Lunsj brand throughout the EU. The snack was established in 1937, two years after KitKat hit the shelves in the U.K.
Norway is not part of the EU, but as part of the European Economic Area, takes many of the bloc's rules. — AP
July 13, 2018
Seven national fast-food chains have agreed to end policies that block workers from changing branches — limiting their wages and job opportunities — under the threat of legal action from the state of Washington.
Washington Attorney General Bob Ferguson announced binding agreements with the companies — McDonald's, Auntie Anne's, Arby's, Carl's Jr., Jimmy John's, Cinnabon and Buffalo Wild Wings — at a news conference. McDonald's had previously announced plans to end the practice.
The so-called no-poach policies prevent franchises from hiring workers away from other franchises of the same chain. That's been convenient for franchise owners, who sometimes worry about workers they've trained jumping to nearby branches. — AP
July 12, 2018
Uber is to give the Czech Republic's finance ministry information on its drivers' activities so the proper amount of tax is paid.
According to the deal signed, the ride-hailing service also agrees that as of October its new drivers will join an electronic reporting system introduced by the local authorities.
Initially, the agreement will be effective for a year. Uber will then assess its functioning.
Finance Minister Alena Schillerova says she hopes the deal could also help calm down tensions between Uber and traditional taxi services. — AP
July 12, 2018
Hyundai Motor Co.'s labor union says that steep auto tariffs the U.S. is considering could cost tens of thousands of American jobs.
The labor union at South Korea's largest auto company says in a statement that if President Donald Trump goes ahead with imposing 25 percent auto tariffs, it will hurt Hyundai's U.S. sales and jeopardize some 20,000 jobs at a Hyundai factory in Alabama.
The labor union, which has 51,000 members in South Korea, says its contracts with Hyundai Motor mandates Hyundai to shut down overseas factories first before closing its plants in South Korea in the event that restructuring becomes inevitable. — AP
July 6, 2018
Samsung Electronics Co. says its second-quarter operating profit rose 5 percent over a year earlier, a smaller than expected gain that showed an end to Samsung's record-breaking earnings streak.
In its earnings preview, the South Korean company estimated its April-to-June operating profit at 14.8 trillion won ($13.2 billion), missing expectations.
That represents a 5 percent fall from the previous quarter when its operating profit was at an all-time high of 15.6 trillion won.
It also means an end to Samsung's streak of record-breaking earnings fueled by the lucrative memory chip business. Samsung's quarterly operating profit posted gains since the fourth quarter of 2016 when it began to renew its record-high quarterly results. — AP
July 4, 2018
U.S. authorities are allowing China's ZTE Corp. to resume some business with American companies, temporarily easing part of a ban imposed over the tech giant's exports to Iran and North Korea.
The Commerce Department's order this week follows a settlement under which ZTE agreed to pay a $1 billion fine, replace its executive team and hire U.S. compliance officers.
The order says ZTE will be allowed to conduct business with American companies to maintain existing telecom networks and mobile phones and to support security features. The suspension lasts through Aug. 1.
ZTE suspended most operations after it was banned in April from buying U.S. components and technology. The company had been paying American suppliers an estimated $1.8 billion. — AP
July 3, 2018
The Philippine Competition Commission nullifies Chelsea Logistics Holdings Corp.'s acquisition of Trans-Asia Shipping Lines Inc., and imposes a P22.8 million fine for their failure to notify the antitrust commission about the transaction in December 2016.
June 30, 2018
A Hello Kitty-themed "shinkansen" bullet train has debuted in Japan. Adorned with the cartoon icon inside out, this one is a dream ride for her fans.
The special shinkansen had its inaugural round trip Saturday between Osaka and Fukuoka, connecting Japan's west and south until the end of September.
The stylish train is painted pink and white, showcasing Hello Kitty images and trademark ribbons from flooring to seat covers and windows.
In one car, a life-size Hello Kitty doll donning a train crew uniform and a hat — decorated with a pink bow of course — greets passengers, offering a chance for selfies.
Hello Kitty, created in 1974 by the Japanese company Sanrio, is a global icon of "cute-cool" with fans of all ages. — AP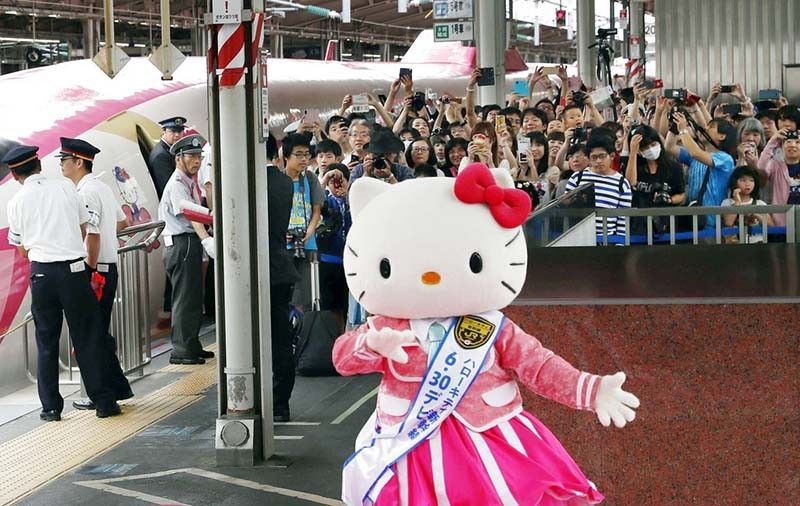 June 28, 2018
Amazon packages, which usually show up in a UPS truck, an unmarked vehicle or in the hands of a mail carrier, may soon be delivered from an Amazon van.
The online retailer, wanting more control over how its packages are delivered, rolled out a program that lets entrepreneurs around the country launch businesses that deliver Amazon packages. — AP
June 28, 2018
Voters in Google's Silicon Valley hometown will decide whether the search engine leader and other tech companies should help pay for the traffic congestion and other headaches resulting from mushrooming workforces. — AP
June 27, 2018
Australia could damage its economic future if it bans Huawei from the nation's next-generation mobile network technology, the Chinese telecommunication giant's Australian boss says.
Australia barred Huawei, the world's largest telecommunications equipment supplier, on national security grounds from bidding for contracts in 2011 for the national broadband network which is being rolled out countrywide.
According to media reports, the government is now poised to ban Huawei from supplying 5G networks, the next evolution in phone technology that will start commercial services in Australia next year. — AP
June 26, 2018
Britain's leading car manufacturing trade association says investment in U.K. auto manufacturing has fallen by half in the last year due to worries over the impact of Britain leaving the European Union.
The Society of Motor Manufacturers and Traders says only 347 million pounds ($460 million) is being invested in new models and facilities during the first half of 2018 compared to 647 million pounds used that way during the same period the year before. — AP
June 26, 2018
The price of Jack Daniel's Tennessee Whiskey will increase in the European Union because of the impact of the bloc's new 25 percent tariff.
The EU is taxing a range of U.S. imports, including whiskey, in response to President Donald Trump's decision to slap tariffs on European steel and aluminum. — AP
June 23, 2018
Xiaomi Corp. plans to raise up to $6.1 billion in one of the biggest global stock market debuts as it tries to become a worldwide brand alongside Apple, Google and Amazon.
The initial public offering in Hong Kong would value the Beijing-based company at as much as $70.3 billion, according to details released Saturday. — AP
June 23, 2018
Netflix CEO Reed Hastings says he fired the company's top spokesman over use of the N-word.
The spokesman, Jonathan Friedland, confirmed in tweets that he was leaving the company, saying he was insensitive in speaking with his team about words that offend in comedy.
I'm leaving Netflix after seven years. Leaders have to be beyond reproach in the example we set and unfortunately I fell short of that standard when I was insensitive in speaking to my team about words that offend in comedy.

— jonathan friedland (@jsf33) June 22, 2018
In a memo to employees, published by Variety and The Hollywood Reporter and confirmed by Netflix, Hastings says Friedland used the word twice — first in a meeting of public relations staff several months ago about sensitive words. Hastings wrote that several people told Friedland how inappropriate and hurtful his use of the word was.
Hastings says Friedland, who is white, later repeated the word with human resources staff trying to address the original incident. Hastings wrote the second incident "confirmed a deep lack of understanding."
June 21, 2018
The Norwegian Competition Authorities has fined Norway's largest telecoms provider Telenor 788 million kroner ($96 million) for abusing its dominant position on the country's mobile market.
The watchdog's director general, Lars Soergard, says Telenor made "a serious infringement of competition law" when creating "barriers for the development of a third mobile network in Norway."
The watchdog agency says Telenor introduced amendments to the network access agreement with the intention of limiting further investments in the third mobile network in Norway in 2010. — AP
June 20, 2018
Hyundai Motor Group says it has signed an agreement with Audi AG to jointly develop electronics vehicles powered by fuel cell.
Under the multi-year agreement signed, Hyundai's affiliates including Kia and Audi's parent company Volkswagen AG will share components, supply chains and patent licensing. The duration of the partnership wasn't disclosed.
Hyundai, the world's fifth-largest automaker, began to mass produce fuel cell vehicles in 2013. But in South Korea and elsewhere, wider adoption of hydrogen fuel cell vehicles has been slow largely due to a dearth of refueling stations.
South Korea's government plans to add more hydrogen refueling stations to increase electronics vehicle sales and reduce carbon emissions. — AP
June 20, 2018
Australia's dominant telecommunications company Telstra announces plans to axe 8,000 jobs -- a quarter of its workforce -- as part of a drastic new strategy to cope with an increasingly competitive industry.
The decision by the company, one of Australia's largest employers, is part of a shake-up targeting an extra Aus$1 billion (US$750 million) in cost-cutting by 2022, on top of Aus$1.5 billion previously announced.
It will also split its mobile and infrastructure divisions into separate businesses. — AFP
June 20, 2018
Starbucks says it will accelerate its store closings in the U.S. next year as it tries to boost sluggish sales.
The Seattle-based company announces that it will close 150 underperforming stores in heavily penetrated markets, up from the usual rate of 50 closings a year.
The company also says it expects 1 percent growth in global sales for the third quarter, a period that encompassed an uproar over the arrest of two black men at a Philadelphia Starbucks.
June 15, 2018
McDonald's says it will switch to paper straws at all its locations in the United Kingdom and Ireland, and test an alternative to plastic ones in some of its U.S. restaurants later this year.
The burger chain and other fast-food companies have been facing increasing pressure from customers and environmental activists to stop using plastic straws because they can end up in the ocean and harm sea turtles, birds and other marine life. Paper straws, unlike plastic ones, disintegrate in the environment. — AP
June 15, 2018
AT&T and Time Warner have completed their merger, one of the biggest media deals ever, just two days after a federal judge approved the combination over objections by the Trump Justice Department that it would hurt consumers.
The merger could shape the way consumers stream TV and movies and how much they pay, and may usher in a new era of accelerating change and deal making in the media and telecom worlds.
The deadline to complete the merger was next week, but the closing came swiftly after the Justice Department signaled it wouldn't ask the court to postpone the merger while it pondered an appeal of the judge's decision.
On Tuesday, U.S. District Judge Richard Leon ruled against the government's attempt to block the megamerger on anti-competitive grounds. — AP
June 14, 2018
The Tokyo DisneySea theme park is getting a $2.3 billion overhaul and adding a section based on the wildly popular movie "Frozen" to its offerings, its operator says Thursday.
Oriental Land, which runs the ocean-themed park as well as the adjacent Tokyo Disneyland and hotels, said the 250-billion-yen ($2.3-billion) undertaking will be the most expensive expansion plan in the site's 35-year history.
The project will add attractions replicating the Kingdom of Arendelle from "Frozen", a tower inhabited by Rapunzel in the movie "Tangled", and a Neverland for Peter Pan and his friends, along with a new 475-room hotel.
Tokyo Disneyland, which has attracted huge crowds since it opened in 1983, is already going through a major upgrade to add new attractions. — AFP
June 14, 2018
Technology companies are racing to develop ultra-precise digital maps that can guide self-driving cars within inches of where they should be — a hurdle the industry needs to clear if it hopes to deliver on its promise of widespread use of driverless vehicles.
Japan's government is backing a three-dimensional mapping system developed by Mitsubishi Electric Corp. that includes a wealth of details such as trees and pedestrians. It promises to be off by no more than 25 centimeters (9.8 inches). — AP
June 13, 2018
A federal judge has approved the $85 billion mega-merger of AT&T and Time Warner, potentially ushering in a wave of media consolidation while shaping how much consumers pay for streaming TV and movies.
U.S. District Judge Richard Leon green-lit the merger without imposing major conditions as some experts had expected. The Trump Justice Department had sued to block the $85 billion merger, arguing it would hurt competition in cable and satellite TV and jack up costs to consumers for streaming TV and movies. — AP
June 8, 2018
Alexa for couch potatoes is coming: Amazon's new streaming TV device will let users shout out when they want to turn on the TV, flip channels or search for sitcoms — all without pushing any buttons.
The Fire TV Cube is not entirely hands-free yet, however. Some apps or streaming services may require viewers to pick up the included remote to rewind or stop a show. Amazon says it's working with those services to integrate voice commands. — AP
June 5, 2018
State-owned Air China is resuming flights to North Korea's capital, Pyongyang, amid preparations for a possible meeting between U.S. President Donald Trump and North Korean leader Kim Jong Un.
Air China's decision in November to suspend flights, blaming lack of demand, deepened the North's isolation amid mounting U.N. sanctions over its nuclear and missile programs. — AP
June 4, 2018
Alliance Global Group Inc. CEO Andrew Tan resigns as CEO, the company reveals in a Philippine Stock Exchange disclosure on Monday. Tan, who served as CEO of the group for 11 years, will remain as chairman of the board of directors.
"Dr. Tan has no disagreement with the Corporation on any matter relating to its operations, policies or practices," the company disclosure reads, citing "personal" reasons for Tan's resignation.
Tan's son, Kevin Andrew Tan, 38, has been appointed CEO of the group, whose subsidiaries include Emperador Inc., Megaworld Corp., Empire East Properties and the main franchise of McDonald's.
Before stepping up for the CEO role, Kevin Andrew Tan was SVP at Megaworld Corp.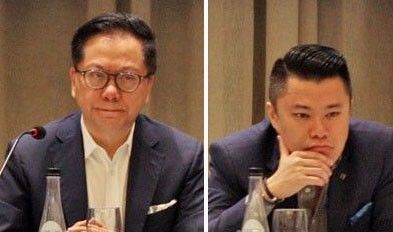 June 2, 2018
Visa says a problem that left people across Europe unable to use their cards was caused by a hardware fault, not a cyberattack.
The card payments company says services are back to normal and its systems are working at "full capacity" on Saturday.
It says the problem was caused by "a hardware failure within one of our European systems" and wasn't the result of "unauthorized access." — AP
June 1, 2018
Luggage maker Samsonite says its CEO has stepped down following a report by a short-seller questioning his credentials and the company's accounting.
Ramesh Tainwala resigned for personal reasons, which Samsonite's board decided was in the best interests of the company and its shareholders, the company says in a statement to the Hong Kong stock exchange. — AP
May 29, 2018
Starbucks, trying to put to rest an outcry over the arrest of two black men at one of its stores, is closing more than 8,000 stores for an afternoon of anti-bias training, a strategy some believe can keep racism at bay.
After the arrests in Philadelphia last month, the coffee chain's leaders apologized and met with the two men, but also reached out to activists and experts in bias training to put together a curriculum for its 175,000 workers.
That has put a spotlight on the little-known world of "unconscious bias training," which is used by many corporations, police departments and other organizations to help address racism in the workplace. The training is typically designed to get people to open up about implicit biases and stereotypes in encountering people of color, gender or other identities. — AP
May 26, 2018
The European Union's budget commissioner says he hopes Italy's prospective new government will master a "big learning curve," and cautions that the eurozone's rescue fund wouldn't be able to stabilize the country.
Law professor Giuseppe Conte is trying to form a government of two populist parties. Nervousness about what could be an administration hostile to fiscally sound measures has rattled bond markets.
EU budget chief Guenther Oettinger told Germany's Funke newspaper group Saturday the currency union's rules on debt are "crystal clear."
The German conservative was quoted as saying that "the rescue mechanism ... could hardly stabilize such a large economy as Italy. So I hope very much that the governing parties will master a big learning curve."
Oettinger said an Italian euro exit is "not at all likely." — AP
May 26, 2018
A source says the Trump administration has told Congress that it's reached a deal that would allow Chinese telecommunications giant ZTE Corp. to stay in business.
A resolution of the ZTE case could clear the way for the United States to make progress in its high-stakes trade talks with China. But news of the agreement drew immediate fire on Capitol Hill.
Under the agreement, ZTE would oust its management team, hire American compliance officers and pay a fine. The fine would come on top of the roughly $1 billion ZTE has already paid for selling equipment to North Korea and Iran in violation of U.S. sanctions. — AP
May 8, 2018
A Los Angeles judge has issued a final ruling requiring coffee to carry cancer warning labels in California.
Superior Court Judge Elihu Berle issued his decision Monday that Starbucks and other coffee companies failed to show that benefits from drinking coffee outweighed any risks.
The ruling mirrors Berle's tentative decision issued in March that was expected to stand. — AP
May 5, 2018
Chinese e-commerce giant Alibaba announces a massive 47 percent leap in net profit for the fiscal year 2017/2018, helped by a rise in smartphone and tablet transactions on its shopping platform.
Profit climbed to 63.985 billion yuan ($10.2 billion), boosted by a 60 percent rise in revenue from its core business, the online retailer said. — AFP
May 1, 2018
Pfizer is reporting strong first-quarter profits, but revenue is short of Wall Street expectations.
The New York company had a net income of $3.56 billion, or 59 cents per share. Earnings, adjusted for non-recurring costs, came to 77 cents per share, 3 cents better than industry analysts had expected, according to a survey by Zacks Investment Research.
Revenue was $12.91 billion, short of the $13.09 billion that analysts had projected,
The drugmaker expects full-year earnings between $2.90 and $3 per share, with revenue in the range of $53.5 billion to $55.5 billion.
Shares of Pfizer Inc. fell 3 percent before the opening bell Tuesday. — AP
April 21, 2018
The U.S. government is looking into whether AT&T, Verizon and telecommunications standards organization GSMA worked together to suppress a technology that lets people remotely switch wireless companies without having to insert a new SIM card into their phones.
The Times, citing six anonymous people familiar with the inquiry, reported that the investigation was opened after at least one device maker and one other wireless company filed complaints. — AP
April 20, 2018
ZTE Corp., one of China's biggest tech companies, warned Friday that a ban on access to U.S. technology threatens the company's survival and said it is looking for a legal solution.
Washington imposed the ban Monday in a case involving exports of telecoms equipment to Iran and North Korea. U.S. companies are barred from selling technology to state-owned ZTE for seven years. — AP
April 18, 2018
Starbucks, moving swiftly to confront a racially charged uproar over the arrest of two black men at one of its stores in Philadelphia, plans to close more than 8,000 U.S. stores for several hours next month to conduct racial-bias training for nearly 175,000 workers.
The announcement Tuesday comes after the arrests sparked protests and calls for a boycott on social media. A video shows police talking with two black men seated at a table. After a few minutes, officers handcuff the men and lead them outside as other customers say they weren't doing anything wrong. Philadelphia-area media said the two were waiting for a friend. — AP
March 30, 2018
Shares rose in Asia on Friday after technology and consumer-focused stocks led an overnight rally on Wall Street, marking a dramatic end to the market's most volatile quarter in more than two years. Most world markets were closed for Good Friday.
Banks and industrial stocks also lifted the market and recent laggards such as Facebook and Boeing rose. Even so, the solid gains didn't prevent the stock market's first quarterly loss since the third quarter of 2015. — AP
March 30, 2018
Huawei Technology Ltd., the Chinese maker of smartphones and telecom equipment, said Friday its profit rose 28.1 percent in 2017, boosted by strong enterprise and consumer sales.
Huawei said it earned 47.5 billion yuan ($7.6 billion) for the year, a marked improvement over the previous year, when profit rose just 0.4 percent due to higher spending on research and marketing.
Total revenue rose 15.7 percent over 2016 to 603.6 billion yuan ($96.2 billion). — AP
March 30, 2018
A Los Angeles judge rules that Starbucks and other coffee sellers must include cancer warnings on coffee sold in California.
Superior Court Judge Elihu Berle says the coffee companies failed to show that benefits from drinking coffee outweighed any risks. He ruled in an earlier phase of trial that companies hadn't shown the threat from the chemical was insignificant.
The Council for Education and Research on Toxics, a nonprofit group, sued Starbucks and 90 other companies under a state law that requires warnings on a wide range of chemicals that can cause cancer. One is acrylamide, a carcinogen present in coffee. (AP)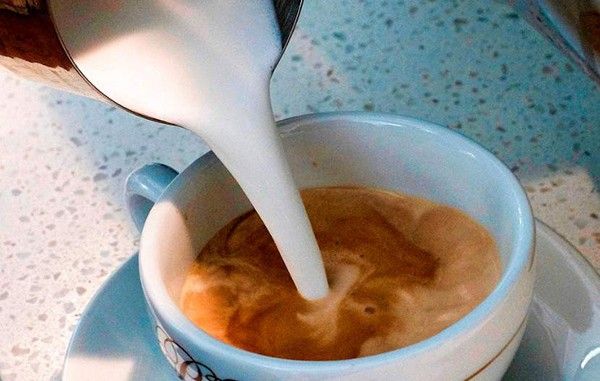 March 27, 2018
Maybank Kim Eng Group CEO Dato John Chong opens flagship conference Invest ASEAN 2018 with a theme of "ASEAN Inside Out" in Singapore, reports The STAR's Lawrence Agcaoili.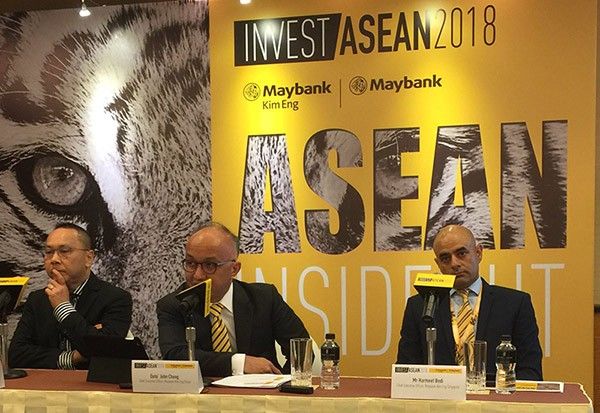 March 12, 2018
Luxury homes developer Revolution Pre-crafted led by CEO Robbie Antonio announces at a news conference the inking of a $3.2-billion deal with luxury property developer Seven Tides International for a Dubai project, the STAR's Catherine Talavera reports.
Also at the briefing is Seven Tides CEO Abdulla Bin Sulayem.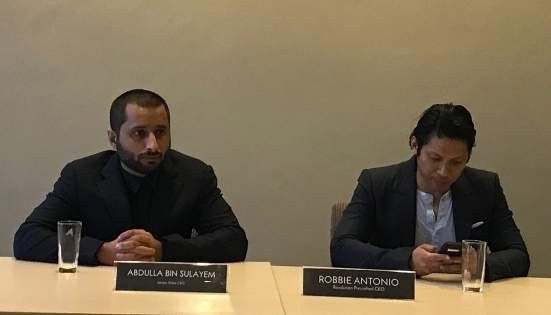 March 9, 2018
Raising an unsolicited proposal, Dennis Uy's Chelsea Logistics seeks to develop Davao and Panglao airports through a P67-billion deal. The company says it sees potential in the two destinations' passenger growth of 15 million for Davao and 2.1 million for Panglao. — with report from Iris Gonzales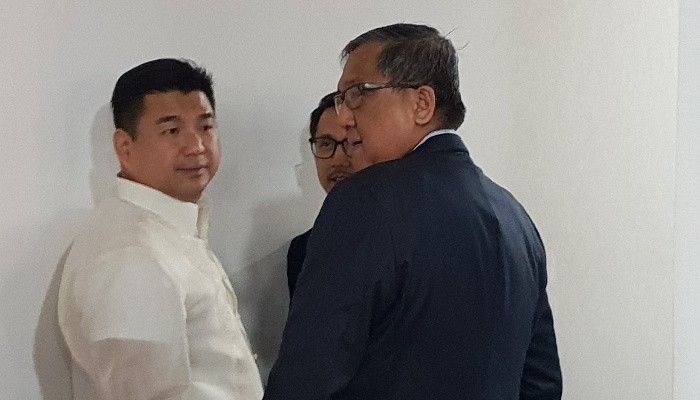 March 9, 2018
Aboitiz Power Corp.'s income rose to 2 percent from P20 billion in 2016 to P20.4 billion in 2017. — Danessa Rivera
February 26, 2018
The term of BDO Unibank Inc. president and CEO Nestor Tan extended until March 1, 2023. BDO is the Philippines' largest bank in terms of total resources, loans, deposits and assets.
The Henry Sy-led BDO Unibank books a 7-percent rise in earnings to a record P28.1 billion in 2017 on strong growth across all business segments. — Lawrence Agcaoili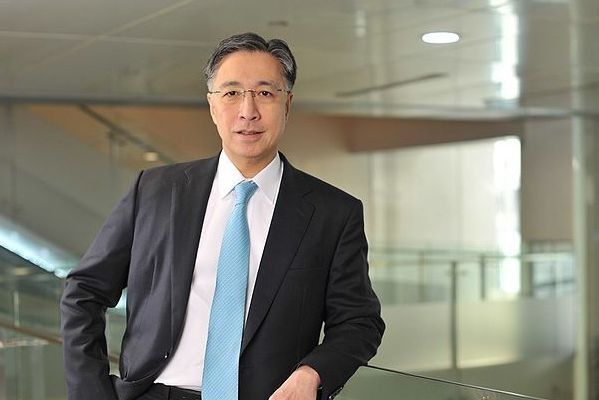 UnionBank's City Savings Bank spends P902.2 million to acquire the 33.73-percent stake of International Finance Corp. in the Philippine Resources Bank. — Lawrence Agcaoili