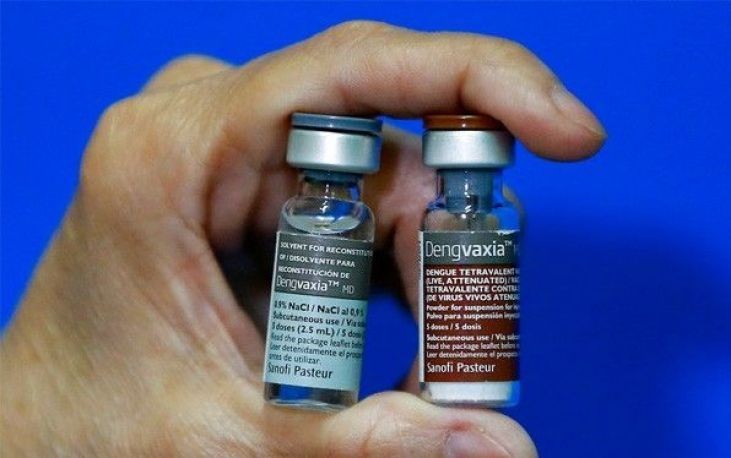 Dengvaxia debacle: Probe into dengue vaccine project
LATEST UPDATE: February 19, 2019 - 11:05am
LOCATION:
MANILA
PHILIPPINES
+ Follow Story
February 19, 2019
The Food and Drug Administration has permanently revoked the Certificate of Product Registration for the controversial Dengvaxia anti-dengue vaccine, The STAR's Sheila Crisostomo reports.
.@FDAPhilippines permanently revokes Certificate of Product Registration on Dengvaxia vaccines. | @shecrisostomo @PhilippineStar pic.twitter.com/xalkXJ0r8y

— Philstar.com (@PhilstarNews) February 19, 2019
The CPR for Dengvaxia had been suspended for one year since Dec. 29, 2017 after the FDA said pharmaceutical firm Sanofi Pasteur had failed to comply with post-marketing requirements.
The government's dengue vaccination program was suspended by Health Secretary Francisco Duque III after Sanofi admitted in November 2017 that it could cause severe dengue if given to those who have not had dengue.
Duque cited pending regulatory and legal issues and the lack of testing kits to detect previous dengue infection as among the reasons that would stop the return of Dengvaxia.
"Even if the suspension is lifted, who will let themselves be vaccinated with Dengvaxia?" he added.
January 31, 2019
Health Secretary Francisco Duque III calls allegations by Public Attorney's Office chief Persida Acosta the Health department tried to pay off families affected by the controversial Dengvaxia virus to drop charges "malicious, baseless and a complete lie."
He says the DOH has tried to reach out to agencies, including PAO, to work together and resolve issues surrounding the anti-dengue vaccine that the PAO is blaming for at least 32 deaths.
"[U]nfortunately, my fellow public servants at PAO led by Attorney Persida Acosta refuse to cooperate and continue to attack and throw baseless claims and accusations at the Department of Health and myself," Duque says in a statement released on DOH's social media accounts.
"I strongly call on those with negative intentions to stop propagating baseless allegations. "

???? Sec Francisco Duque III responded to allegations from the Public Attorney's Office. pic.twitter.com/0QsqglEvjG

— Department of Health (@officialdohgov) January 31, 2019
Duque says in the same release that "baseless statements like these cause serious damage to our reputation as the primary government entity mandated to protect the health of all Filipinos."
He says Acosta's statements have contributed "to a decline in vaccine confidence in cases of Measles and other vaccine preventable diseases."
President Rodrigo Duterte himself has made a public appeal for families to get their children vaccinated despite the issues surrounding Dengvaxia, a specific vaccine that is no longer on the market in the Philippines.
December 3, 2018
Dr. Raymond Lo, pathologist and former director of the Philippine Children's Medical Center, is slapped with criminal charges before the Department of Justice over alleged deaths attributed to dengvaxia.
Hhe is included as additional respondent in pending complaints for reckless imprudence resulting in homicide, The STAR's Edu Punay reports.
November 15, 2018
Public Attorney's Office chief Persida Acosta claims President Rodrigo Duterte advised her last February to file murder complaints over alleged Dengvaxia-related deaths, news agency ABS-CBS says in a tweet.
June 4, 2018
Former President Benigno Aquino III attends the preliminary investigation hearing on the Department of Justice's probe into the inoculation of the Dengvaxia vaccine.
Also attending the hearing is former Health Secretary Janette Garin.
May 10, 2018
Volunteers Against Crime and Corruption lawyer Ferdinand Topacio files plunder, graft and malversation of funds complaint against former President Benigno Aquino III, former Health Secretary Janette Garin, former Executive Secretary Paquito Ochoa, former Budger Secretary Butch Abad over the P3.5 billion Dengvaxia procurement anomaly.
Topacio with copies of VACC's plunder, malversation & graft complaint vs Aquino et al, including voluminous documentary exhibits @PhilippineStar pic.twitter.com/rHmtsEFyyR

— Elizabeth T. Marcelo (@marcelo_beth) May 10, 2018
April 11, 2018
Senate blue ribbon committee chair Sen. Richard Gordon calls former President Benigno "Noynoy" Aquino III, former Health Secretary Janette Garin and former Budget Secretary Florencio Abad as "primary conspirators" over the Dengvaxia mess.
Gordon says this in a media briefing as he gives details on the committee's draft report in connection with its probe into the controversial vaccine.
The senator adds that Aquino, Garin, Abad and other officials must be criminally liable.
The blue ribbon panel chief notes that the funds to procure Dengvaxia—which he repeatedly called a "hastened purchase"—could not have been released without Aquino's approval.
"Former president Aquino is responsible because he caused the purchase of Dengvaxia and in the process caused irreversible damage, possibly death, to children, anxiety, sleepless nights, unnecessary expense on the part of the parents and guardians," he says.
Gordon also hits Garin's qualification to lead the Health department, claiming she has a limited experience in public health.
The committee report will still have to be signed by members of the panel, Gordon notes.
March 15, 2018
President Benigno Aquino III holds a media briefing at Comelec addressing an earlier statement by Senate blue ribbon committee chairperson Richard Gordon that a complaint may be filed against him over the Dengvaxia fiasco.
Aquino says the issuance of the purchase order for Dengvaxia was made days before the election ban on March 9, 2016.
The approval of the purchase order is being questioned as it was raised that the rush in buying the controversial dengue vaccine was related to the elections.
A statement was also posted by Aquino spokesperson Abigail Valte on Twitter.
Former President Aquino's opening statement at a press conference after filing his counter-affidavit at the COMELEC Law Department. pic.twitter.com/LZBHFpRaSA

— Abi Valte (@Abi_Valte) March 15, 2018
March 14, 2018
Senate Blue Ribbon Committee chair Richard Gordon in an interview over ANC's "Headstart" says former President Benigno Aquino III may be charged for his involvement in the Dengvaxia controversy. He adds that graft and corruption charges will be recommended against those involved.
March 13, 2018
American scientist Scott Halstead, a dengue expert, appears at the Sen. Richard Gordon-led blue ribbon committee hearing on the Dengvaxia controversy.
Halstead earlier warned about the right uses of the vaccine, but he was allegedly ignored by the Department of Health.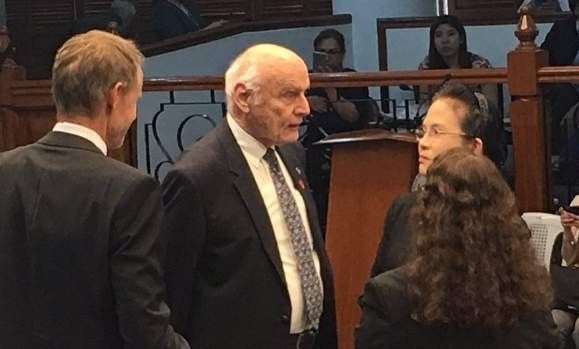 March 2, 2018
Health Secretary Francisco Duque III wants those involved in the Dengvaxia project to "move on" while learning from the "painful" experience. — Report from Shiela Crisostomo
February 28, 2018
The Department of Health hires 500 so-called surveillance officers to monitor children who were vaccinated with anti-dengue drug Dengvaxia by France-based pharmaceutical giant Sanofi Pasteur, especially those manifesting dengue symptoms.
The health agency recorded 39 supposed deaths due to Dengvaxia vaccine from March 2016 to February 2018. — Report by Shiela Crisostomo
February 27, 2018
Pimentel says they found conflict of interest among some officials of the Department of Health.
February 27, 2018
Rep. Johnny Pimentel (Surigao Del Sur ), who is leading the inquiry into the Dengvaxia mess, says the House Committee on Good Government and Public Accountability will release the report on Dengvaxia on or before March 21.
February 26, 2018
In his opening statement, former president Noynoy Aquino says that government used to step in during a controversy and show it was in control. He decries the effect of the Dengvaxia problem that made families refuse to have their children vaccinated with safe and proven drugs.
"When we were governing," Aquino said in Filipino. "Our goal was to make the public calm down. Once they were calm, it would be easier for government to extend its services and care."
Aquino's government, however, was criticized for its apparent slow response to the deadly effects of Super Typhoon Yolanda (Haiyan) in 2013.
February 26, 2018
Former President Noynoy Aquino, his budget secretary Butch Abad and health chief Janet Garin appear at the House good governance committee's public hearing on the botched Dengvaxia project.
Also attending are top Aquino administration officials Dinky Soliman (former social welfare chief), Teresita Deles (former peace adviser) and Kim Henares (internal revenue commissioner).
February 21, 2018
Parents of children who died allegedly due to complications after being injected with Dengvaxia attend the Senate inquiry into the controversial vaccination program.
Also at the hearing are chief public attorney Persida Rueda Acosta, who last time skipped the hearing despite being summoned. — with a report from Paolo Romero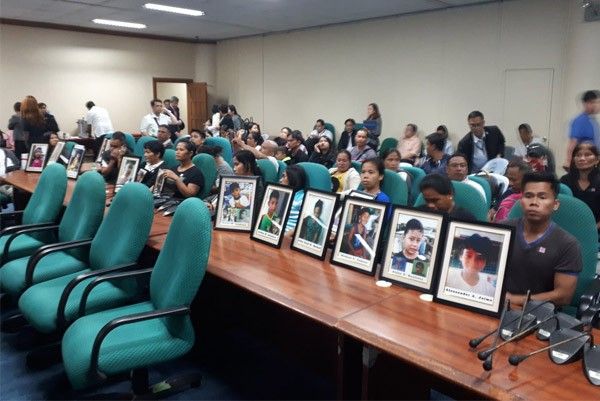 February 19, 2018
It looks like the Department of Health has tapped the Office of the Solicitor General to build a civil case against French pharmaceuticals giant Sanofi Pasteur, which earlier today repeated its position rejecting calls for it to pay up for the failed implementation of the dengue vaccine.
DOH & Office of the Solicitor General to work together to file civil case, iniitally, against Sanofi Pasteur. @PhilippineStar

— sheila crisostomo (@shecrisostomo) February 19, 2018
February 19, 2018
The Department of Justice is asked to subpoena documents and records on the P3.55-billion Dengvaxia vaccine project from the Department of Health and Department of Budget and Management.
A criminal case is being built up against former president Noynoy Aquino and other top government officials believed to be behind the ill-considered implementation of the project. — Based on report by Edu Punay
February 19, 2018
Julius Lecciones, executive director of state-funded Philippine Children's Medical Center, files a libel case at the Quezon City prosecutor's office against Dr. Francisco Cruz, the consultant of the anti-graft group VACC, over the Dengvaxia controversy.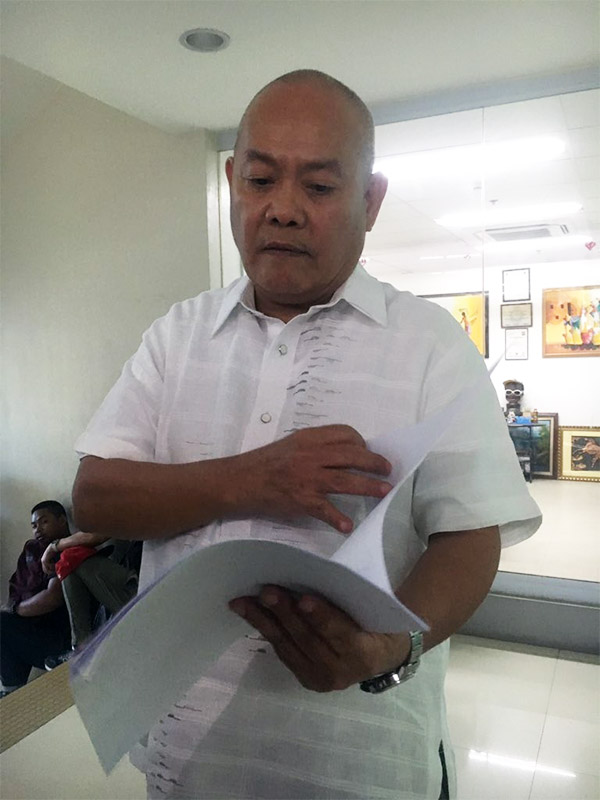 Dr. Julius Lecciones, executor director of PCMC, filing a libel case at the Quezon City prosecutor's office.
Lecciones decries VACC's claim that he was part of the Department of Health's supposed "mafia" involved in the botched implementation of the anti-dengue vaccine. — Report by Romina Cabrera
Pharmaceuticals firm Sanofi Pasteur insists that it will not grant refund for the purchased dengvaxia vaccines by the Department of Health.
The firm also declines to give compensation to victims of the vaccine's botched implementation. Here's the text of the statement:
As we did in our previous reply to the DOH on 5 February, 2018, we respectfully declined both requests [to refund the government for the used doses of Dengvaxia and finally support an indemnification fund]. We stand firmly behind our product. Refunding the used doses of Dengvaxia would imply that the vaccine is ineffective, which is not the case. And at this time, there is no known circumstance requiring indemnification.

We also again made very clear our willingness to sit down with the Department of Health to find other ways we can assist their efforts to combat dengue in the Philippines and restoring public trust in vaccines.
— Photo by AP