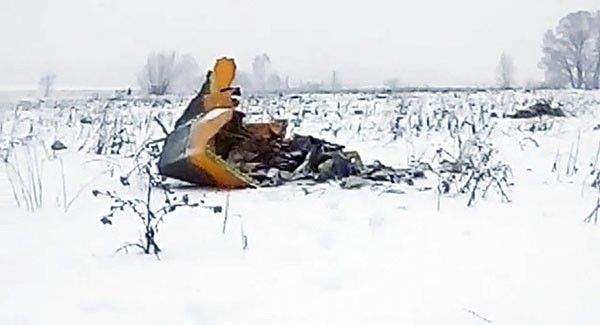 Airliner crash near Moscow
LATEST UPDATE: February 12, 2018 - 1:24am
+ Follow Story
February 12, 2018
Russian President Vladimir Putin has postponed a planned trip to Sochi to closely monitor the investigation of the passenger plane crash outside Moscow that had no survivors.
Russia's transportation minister Maxim Sololov said Sunday that "judging by everything, no one has survived this crash" of the An-148 regional jet that went down a few minutes after takeoff Sunday.
Soklov did not specify the number of people on board when the Saratov Airlines flight took off from Moscow's Domodedovo Airport for Orsk, a city about 1500 kilometers (1000 miles) to the southeast.
Russian news reports said there were 65 passengers and six crew members.
Putin was to meet Palestinian leader Mahmoud Abbas on Monday in the Black Sea resort where the president has an official residence.
Instead, Abbas will meet with Putin in Moscow in the latter part of Monday, Kremlin spokesman Dmitry Peskov told Russian news agencies.
Russia's transport minister says there are no survivors from the crash of a passenger airliner near Moscow.
About 71 people are presumed dead.
The Saratov Airlines regional jet disappeared from radar screens a few minutes after departing from Domodedovo Airport en route to Orsk, a city some 1,500 kilometers (1,000 miles) southeast of Moscow.
Fragments from the Antonov An-148 airliner were found in the Ramenskoye area, about 40 kilometers (25 miles) from the airport. Footage on state television showed them strewn across a snowy field with no buildings nearby. No on the ground casualties were reported. — AP