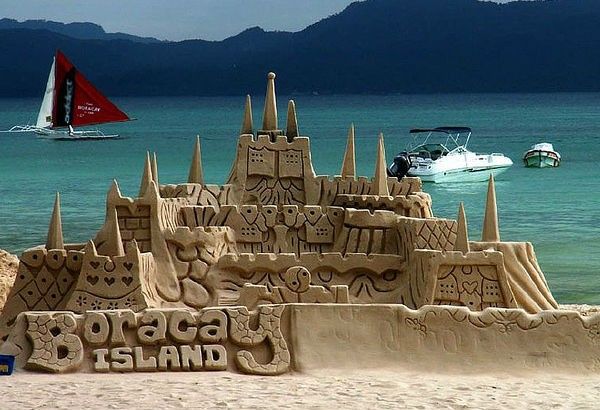 LATEST UPDATE: May 18, 2018 - 12:44pm
+ Follow Story
May 18, 2018
Two private residents of Boracay file a graft complaint before the ombudsman against ex-Tourism Secretary Wanda Teo, husband Roberto Teo and other officials of TIEZA over an alleged anomalous P300-million water supply contract with Manila Water Company Inc.
Complainants Rod Padilla and Roberto Gelito say respondents conspired in approving a joint venture agreement with Manila Water which allowed the latter to have exclusive rights over water supply and sewerage system operations in Boracay.

The deal between TIEZA and Manila Water pertains to the operations of the sole sewerage system in Boracay previously managed by Boracay Waterworks & Sewerage System (BWSS), a wholly-owned subsidiary of TIEZA.
Two private residents of Boracay file graft complaint before @OmbudsmanPh vs ex-DOT Sec. Wanda Teo, husband Roberto Teo & other officials of TIEZA over an alleged anomalous P300-M water supply contract w/ Manila Water Company Inc. (MWCI). @PhilippineStar pic.twitter.com/ZweQhKCqfk

— Elizabeth T. Marcelo (@marcelo_beth) May 18, 2018
The complainants say it violates Article 12 Section 11 of the 1987 Constitution which prohibits exclusivity or monopoly of operations of public utilities. They add that instead of subjecting the sewerage facility to a third party independent valuation "respondents have feloniously allotted the lions share of 80% to MWCI amounting P240 million and measly 20% to TIEZA (formerly PTA) amounting P60 million."
— with Elizabeth Marcelo
April 26, 2018
President Rodrigo Duterte signs the proclamation declaring a state of calamity in Boracay, according to Special Assistant to the President Christopher "Bong" Go.
The proclamation covers the barangays of Manoc-Manoc, Balabag and Yapak in Boracay, Malay, Aklan.
The world-famous island will be temporarily closed to tourists for six months.
April 24, 2018
Presidential spokesperson Harry Roque says it's no big deal that a declaration of a state of calamity over Boracay has not yet been made by the government days before the shutdown of the island.
"Well don't worry. It can be issued today, tomorrow. It's no big deal because I'm sure it's drafted already," Roque says in an interview with CNN Philippines' "The Source."
"People have been told that it will be closed so it's no big deal. They know it will happen and it's just a formality that that will be issued."
He says what is important is that the government gave an advance notice that the closure will happen.
Roque adds that President Rodrigo Duterte is expected to sign the executive order declaring the state of calamity over the island before he leaves for Singapore, where the ASEAN Summit will be held from April 27 to 28.
The EO will serve as the legal basis for the shutdown and can fast-track rehabilitation of the island.
April 4, 2018
Boracay island will be closed for six months from April 26, presidential spokesperson Harry Roque says.
Duterte previously threatened to shut down the island, saying it had become a cesspool.
ICYMI: Presidential spokesman Harry Roque: Boracay closed for 6 months effective 26 April | @alexisbromero

— Philstar.com (@PhilstarNews) April 4, 2018
March 2, 2018
Senate holds inquiry on environmental issues surrounding Boracay.
President Rodrigo Duterte threatened to close Boracay, which he describes as a "cesspool."
He gave Environment Secretary Roy Cimatu six months to address the environmental problems of the popular tourist destination.
Earlier, Cimatu and Tourism Secretary Wanda Teo visited Boracay following reports that the balance between environmental conservation and tourism development on the island is deteriorating.
Officials blamed the deterioration of the island's condition on the lack of proper sewerage system and the number of business establishments that dispose of their waste to the sea.