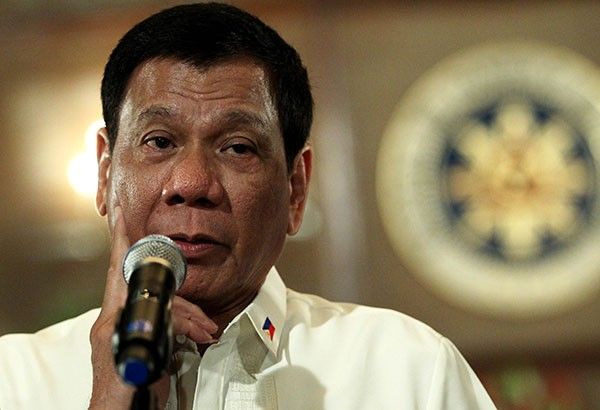 Duterte's tirades against Catholic Church
LATEST UPDATE: March 3, 2019 - 9:25am
+ Follow Story
March 3, 2019
The Commission on Human Rights says it denounces any form of intimidation, harassment and threat to life after Bishop Pablo David skipped an event to get his human rights award due to death threats.
"Previous statements threatening Bishop David and other bishops with harm, accusing them of pocketing church collections, and ridiculing them publicly may have emboldened some followers to commit atrocious acts, the least of which is to intimidate and threaten our religious leaders. This should be stopped," CHR spokesperson Jacqueline de Guia says in a statement.
"We cherish our civil rights and freedoms. Those who disagree with the policies and views of elected government leaders should not be cursed or threatened," she adds.
The state's human rights body reminds public officials and men in uniform to "defend and protect our hard-earned human rights to life, liberty and dignity for all."
David, who is also the vice president of the Catholic Bishops' Conference of the Philippines, has strongly opposed warrantless arrests and extra-judicial killings in the Duterte administration's drug war.
He skipped attending the Ka Pepe Diokno Human Rights Awarding ceremony last Tuesday, February 26, after getting death threats in consideration of the well-being of his companions.
February 28, 2019
The Ecumenical Bishops' Forum, a fellowship of church leaders from different religious groups, calls out the Duterte administration over intensified efforts to stifle critics, depicting them as criminals and terrorists.
The group's outrage comes amid death threats received by Bishop Pablo Virgilio David and other Catholic priests following a suggestion by President Rodrigo Duterte that bystanders rob and kill moneyed bishops.
READ: Gag orders: When Duterte's 'jokes' are no laughing matter
"Conducive and safe space where dissenters can seek redress is drastically shrinking. Threats to the life and security of Catholic Bishop Pablo Virgilio David, a staunch defender of the innocent victims of President Duterte's war on drugs, is neither isolated nor can the present administration merely wash its hands off its accountability from this," it says in a Facebook statement.
"No amount of personal recantation and public rhetoric would be enough to protect the bishop from the perils that now overshadow his life."
It also likened the president to a "modern-day Pontius Pilate" who washes his hands "to disclaim responsibility to the lurking danger over the bishop's life."
"Should Bishop David, or any other bishops and priests, and church people, suffer from deadly attacks, we should lay the blame to President Duterte's feet. He cannot wash his hands and claim innocence," it adds.
February 28, 2019
"Let the members of the Catholic hierarchy be assured that the president means no harm," presidential spokesperson Salvador Panelo says in a statement of President Rodrigo Duterte's earlier comments in his speeches that bishops should be robbed and killed.
Panelo: They need not be afraid as we are one with them in their mission in thwarting evil. Those who must be afraid are the criminals, the corrupt, the evildoers, the scoundrels, the terrorists and the drug lords and pushers. | @xtinamen

— The Philippine Star (@PhilippineStar) February 28, 2019
The statement comes after Caloocan Bishop Pablo Virgilio David, whom Duterte has targeted in his speeches in the past, confirmed receiving death threats.
The Palace has cast doubt on the threats, saying they may have been made up, or were pranks. It has also cast blame on the political opposition.
February 26, 2019
The Commission on Human Rights welcomes President Rodrigo Duterte's call not to harm Catholic priests, a reversal from a previous remark by the chief executive suggesting that bystanders rob and kill bishops.
"It is the state's duty to uphold everyone's right to life. The president's call to not harm religious leaders underscores the government's obligation to protect everyone regardless of religion, political affiliation, ethnicity, among others," CHR spokesperson Jacqueline Ann de Guia says in a statement.
READ: Duterte changes tune, now warns those threatening to harm priests
"The Commission welcomes this positive shift and hopes for similar statements from the administration especially for those who are deemed critical towards the government. The service and guidance of religious groups must be taken positively especially when it pertains to the uplifting of the plight and dignity of vulnerable sectors."
December 6, 2018
The Commission on Human Rights says that President Rodrigo Duterte's statements against religious persons "are gravely alarming" and could embolden violence against people deemed as critics of the government.
"Churches and priests, such as in the case of Bishop Pablo Virgilio David of Caloocan, work directly with communities and families, who continue to suffer the many forms of human rights violations allegedly stemming from the government's drug campaign," says CHR spokesperson Jacqueline Ann de Guia.
"Instead of calling them useless, the government must take their concerns as valid challenges from the ground and as means to improve, rather than degrade, protection of human rights of all," she adds.
November 29, 2018
Archbishop Romulo Valles, president of the Catholic Bishops' Conference of the Philippines, says he is "saddened and disturbed" by statements against Caloocan Bishop Pablo Virgilio David "that allege that [he] had commited actions that question his identity."
Valles, who is bishop in President Rodrigo Duterte's bailiwick of Davao City, did not name who the statements were from, but David has been in the president's crosshairs in recent days. David has also had sharp words for the president, whom he has referred to as a "sick man."
"Let us pray in a special way for Bishop David, that the Lord grant him more strength, as well as calmness and peace in this difficult situation," the CBCP president also says.
The Palace asked the public to give President Rodrigo Duterte an "allowance for mistakes" as he is only human.
Presidential Communications Assistant Secretary Ana Maria Banaag told government radio station dzRB Sunday that the president also gets irritated by criticisms just like other people.
"Tao din lang naman ang ating presidente 'di ba (Our president is also human right)? He is a working president. He works hard, he gets tired. Sometimes he gets annoyed."