Dolly de Leon now a free agent, believes Iti Mapukpukaw has a shot at Oscars nod
October 2, 2023 | 12:00am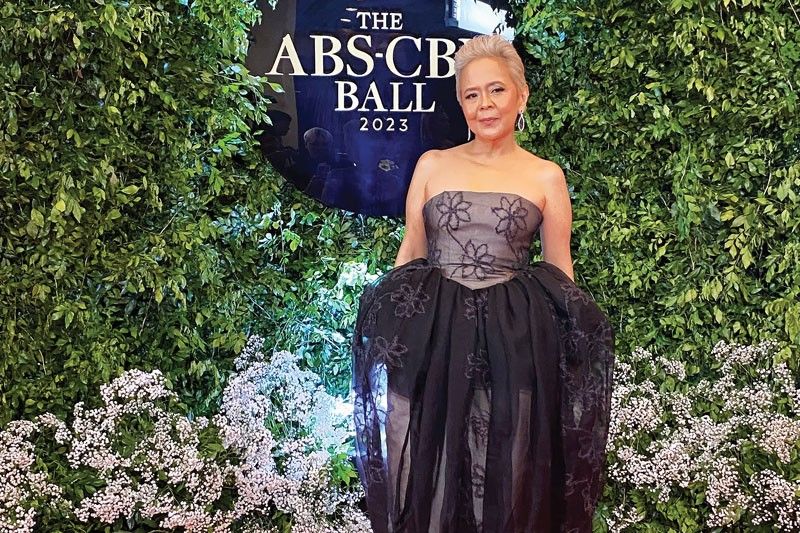 MANILA, Philippines — Dolly de Leon is "super proud" after Iti Mapukpukaw was named as the Philippines' official entry at the 2024 Oscars. The veteran actress, who stars in the Carl Joseph Papa-directed animated film with Carlo Aquino and Gio Gahol, strongly believes it has a "shot" at getting that first Oscars nomination for the country.
Dolly starred in three of the seven films considered for submission to the Best International Feature category of the 96th Academy Awards. The two others were Dustin Celestino's Ang Duyan ng Magiting and Petersen Vargas' A Very Good Girl, which is now showing in cinemas.
But it was the Best Film winner and top-grosser at the recent Cinemalaya 19 that got chosen by the screening committee formed by the Film Academy of the Philippines (FAP).
"Sobra akong proud because Iti Mapukpukaw is a story that needs to be heard by a lot of people who had been victimized by abuse at a very young age… And victims tend to, you know, hide and shy away from this topic because they have a strong feeling of shame," Dolly told The STAR in a phone interview shortly after the announcement at the Film Industry Month's closing ceremony on Friday.
"So, for this film to come out, it's our way of telling them, it's okay to voice out your pain, it's okay to come out and tell the world that you were abused as a child and that we will always accept you with loving arms, despite that.
"Remember that it's not your fault, it's the abuser's fault. We encourage everyone to seek help, go to someone they trust and love and talk about it. Maybe that's the only way that they can heal if healing is even possible."
"So sobra akong proud dito!" Dolly reiterated. "I really feel we have a shot of being nominated for this film."
As they prepare for the challenging marketing campaign ahead, producers Dan Villegas and Antoinette Jadaone of Project 8 Projects are expected to tap into Dolly's own experience when she helped campaign for her film Triangle of Sadness in the leadup to the 2023 Oscars.
This year, the first Filipino Golden Globe and Bafta nominee was also invited to become a member of the Academy of Motion Picture Arts and Sciences or the voting panel for the Oscars.
Asked what advice she would give to the Iti Mapukpukaw team, Dolly said, "They need to seek help from as many individuals and organizations who are willing to help because this needs a lot of funding.
"Campaigning for the Oscars is no joke. The first thing you need is to get people to watch it. The only way you can get people to watch it is to host screenings in the US, and hosting screenings in the US costs a lot of money so you're going to need a good PR team to help you get the word out.
"Yung funding talaga ang magiging challenge dito. Because remember, this was a Cinemalaya production and a Project 8 project, which is an independent film organization din."
During the announcement of the film's selection, the Film Development Council of the Philippines (FDCP) said it was committing a grant of P1 million to the campaign.
"It's great and wonderful that the FDCP is helping," said Dolly. "But that's just the tip of the iceberg. We need more support, financial support, so that we can get a good PR team to get the word out about our film and get the American audiences to watch it."
Even when the film is shortlisted then nominated, the hard work is still not done. "Akala kasi ng tao pag na-nominate ka na ng Oscar, OK ka na. Hindi. Kailangan mo ng malaking pera for that para panoorin ng mga tao and ma-consider ka talaga. The campaign is not about getting to vote for you. No, it's not. It's about getting people to watch the film so that people will vote for you."
Dolly, however, expressed full confidence in Iti Mapukpukaw: "I have so much faith in this film! This is a really beautiful story so if we can just get people to go out and watch it, we have a good chance of getting nominated."
Free agent in Philippines
Asked about other domestic projects for this last quarter of the year, Dolly said she has not accepted any due in part to her tight promo schedule for her first mainstream movie, A Very Good Girl.
In fact, she will be in the US this week for the Hollywood premiere of her Star Cinema film with Kathryn Bernardo on Oct. 4 at the Silver Screen at the Pacific Design Theater in West Hollywood, which will be followed by a wider US theatrical run on Oct. 6. It will also be shown in Canada, New Zealand, Australia, Guam and Saipan, Middle East, Hong Kong, Singapore, Malaysia, Cambodia and Nigeria, an ABS-CBN report said.
Nevertheless, she continues to look forward to working with Filipino "filmmakers who share my vision."
"I'm still looking forward to what Philippine filmmakers have in store in terms of material, especially stories about women, empowering women and hearing the voices of women. And also, the LGBTQ community and hearing their voices and supporting their cause because they're still a minority in the Philippines… and still discriminated against," she said.
In response to a STAR question, Dolly also confirmed during the interview that she's now a free agent in the Philippines.
"I'm quite satisfied and comfortable not having anyone represent me. But if the right company comes along, I'm open to it," she said on the question if she's open to joining a new talent management team.
"If it's a reputable group that can represent me well, why not?" she added.
For her overseas work, Dolly's agent continues to be the Los Angeles-based Gersh, while her management is Fusion Entertainment.
"They've been really working tirelessly on finding me a job there and there's already work being developed for 2024," she shared with The STAR.
It appears that Dolly will be mostly abroad in the next weeks to come as she begins shooting Ghostlight, an independent film in Hollywood. The production has secured a waiver from the Screen Actors Guild (SAG) permitting them to film soon.
She still, however, can't discuss her other Hollywood projects while the SAG-AFTRA strike is ongoing. But it was earlier reported that she's joining Season 2 of the Nicole Kidman-led Hulu show Nine Perfect Strangers.
"I'm looking forward to SAG-AFTRA getting the revisions in the contracts we're asking for and hopefully, the strike ends so that I can continue working there," Dolly said. "I'm in solidarity with them and I will continue to support the strike for however long it may take even if it means that my future projects will not push through."