Kathryn Bernardo, Park Eun Bin awarded at Seoul International Drama Awards 2023
September 22, 2023 | 2:56pm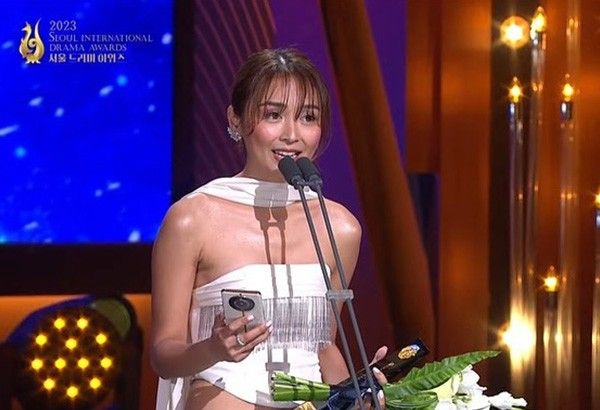 MANILA, Philippines — Kathryn Bernardo represented the Philippines well at yesterday's Seoul International Drama Awards 2023 as she walked the red carpet and accepted the Outstanding Asian Star trophy.
Dazzling in a Martin Bautista creation, Kathryn thanked her fans and "2 Good 2 Be True" co-star Daniel Padilla in her speech.
"When I initially found out about this nomination and recognition for my craft from such an esteemed award giving body, that in itself is already a win for me," Kathryn said. "But being here tonight, personally receiving this award, along with my fellow awardees from Asia, I'm so overwhelmed and still feels surreal."
She is cited in the category with Thai star Atthaphan "Gun" Phunsawat, who is known to Filipino fans as Punn in "The Gifted," and multi-awarded K-drama star Park Eun-bin, whose hit drama "Extraordinary Attorney Woo" was named Outstanding Korean Drama alongside Song Hye-kyo's revenge drama "The Glory."
Kathryn shared that she fell in love with the ABS-CBN and Netflix drama collaboration where she played a nurse named Ali. The show shed light on Alzheimer's Disease.
"I fell in love with this project because of the storyline. It's always more than just about sharing a love story for our audience, but also spreading awareness on Alzheimer's Disease and educating people about those who struggle and how we can offer them the best support. So this project made me appreciate our nurses and healthcare workers."
"[It] was more than just another TV show for me. To my fans from Philippines, this is for you. You guys are a gem and I appreciate each and every one of you," she said.
The Seoul International Drama Awards, also known as SDA, is an annual awards ceremony in Korea that honors excellence in global television production. It has given citations and awards to dramas from all over the world since 2006. It is presented by the Seoul Drama Awards Organizing Committee and the Korean Broadcasters Association.
RELATED: Kathryn Bernardo named Outstanding Asian Star at Seoul International Drama Awards 2023