Taylor Swift gets lion's share of MTV VMAs
September 19, 2023 | 12:00am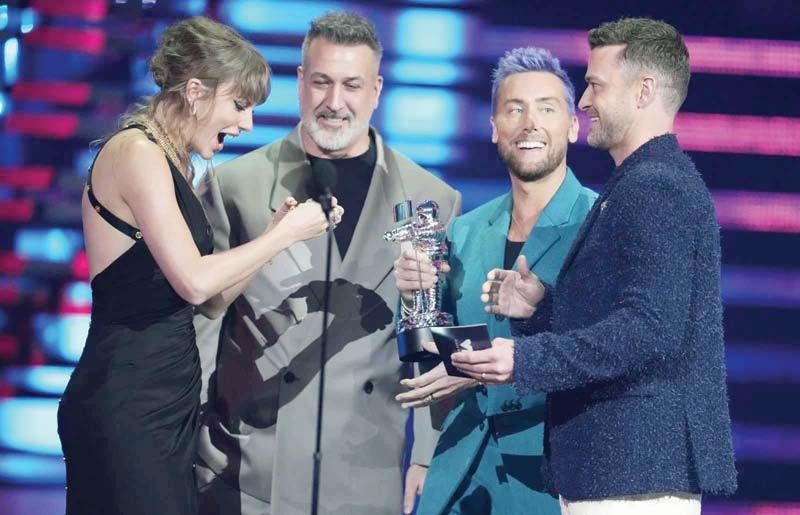 Music television may continue to keep losing viewership thanks to all those social media platforms that make videos and user-generated content available to everybody. But it cannot be denied that as far as putting up great music shows is concerned, MTV, the music television pioneer is still tops.
This was proven true again at the 2023 MTV Video Music Awards (VMAs) night held at the Prudential Center in Newark, New Jersey last Sept. 12. Now on its 39th year, the VMAs again offered popular music at its best with great artists from as far as 50 years ago to the new guard coming together to provide brilliant entertainment.
I have a feeling that the program took its cue from this year's lifetime achievement awardees, rapper Diddy as Global Icon and Latin superstar Shakira for the MTV Michael Jackson Vanguard Award. With these two at the forefront, the evening became an exciting mix of hip hop, both socially conscious and fun and Latin beats, hot and sexy.
Hip-hop was present in full force. Nicky Minaj hosted and performed Last Time I Saw You. Doja Cat did her No. 1 hit Paint the Town Red plus Attention and Demons. The WAP girls Cardi B and Megan Thee Stallion had Bongos. Lil Wayne had Uproar and his new release Kaf Food.
Diddy was every inch the flashy star we remember him to be in a medley of I'll be Missing You, Bad Boy for Life and All About the Benjamins. Why he even brought along his mini rapper, his son King Combs, for their duet of Mo Money Mo Problems.
And in a nod to the 50th anniversary of rap music this year, the VMAS brought together icons and current stars for a medley of classic hip-hop that turned out to be one of the best of the evening.
Grandmaster Flash & the Furious Five, Slick Rick and Doug E. Fresh, Nickie Minaj, Lil Wayne and Darryl (DMC) McDaniels plus the guy I was glad to see rapping again, LL Cool J, who is now a big TV star in NCIS Los Angeles. Too bad Ice-T of Law and Order was not there.
On the other side were the Latinos asserting their renewed dominance of popular music. Karol G brought reggaeton with Oki Doki. Anitta had Brazilian beats combined with K-pop by TomorrowXTogether in Back for More. Peso Pluma had stripped down guitars guiding his Lady Gaga to a brassy finish. And the queen of them all was the gorgeous Shakira, still with her well-remembered moves for Hips Don't Lie, Objection and She-Wolf.
Now, where was pop music during all that time? Handing out awards to Taylor Swift. The incredible Swiftie bagged the lion share of Moonmen available. Actually, she won in all of the eight categories she was nominated in for Anti-Hero from the album Midnights, the video of which she also directed. With these wins, Taylor has reached Beyonce level, once the VMA's most awarded artist.
Taylor won Video of the Year, Artist of the Year, Song of the Year, Best Direction, Best Cinematograpy, Show of the Summer, the ERAS Tour and Album of the Year. She also won for Best Pop Video and in a sweet moment, was handed the trophy by a an all-too briefly reunited N'SYNC, Justin Timberlake, JC Chasez, Joey Fatone, Lance Bass and Chris Fitzpatrick.
Check out the rest of the 2023 VMA honor roll.
Best New Artist: Ice Spice.
Best Collaboration: KAROL G and Shakira, TQG.
Best Hip Hop: Nicki Minaj, Super Freaky Girl.
Best Rock: Maneskin, The Loneliest.
Best Alternative: Lana del Rey and Jon Batiste, Candy Necklace.
Best R&B: SZA, Shirt.
Best Latin: Anitta, Funk Rave.
Best K-POP: Stray Kids, S-Class.
Video for Good: Dove Cameron, Breakfast.
Song of the Summer: Seven by Jungkook and Latto.
Push Performance: TOMORROW X TOGETHER, Sugar Rush Ride.
Best Editing: Olivia Rodrigo, Vampire.
Go to the MTV site to find out the winners in the other categories.