MGI founder apologizes, hopes to crown a Filipina winner
December 1, 2022 | 12:00am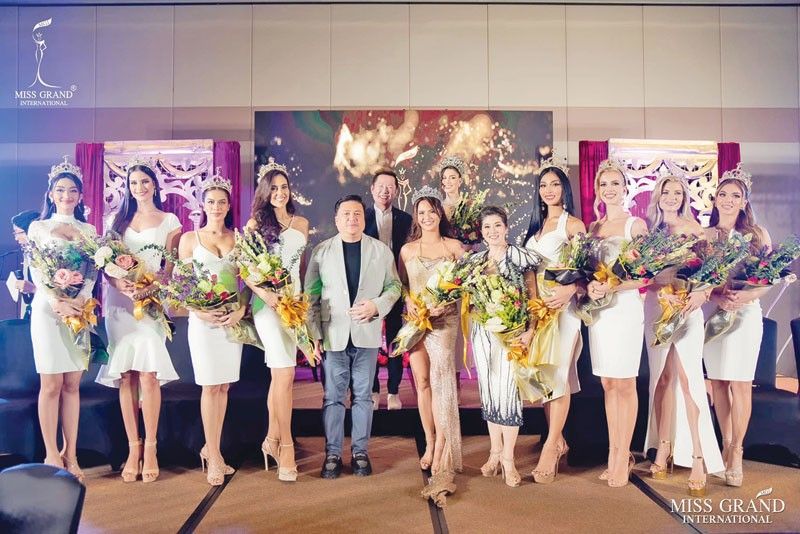 MANILA, Philippines — Miss Grand International (MGI) founder Nawat Itsaragrisil has offered an apology following criticisms he received from pageant fans and supporters.
During the formal launching of Miss Grand Philippines last Thursday at the Hilton Manila, Resorts World, Itsaragrisil said that he "apologized (for) anything (that) has happened before."
"If it happened or you're thinking something happened, (heard) any rumor, anything, leave it there. We start now, looking (at) the future. Now and the future are (the) most important. But the past, just forget it. Because we are (in) the same world. We have the same mission. We view the beauty queens (as) the most important," part of his speech stated.
Just recently, the Binibining Pilipinas Charities, Inc. (BPCI) announced that it has withdrawn from the MGI franchise.
The ALV Pageant Circle, owned by Arnold Vegafria, took over the Miss Grand Philippines franchise. ALV also owns the franchises of Miss World Philippines, Reina Hispanoamericana Filipinas, Miss Eco Philippines and Miss Supranational Philippines.
Philippines' representative to the MGI 2022 Roberta Tamondong, who finished in the Top 20, was appointed fifth runner-up, replacing Mauritius' Yuvna Rinishta. The MGI "made the decision to (have her) resign from her title because she's not able to sign the contract and complete the duty as fifth runner-up. She (Yuvna) can no longer use the title with immediate effects."
Moreover, Itsaragrisil continued his apology during the program's question-and-answer segment and asked for "understanding" from the pageant community.
"Sometimes, there's a misunderstanding. They are not coming closer to our organization. So, please try again to understand each other. Because MGI is (a) normal beauty pageant platform. We do a lot of production, we do a good reason (mission) and we do a lot of activities. At this moment, I can say very sincerely (that) it's not easy to produce (a) beauty pageant contest during the time of economy crash in the world," the Thai franchise owner said.
He further called on fans to not to "compare MGI with Miss Universe, Miss World."
The MGI has marked its 10th anniversary this year and Itsaragrisil hoped that a representative from the Philippines will be crowned soon.
"If you come closer to us, (to our) organization and you check (it) by your eye, listen by your ear, you (will) understand something more… I think (in) the many years (that) had passed, we have proven our sincerity (and) quality (in) what we do. And that is the most important thing, more than any kind of rumor."
He also acknowledged that Miss Universe has been the most important pageant for Filipino fans. "That is quite a long, long time. You have so many winners," he said.
"But the crown (for MGI) is still waiting for you. Do you want it? If you want it, come closer to me. I can give (it to) you very soon… We are (a) very fair pageant," he maintained.
More than the beauty, body and brains, Itsaragrisil shared they are "looking for the one who is comfortable to work with us… (and) staying with us for a year and traveling around the year (to) more than 15 countries, at least. So, I do hope we will find one from the Philippines. Very soon."
He will also be coming back to the Philippines soon to help Vegafria set up the pageant's local edition.
According to Vegafria, they are "in the middle of talks" about holding the international edition of MGI in the Philippines and "it might be in 2024."
The ALV Pageant Circle announced its plans of holding the very first Miss Grand Philippines pageant within the first half of 2023.
Vegafria and Itsaragrisil have "known each other for so long." The former shared to The STAR that "the partnership happened when the contract of Bb. Pilipinas expired after 10 years. So, they're looking for a new company, which is going to handle it (and that) gives it innovation, a new form… They want it as a stand-alone pageant." Vegafria won the bid and he is now the owner of the Miss Grand Philippines franchise.
Meanwhile, this paper asked Itsaragrisil on how important Filipino fans are to beauty pageants, including MGI. He answered, "Every friend around the world is very important… I believe Philippine fans have a lot of power in every pageant, even MGI.
"That's why I'm always coming (here), even during the time I was working with Binibini. I always come to talk, to see their faces, (and to) try to explain. So, the most important (thing), I believe I say this all the time, (that the) Philippines (is) one of the capitals for beauty pageants in the world."
He also said that he has "a lot of Filipino friends in Thailand and even my nurse is from the Philippines." He cited Filipinos whom he had worked with as "nice and they follow my instructions."
MGI VP Teresa Chaivisut, reigning MGI 2022 queen Isabella Menin of Brazil and other winning MGI 2022 queens, Andina Yulianti of Indonesia, Luiseth Emiliana Materan Bolaño of Venezuela, Mariana Beckova of Czech Republic, Hirisley Jimenez Marrero of Spain, Oxana Isabel River Alvarez of Puerto Rico, Priscilla Nicole Londoño of Colombia, Srey Pich Lim of Cambodia and Tamondong were also present at the grand launch.