'Come back to us': Nawat apologizes as Miss Grand International now officially with Arnold Vegafria
November 25, 2022 | 10:11am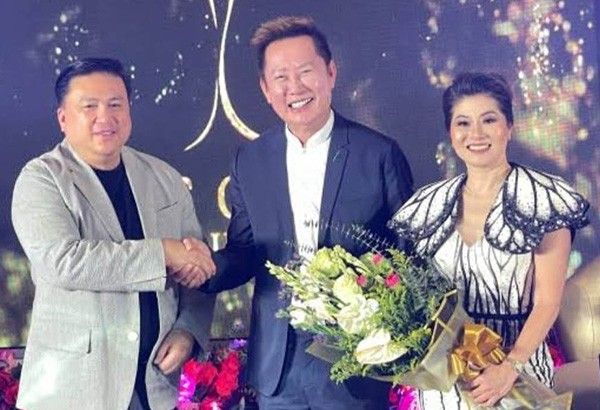 MANILA, Philippines (Updated Nov. 26, 12:40 p.m.) — Talent manager and pageant franchise owner Arnold L. Vegafria, together with Miss Grand International President Nawat Itsaragrisil and Vice President Teresa Chaivisut, formally launched the Miss Grand Philippines pageant at the grand ballroom of Hilton Manila recently.
The Miss Grand national title is the newest acquisition of Vegafria's ALV Pageant Circle, after the Binibining Pilipinas Charities Inc. took it out from its roster of titles. Vegafria is also the National Director of Miss World Philippines.
The early evening event was graced by the presence of the MGI 2022 Top 10 queens who were all dressed in white. First runner-up Engfa Waraha of Thailand was the only member of the court who was not present during the affair.
"In the past, 10 years already, there were so many stories about Miss Grand International. Some rumors were right or wrong, but in behalf of our organization, I apologize if you have not been entertained by our entertainment. But we give people entertainment everytime we want.
"Some Philippine fans, not all, have misunderstanding. Let's try to understand each other because MGI is a very normal beauty pageant platform. We do a lot of production, a lot of activities. It's not easy to produce a beauty contest in the time of COVID in the world.
"Next year, your Philippine representative will stay for 25 days with us in Vietnam. And we try to produce a huge production, a huge stage - to make everybody proud that stayed with us. This is the most important aspect of a beauty pageant. I know Filipino fans prefer the Miss Universe...
"I hope that we can start again from today. It's the 10th year anniversary already... But one crown is still waiting for you. Don't you want it? Return, come back to us. Let's work together!" implored MGI president Nawat Itsaragrisil to Filipino pageant fans all over the world.
Related: Pinoy pageant fans 'up in arms' vs Bangkok-based Miss Grand International
Also in attendance during the launching ceremonies were the MWP 2022 court - Gwendolyn Furniol (World), Alison Black (Supranational), Ashley Subijano Montenegro (Eco International), Ingrid Santamaria (Reina Hispanoamericana), Beatrice McLelland (Eco Teen International), Cassandra Chan (2nd Princess) - as well as past winners Emmanuelle Vera (Reina Hispanoamericana 2021 3rd runner-up) and Janelle Lewis (NWP 2nd Princess 2021).
Ali Forbes, the first Filipina to compete at the very first MGI pageant in 2013, also graced the event. She placed 3rd runner-up to Puerto Rico's Janelle Chaparro that year.
The 2023 Miss Grand International will unfold on October 25 next year in Ho Chi Minh City, Vietnam. Reigning queen Isabella Menin of Brazil, who will crown her successor in Vietnam, called the Filipinos the kindest people in the world, and hopes that the MGI will crown a Filipina soon. In her Bangkok residences, she and Philippines' RoAn Tamondong are roommates.
"Mabuhay, Philippines! I would like to thank Mr. Nawat, Ms. Teresa, the organization, and I would like to congratulate the newly-launched pageant, Miss Grand Philippines. Sir Arnold, I thank you so much for supporting me. I am so proud to be a Filipino and I am overwhelmed by your love and support," enthused Miss Grand International 2022 5th runner-up Roberta Angela Tamondong in her short message.
Pageant aficionados are hoping that this marks a new beginning between MGI Organization and Filipino fans & supporters. Stay tuned!
RELATED: Philippines' RoAn Tamondong formally crowned Miss Grand International 5th runner-up