Gary Valenciano returns to the stage anew in Joseph the Dreamer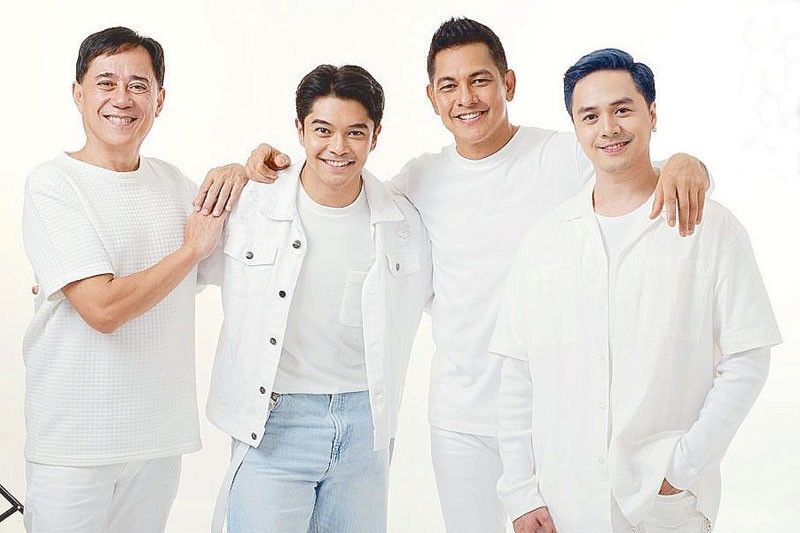 More than two decades had passed since Gary Valenciano did the musical, Joseph the Dreamer, where he played the title role back in 1999. Today, Gary returns to the stage anew performing in the same musical, but graduating to the role of Jacob, with Sam Concepcion reprising his character of Joseph for the new generation.
Joseph the Dreamer closed a day before the lockdown in 2020. However, it is the first big musical to open this pandemic. It became bigger because of cast members who will give the show a new flavor.
Gary differentiated his interpretation of Jacob for the first time, compared to the actors who played the role in the past, originated by Freddie Santos in 1989, followed by Audie Gemora in 2020.
"I was spoken to by Paolo (Valenciano), my son, who's the director, and assistant director Nelsito (Gomez)," he shared.
"I have to put what it really is to be a father. I am not a father to 12 sons, but I need to be able to portray who I really am as a dad, not who I am as Mr. Pure Energy and put that into the character of Jacob.
"So, Paolo was saying, 'Dad, I want people to see a real dad onstage and that's you. You come out there and you be you. Let's tone down the need to entertain too much and let's focus more on the reality of it and learn how to balance being who you are as a dad and who you are as Jacob.' So, I said, 'That's challenging. I'll take on the challenge.'
"Before, the objective was to carry a message through entertaining and nice music. Now, it's really trying to go into the real scenarios and being more relevant to what's going on with the times. That's the only way to do it. To really be a dad. Don't come out here as a performer. Come out as a dad."
Taking on the role of Jacob for somebody who played Joseph 23 years ago is undoubtedly challenging for Gary. "At the same time, it's timely," he maintained. "With regard to reacting and responding, when God calls, there are two things that we can do. We can either react or respond.
"I think this is the response of Trumpets now to be given time to think about how to further prune and improve on Joseph the Dreamer. To come and meet people at the point of their need.
"The pandemic has really dampened even the courage to dream again. I'm hoping this will encourage many to come and watch. To say it's okay. You're going to hit the rough waters, as well. When your ship has the Lord at the helm, then you will get where you want to get to, no matter what."
Gary admitted he had to join the high-energy performance of the amazing cast of Joseph the Dreamer. "Honestly, to be a part of this cast, you have no choice but to pour out all the energy you need to, because if you don't, you'll be left behind somehow," he said.
He is celebrating his 40th anniversary in showbiz next year. "To continue to move like the way Sam does and all the other brothers, I don't know if I can keep up with that any longer," added Gary. "I can still do what I like doing. But I don't ever want to try to push myself to the point where people will start getting worried, 'Kaya pa ba niya 'to?'
"Vocally, though, Joseph the Dreamer is a perfect platform to express my voice in a different way. Now, I'm acting it out. Some of the songs can really tug at the heart of anyone who plays Joseph or anyone who plays Jacob," he said.
"It's not a challenge really for me. How do I pour my energy out there because it really calls for it and I'm ready for it? More than being nervous, I'm really excited to be a part of this and express myself the way I am being directed by Nel (Gomez) and Paolo (Valenciano). I'm excited."
They did not change the key of some songs even if Gary is a baritone. "I'm using a different range of my voice which allows me to express myself in better and fresh new ways," Gary allowed. "Because if it's always up there, like the way I often sing, there might not be a difference between that character and the person you see onstage.
"But I am playing a character. The song being brought to a baritone will allow me to sometimes hit the high notes and bring it down have more dynamics vocally that can match the dynamics of my expressions emotionally onstage."
Meanwhile, Audie, the king of Philippine musical theater, is reprising his Jacob for this run of Joseph the Dreamer. "I'm so happy because there's a new generation taking on this incredible show that started in 1989, written by Freddie Santos," said Audie. "The future of any theater company is succession."
Carlo Orosa plays Pharaoh, with Bituin Escalante as Rachel in her hair-raising number. New addition to the cast, Carla Guevarra Laforteza essays Rachel in some shows. Kayla Rivera is Asenath, Neo Rivera is Joseph and Judah.
Joseph the Dreamer will run from July 15 to 31 at the Maybank Performing Arts Theater in Bonifacio Global City. Musical director is Myke Salomon, choreographer is MJ Arda and production designer is Mio Infante.