Catriona Gray reacts to calls for Philippines to drop Miss Grand International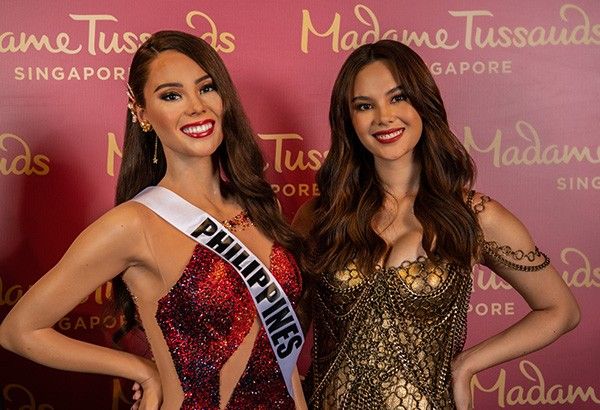 MANILA, Philippines — Despite being body-shamed by Miss Grand Thailand 2019 Coco Arayha Suparurk in 2019, Miss Universe 2018 Catriona Gray does not believe that the Philippines should withdraw from Miss Grand International.
It can be recalled that in a viral photo, the then Miss Grand Nakhon Phanom 2019 Suparurk posted a photo of Catriona next to Miss Grand International (MGI) 2018 Clara Sosa and described Clara as "fit" and Catriona as "fat."
Related: Thai beauty queen slammed for calling Catriona Gray 'fat'
Suparurk has since suffered the consequences, breaking down at a press conference and admitting that she had a "feeling of suffering for a long time" due to social media bashing following her controversial post.
Related: Thai beauty queen who called Catriona Gray 'fat' files cyberbullying raps
Since then, Catriona has been vocal against body-shaming, saying in defense of Miss Universe 2021 Harnaaz Sandhu who was also recently body-shamed: "It affects not just Miss Universe titleholders, but all women. And by extension of that, all people in a way. It sends a message that you're not beautiful if you don't meet this criteria for a body type or weight, and it's just a horrible message to put out there."
Related: Catriona Gray shares why it's important to talk against body shaming
The weight-shaming of Catriona, plus allegations that MGI is reportedly biased in not letting the Philippines win its first-ever MGI crown even if Filipinos feel their representative deserves it, made many pageant fans to come up with "#boycottMGI" and call for its local franchise holder, Binibining Pilipinas, to drop it from its roster.
Related: Pinoy pageant fans 'up in arms' vs Bangkok-based Miss Grand International
Nonetheless, in an exclusive interview with Philstar.com last week, Catriona reacted to clamor for Philippines to stop sending representatives to MGI.
"I think, at the end of the day, it's the prerogative of the organization as a whole, I mean, I'm not the one to speak about what should drop what, who should drop who. It's the prerogative of the organization. If they believe the title is still an asset to the Philippines or to send the Philippine delegate to, then all the power to them," she simply said.
Despite having no wins yet, The Philippines has enjoyed a fair share of high placements in MGI: 2013 (Ali Forbes, 3rd runner-up), 2015 (Parul Shah, 3rd runner-up and Best in National Costume), 2016 (Nicole Cordoves, 1st runner-up), 2017 (Elizabeth Clenci, 2nd runner-up) and 2020 (Samantha Bernardo, 1st runner-up).
Catriona recently gave a short talk as brand ambassador of Cetaphil Bright Healthy Radiance, a complete skincare line for the face and body. Products include Brightness Reveal Creamy Cleanser, Brightness Refresh Toner, Brightening Day Protection Cream SPF 15, Brightening Night Comfort Cream, Brightness Reveal Body Wash, Brightness Reveal Bar and Brightening Lotion.
RELATED: Catriona Gray can't believe menstruation used on faces vs acne; reacts to menstrual leave