'I miss the Philippines': Miss Universe 2021 Harnaaz Sandhu celebrates with Beatrice Luigi Gomez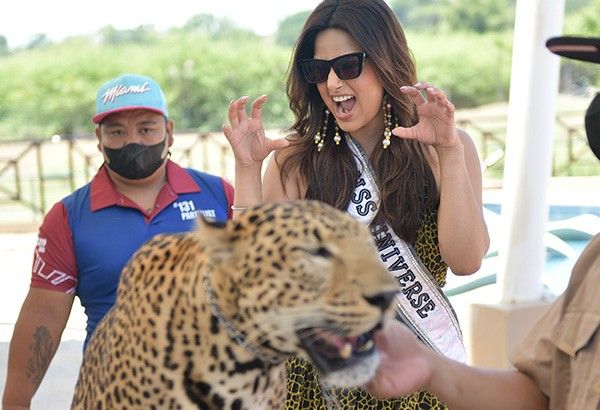 MANILA, Philippines — E-commerce platform Lazada celebrated its first decade in business with an online meet-and-greet event with reigning Miss Universe Harnaaz Sandhu and Miss Universe Philippines 2021 Beatrice Luigi Gomez.
The brief early morning activity was also participated in by netizens who qualified through an online poll. Attendees, who joined in the games of trivia, went home winning ample amounts of shopping vouchers.
"This event celebrates our ongoing partnership with the Miss Universe Philippines organization. In our tenth year anniversary, we likewise celebrate our growing community of Ka-Lazada shoppers. We pioneered e-commerce in the Philippines - not only with only shopping and delivery payment options, but also with shopper-tainment. After all, ang Miss U, nasa Lazada yan!" intimated Lazada's chief of staff Paulo Canivel.
Bea, who was Miss Lazada during her stint as an MUPh titleholder, remembered purchasing a laptop stand to help her posture when she recorded montages for some of the challenges then. But it was a ring light she counted as one memorable purchase because it helped her greatly in her digital challenges as a candidate, as well as improve the quality of her Zoom meetings after winning the crown.
"Currently, I'm busy with TV guestings, photo shoots, and a few endorsements. Now that my reign is through, I'll be focused on helping out in community development. I have volunteered with yet another organization. I'll also do more marine reservist training and then finish my master's degree in Social Psychology," revealed the svelte Cebuana.
To unwind, Bea hangs out with her circle of friends, watches TV series online, as well as movies. The latest she watched was "Top Gun: Maverick" and got inspired to watch the 1986 original after watching the former.
"If I were to sell anything on Lazada, that would be my high heels - to help aspiring queens with their pasarela. To young girls out there, don't let others define who you are. Your strengths depend on you and not on other people. That's why I look up to Princess Diana who was unconventional royalty. Like her, I also broke stereotypes," advised Bea.
For her part, Harnaaz said she had been traveling recently not only as part of her work as reigning Miss Universe but also in spreading awareness for her advocacy on Menstrual Equity.
"My role model is, has been, and always will be my mom. She has taught me to overcome and face challenges in life. She is my universe," shared the Punjabi beauty. For those who don't know, Haarnaz's mom is a gynecologist. So this has a direct bearing on her advocacy toward menstrual health.
Related: 'Menstruation makes us stronger': Harnaaz Sandhu strengthens women's health campaign in the Philippines
"Books are my important online purchases. They helped get me through the pandemic. For young girls who want to be beauty queens, take care of your mental health. Believe in yourself and the process. Don't be afraid to fail. Grow and come back. Have faith and never lose it," she continued.
During her spare time, Haarnaz also watches shows and series on Netflix. And now that she's living in New York, she goes around Central Park every opportunity she gets.
"I miss the Philippines. I'm looking forward to coming back soon. Spread love and positivity to everyone and keep smiling!" was her message to all her Filipino fans and supporters.
When asked what she would sell on Lazada, she replied, "That would be my notes of tricks and my lucky lipstick!" Though she was quick-witted not to divulge the color/shade, when asked about it.
Lazada's monthly sale, as well as its payday sprees, are events that shopaholics look forward to periodically.
RELATED: 'Philippines has my whole heart': Miss Universe 2021 Harnaaz Sandhu calls Philippines 'the best'