Robin Padilla reveals health scare during family trip in Spain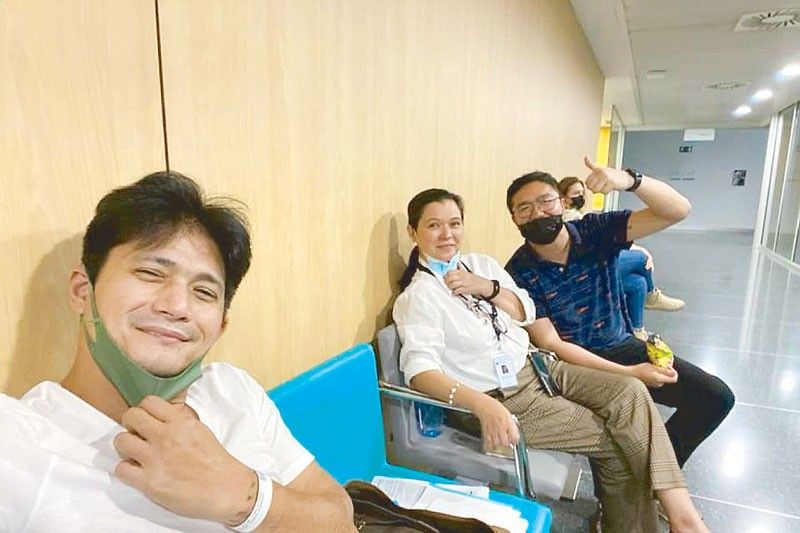 Senator-elect Robin Padilla was rushed to a hospital in Spain after his blood pressure shot up while walking in the park there. He was on vacation with wife Mariel Rodriguez and their two children when the incident happened.
In a Facebook post, he uploaded some photos of his unexpected experience and recounted the health scare during his overseas family trip..
He started his post with, "Bismillahi. Alhamdulillah binigyan pa ako ng Allah ng buhay Alhamdulillah (Praise be to God. Allah gave me longer life.)"
"It was difficult to understand what happened to me. I don't have any health issues but my knees suddenly became weak while I was walking in the park. So I sat under a tree to rest. My vision went black, I tumbled and felt very dizzy," he said in Tagalog.
"I heard some Spanish people talking in the background. They were as if talking to me and wanted to help me," he shared and added that after a short while, when his vision came back, "I slowly got up as I regained strength. Then, there was this one person who assisted me. I can't understand what he was saying but I said, 'Thank you, Señor.'"
After which, he looked for his wife in the park but saw two of his family members with his daughter, Gabzy, who was sleeping in the stroller. He also saw Mariel with Isabela, another daughter, taking one of the rides in the area, shared Robin.
He then told his family members that he needed to go to a hospital as he was experiencing difficulty in breathing, chest pain and he felt dizzy again. He made his way outside the park, he said.
The action star further narrated that he wasn't able to get a cab so he sent a text message to his friend to fetch him from the park. He also sent a message to Philippine Ambassador to Spain Philippe Jones Lhuillier to help him get to the hospital, he said in a post.
However, he again felt weak, as if he was going to fall, he recalled.
Luckily, there was a clinic near the entrance gate, so he immediately went there and was approached by a nurse. According to him, the nurse took his blood pressure and it was 200/150. In disbelief, the nurse checked his blood pressure again but it was still high so the nurse decided to call an ambulance.
After a short while, Mariel and Isabela came in, said Robin. "I smiled and felt relieved upon seeing her. I took medicines to lower my blood pressure but it was still the same until the ambulance arrived. They used electrocardiogram (ECG) and dextrose on me until the medicines took effect and my blood pressure went down to 140/104. Everybody felt relieved afterwards," he recounted.
When Mariel was about to pay the fees, he was surprised to discover that the emergency service was free, he added.
By this time, Ambassador Lhuillier also came in and decided to bring Robin to the hospital for further examination. "We went to a private hospital in Spain. Parang Pilipinas din kailangan ang deposito (It's like in the Philippines, a deposit fee was required). They did tests on me, such as blood test, X-ray, and urine. The results were normal but they gave me medicines for my high blood which I took for five days. Nakauwi na ang lahat at makapahinga (Everybody went home and took a rest after that)," said Robin.
He also thanked those people who helped him, namely, Sister Jo, Ambassador Lhuillier and his staff, Sir Brian and Ma'am Peachy.
He ended his post with, "Alhamdulillah. In shaa Allah dala lang sana ito ng pagtanda in shaa Allah (Praise be to God. God-willing. I hope this was just part of the aging process)."
Robin and his family are still in Spain on vacation.