Rhian Ramos shares lessons from starting a food business during the pandemic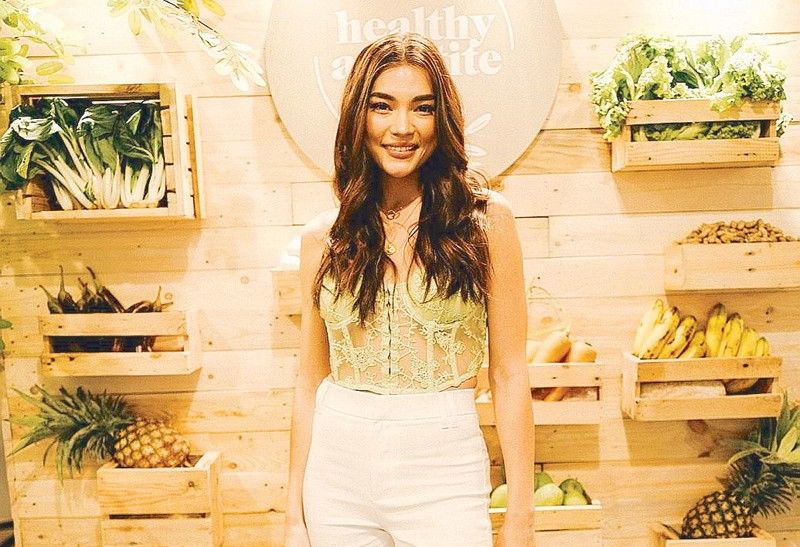 MANILA, Philippines — Sometime last year, Rhian Ramos set social media on fire with her sexy swimwear outfit while baking.
Looking back on the photo that became viral and spawned memes even from her own family, the Kapuso star laughingly shared with The STAR the real story behind her not-so-conventional kitchen attire.
"First of all, I think a swimsuit is super out of place in a kitchen. In terms of food safety, it is wrong. But I was on vacation, we rented an AirBnB and we wanted to go swimming in a pool but biglang bumagyo. If there's something that people always request me to make, it's my Chocolate Chip Cookies," she recalled.
"And so, when it started raining, they were saying make your cookies nalang, so OK. 'Di na ako nagbihis kasi puro girls kami duon and then, I didn't expect na magiging layout na siya. Hahaha! People then made their own versions. But I love that! I like it when everyone has a sense of humor."
Needless to say, the photo drew more attention to Rhian being a foodie who loves to bake, cook and feed family and friends. And this side of the 31-year-old, who currently topbills the GMA drama Artikulo 247, has since led her to put up a food business, specifically a 24-hour digital and delivery-only restaurant, over the pandemic called Healthy Appetite.
Rhian partnered with pioneering cloud restaurant company CloudEats in creating the menu consisting of her favorites and health hacks, like going for more complex carbs, plant-based alternatives and veggies. Bestsellers are Eggplant Katsu with Cauliflower Rice, Chicken Tapa Bowl with Adlai and Spicy Kani Mango Salad.
"To change my simple carbs to complex ones, that's basically the concept. And then I don't eat food, like healthy food, that tastes bad. I wanted the ulam part of it to be really yummy and tasty, and just complement it with a complex carbohydrate," explained Rhian.
In terms of diet preferences, the actress clarified she eats everything. "I think balance is really important, amounts are really important. You're not really supposed to have more than a hundred grams of protein in a meal. I totally eat beef but I'm not gonna eat a steak for every (meal) — it's wrong. (But yeah), I eat everything."
The STAR recently saw how Rhian knows and enjoys her food at an intimate food tasting activity. She was joined by celebrity friends and fans selected through a social media contest on @healthyappetitebyrhian. Attendees at the "eat 'n greet" were asked to offer their unfiltered feedback on dishes being considered for menu inclusion this June.
During the post-event exclusive interview, Rhian opened up more about being an entrepreneur and other career realizations during the pandemic.
Healthy Appetite is your first food business. What have you learned so far after a year of starting and running this venture?
"I guess, for me, something that I had to learn was that your taste is not everyone else's taste. Because I have favourites and I have some menu items that I'm like, I haven't ordered that in a long time. And then I will assume that it's doing badly just because I didn't order it in a long time. But then I'll ask, it's one of the bestsellers. So, I guess it's important that you believe that your business solves a problem. For me, Healthy Appetite solved a personal problem of mine. But taste is really a person-to-person thing. It's so nice that there are different kinds of people that appreciate all the different parts of our menu.
"Also, I just think that imagining customers' experience is really important because sometimes your product isn't just a product you're offering. But it's the entire experience of — was the ordering part complicated? What did it look like when it arrived and when they opened it? That's part of the experience and that's why so many companies spend so much on packaging because it's part of the experience. So, to really care what the customer is going through, every step of the way, is important."
Being a foodie, where does this interest come from or how did it start?
"I come from a family where everyone cooks really well. And my sister, on top of coming from this kind of family, took culinary studies pa. She made herself not just a fan but a pro. So, in my family, I feel like food is something to bond over because you're sharing an experience together. I don't know but food is a very emotional thing in my family. Like there are foods that are made for celebrating, there are foods that are made for comforting you when you're feeling down. Every food kind of has a different purpose for the family.
"And our kitchen is an open one. From the dining room, you can talk to the person in the kitchen and you can all hear each other… So, I grew up with food being like an important bonding experience and even if it's not a bonding experience because sometimes I eat alone. So, just experience, experience."
What other businesses are you planning to go into?
"I have so many more obsessions that I like to play with in my brain, like, if this is a business or a hobby. Those are things that I have yet to figure out but I love to kind of find a way — it's weird no — to give people a retail experience that's catered to minimalists. How do you get a minimalist to buy something?
"But I think it's because I want to focus on offering things that are definitely essential or to simplify your life because if there's anything that the pandemic helped me out with, it's like sorting things out in my brain. If I'm in a magulo environment, it affects the way I'm able to process. If everything in my room is messy, it's not a great place to sit down and do work.
"When I removed 70-percent of my wardrobe, I never caught myself saying, 'I have nothing to wear.' I knew exactly what I had — I have this many blue jeans, this many white pants and black (clothes). I know how to mix and match them. But when I had so much clothes… I couldn't figure out what to wear. Hahaha!
"So, I feel like I wanna help people — if that speaks to them also — yung parang, if they spend too much time making a small decision in a day, like 30 minutes to figure out what to put on, I think sayang naman yung 30 minutes na yun."
How do you feel about everything being "back to business" after two years of the pandemic?
"Now that everything is coming back, I think the trick is to be super adjustable. I think everyone worked so hard to kind of adjust themselves to survive the pandemic.
"I don't know if anyone can relate to me, but it wasn't all bad stuff. There were some good things that happened and now we have to adjust to let go of them again… I think the trick is to go with the flow and I think now, we've all kind of learned things about how much is too much and protecting your energy and all of that. I think we're more mindful also of where we spend our energy and our waking hours.
"If you put me back into my old schedule, I wouldn't agree to it, and then I wouldn't like it. Parang at that time, that made me happy but now I'm kind of in a phase where I wanted a little of my old one and a little of my new schedule."
So, you can relate to other people being changed somehow, if not permanently, by the pandemic.
"Absolutely. You know, I've been hearing some stuff from some people, 'Uy nag-pandemic lang, nagbago ka na.' I'm like, 'Uy, nag-pandemic, di ka nagbago? Magbago tayo lagi, magbago tayo every year, as long as it's an improvement. I don't like being made to feel bad that I'm not the old me because it's not a goal. Why would you want to be the same person every single year? I hope that I'm not acting like the 12-year-old me. So, I mean, if we can use the experience of a pandemic to train us to keep adjusting, keep moving and keep changing, I think that would be good."